Hand harness style jewellery is becoming increasingly popular. For those who have no idea what I'm talking about, just imagine a hand piece that combines both a ring and bracelet and is connected with single or multiple chains. Hand harnesses are a bit of a nod to the whole armour inspired jewellery trend. They also make quite a statement. Take a look at a few trendy hand harnesses below.
---
1

Topshop Mixed Metal Hand Harness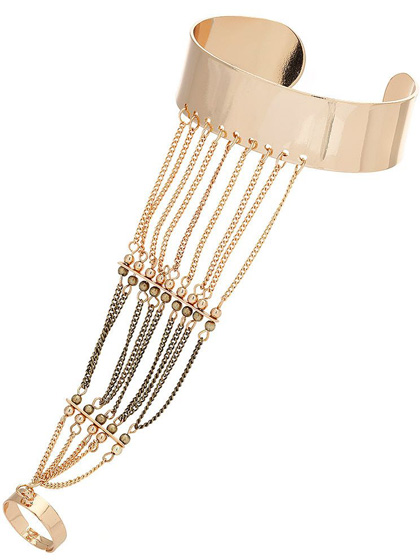 Price: $30.00 at us.topshop.com
This sleek mixed metal hand harness is quite an eye catching piece of jewellery. It has a gold-look cuff bracelet and adjustable ring with multiple chain link details connecting the two. Since they cover a lot of your hand, I'd style these quite simply and avoid wearing any other jewellery on that hand.
---
2

Topshop Cross Chain Hand Bracelet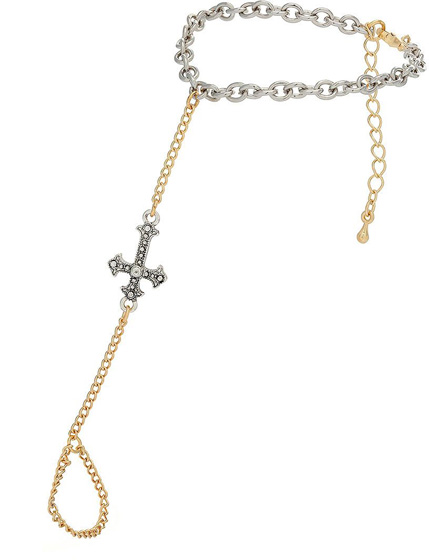 Price: $18.00 at us.topshop.com
This hand harness has a purely chain based design. It has a large silver chain link bracelet and gold-tone harness and ring. It also has a cross design at the centre. Since this hand harness is quite delicate in design, I'm sure you could get away with wearing extra jewellery with it.
3

Dorothy Perkins Coin Gold Look Hand Chain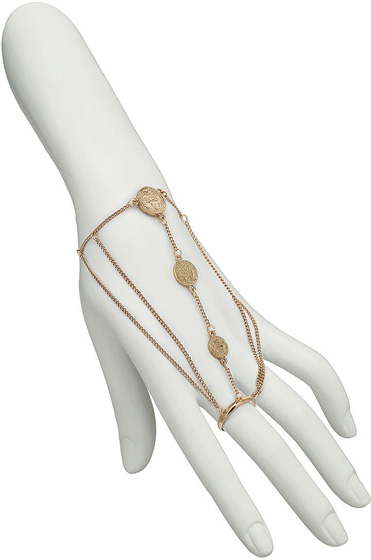 Price: $11.00 at us.dorothyperkins.com
This is a more delicate style of hand harness. It features a gold-tone ring band and chains leading back to the wrist. It also has coin detailing at the centre to give it a bit of a gypsy bohemian feel. Wear it with a floaty maxi dress for a carefree look.
---
4

Topshop Triangle Hand Chain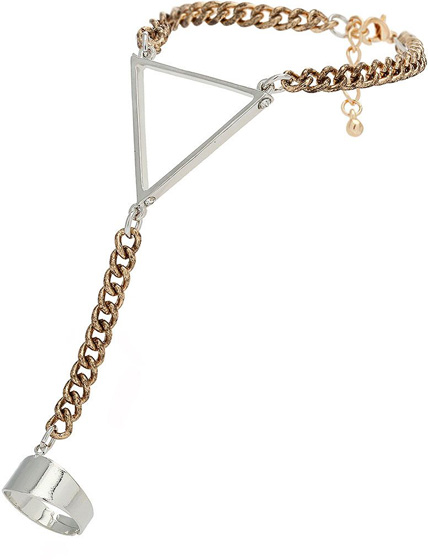 Price: $20.00 at us.topshop.com
Mixed metal hand harnesses like this one seem to break all the rules about mixing gold and silver. This one has a silver-tone ring and a triangle detail at the wrist. Chunky gold-tone chains appear at the centre of the harness and around the wrist. This would look really cool worn with a slouchy dress and leather jacket.
---
5

Alyssa Norton Hand Piece Chain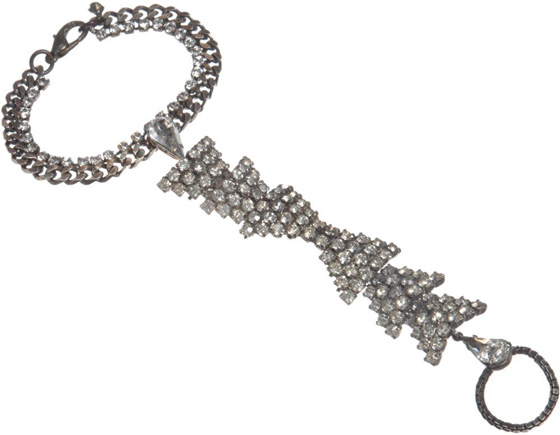 Price: $815.00 at barneys.com
Many of the hand harnesses so far have been affordable chain store buys. However, this one is definitely more upscale. It is made from silver plated brass and features rhinestone detailing throughout. It'd make an edgy and unique choice of accessory for a cocktail or evening gown.
---
6

Topshop Cross Cuff Hand Chain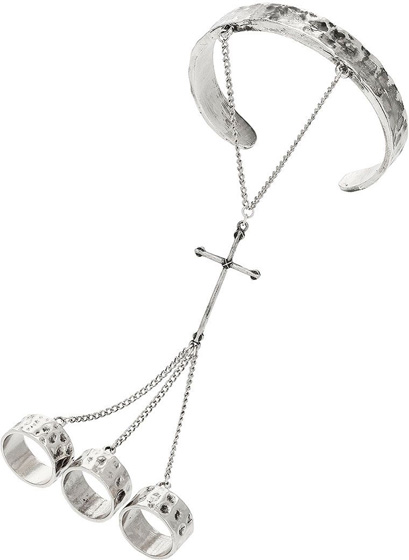 Price: $28.00 at us.topshop.com
Unlike the other hand harnesses on this list, this one features three rings. The three rings are joined to the silver-tone cuff by thin chains. There's also a discreet cross detail at the centre of the chains. The slight hammered finish on the rings and cuff add some grit to the overall design.
---
7

Pamela Love Pyramid Hand Piece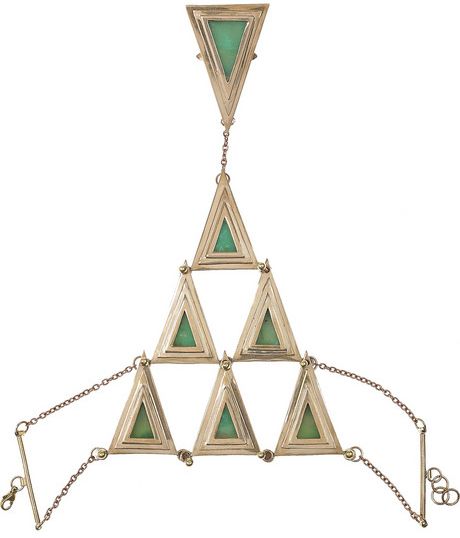 Price: $1775.00 at net-a-porter.com
Pamela Love is well known for her eclectic and eye-catching pieces of jewellery. This hand piece is made from bronze and chrysoprase. There are seven pyramids in the design that cover the entire hand from the index finger to the wrist. This would look great worn with a neutral dress for a cool pool-side look.
As you can see, hand harnesses are quite striking pieces of jewellery. They'll definitely get you noticed. What do you think of the hand harness and would you ever wear one?
Top Image Source: tumblr.com
---
Comments
Popular
Related
Recent