You can walk into any shop and pick up jewelry you like, but wearing something that you've made by following DIY jewelry tutorials is something special. If you want to make your own statements, have accessories that perfectly match your style DIY jewelry is the answer. Feeling inspired? Check out these jewelry tutorials.
Table of contents:
1

DIY Finger Knitting Bracelets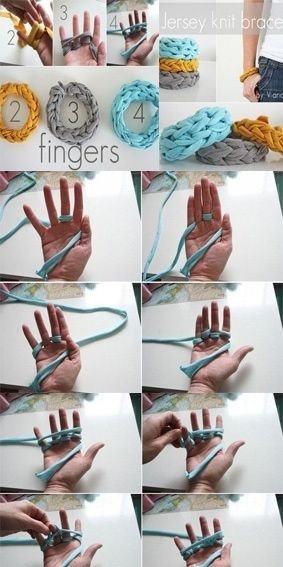 Via DIY Finger Knitting Bracelets diy ...
No tools needed for finger knitting. This makes this some of the easiest DIY jewelry to make.
2

DIY Vintage Button Necklace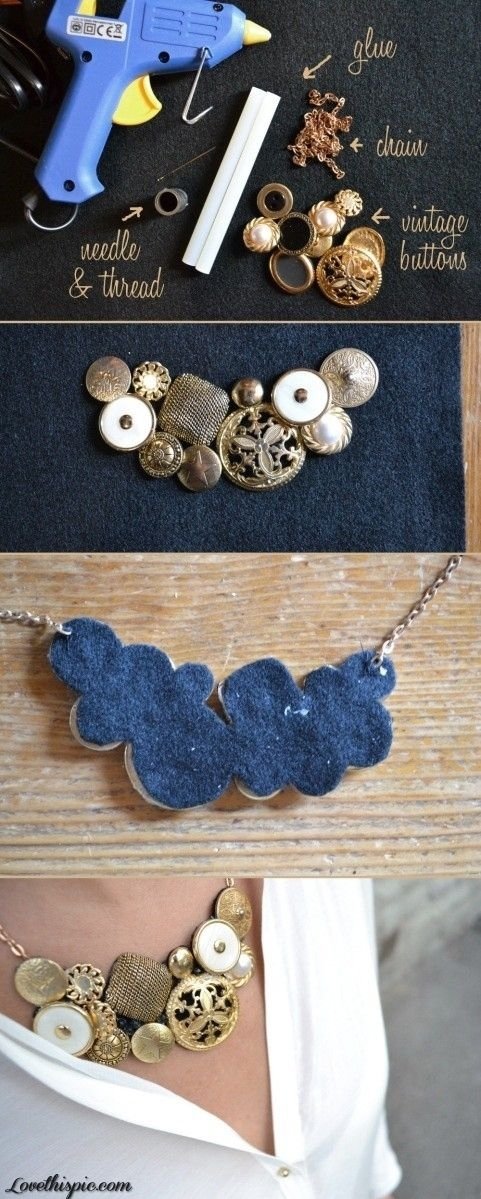 Via DIY vinatge button necklace vintage ...
The power of a glue gun comes to the fore.
3

Braid Necklace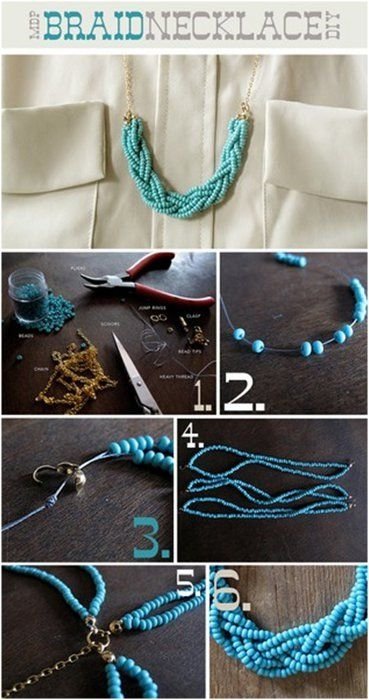 Via Pinterest Round Up: DIY Jewelry
Make it as long or short as you like and any color you like.
4

DIY Gold Clover Bracelets
Via DIY Gold Clover Bracelets diy ...
Make your own good luck charm.
5

Gold Chain Necklace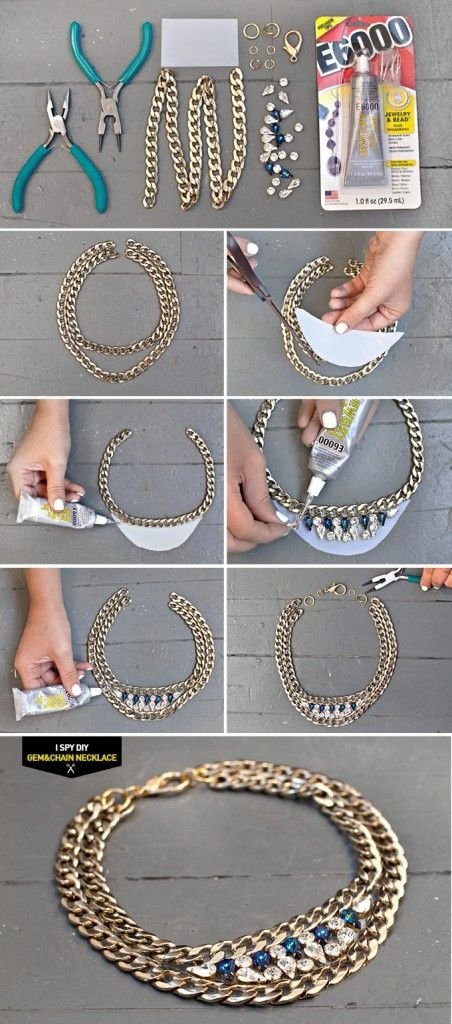 Via 18 Absolutely Amazing DIY Jewelry ...
Minimum effort, maximum impact.
6

Bracelet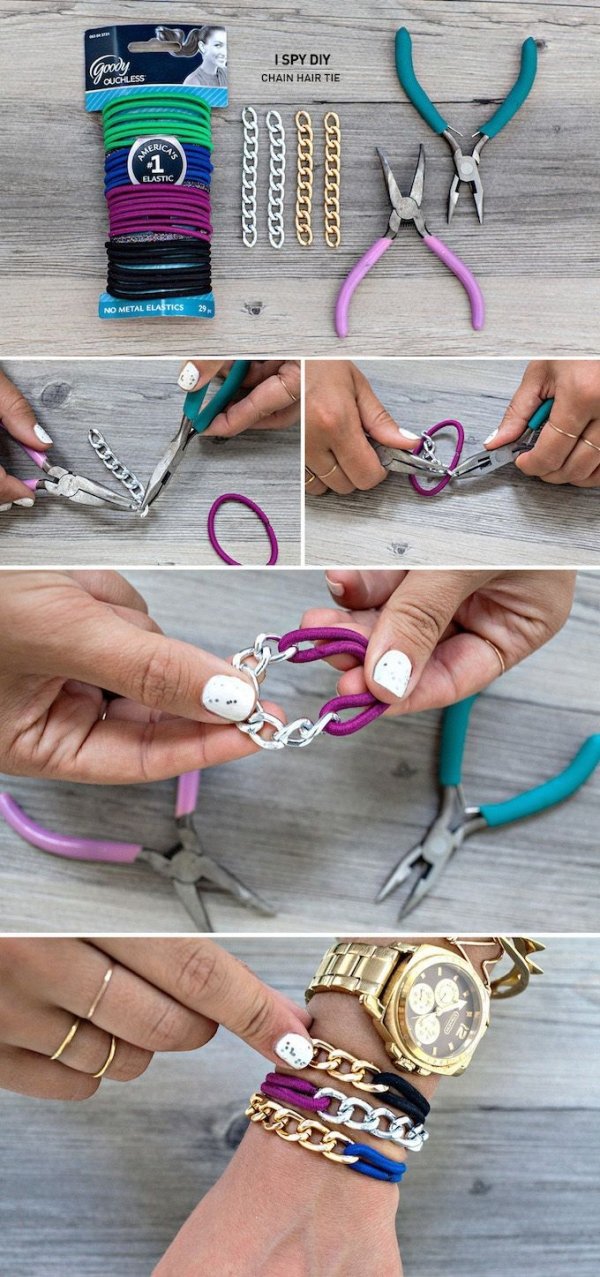 Via 13 Wonderful DIY Jewelry Crafts
What a great use for hair bands.
7

Braid Necklace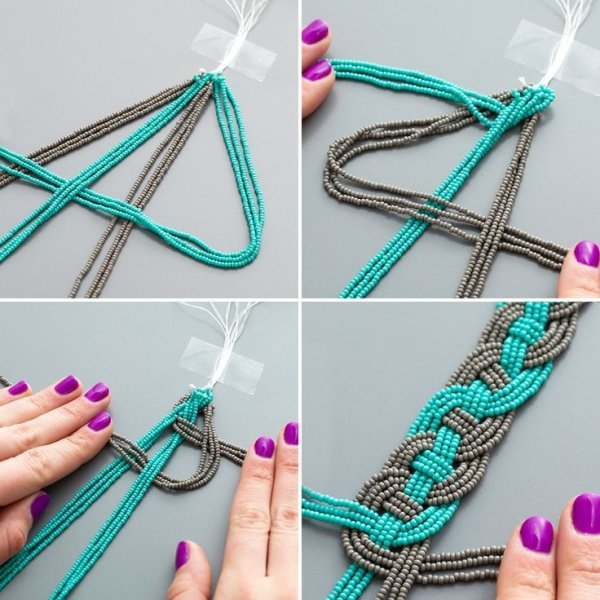 Via Make This Woven Bead Statement ...
Braid your hair to match when you wear this fetching necklace.
8

Nail Polish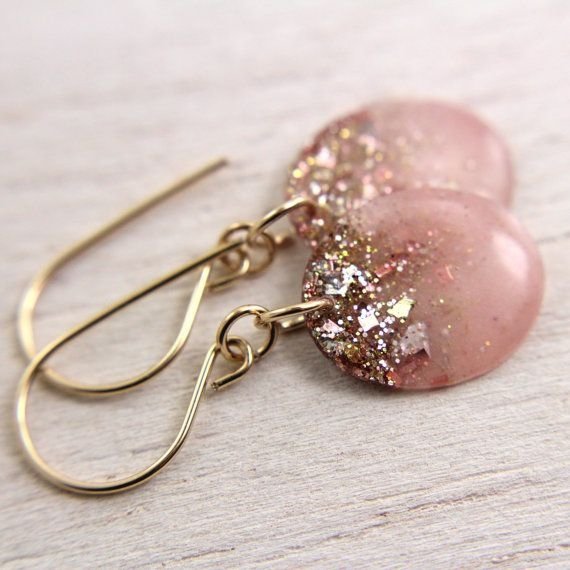 Via pink glitter resin earrings with ...
You can find quite a number of jewelry tutorials that use nail polish.
9

Simple BRACELETS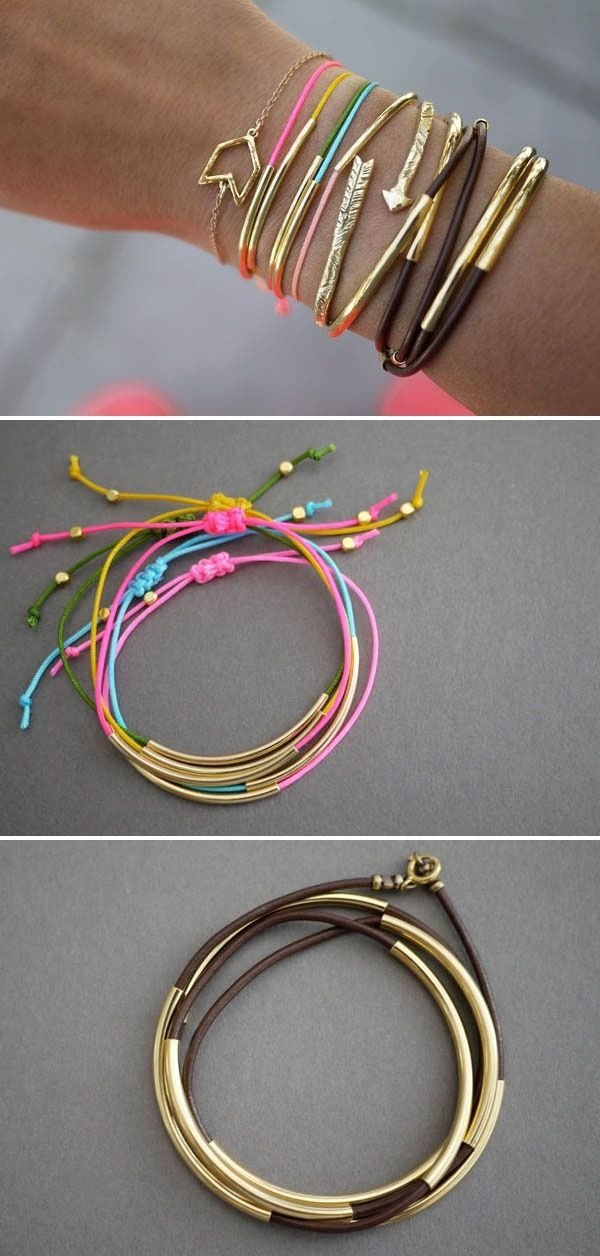 Via DIY Gold Tube Bracelets
You could have an armful of these.
10

Leather Cord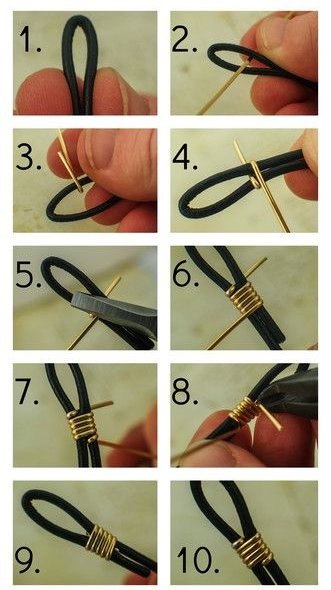 Via How to Finish Leather Cord ...
A great little technique that you will use in many DIY jewelry projects
11

Hex Nut Bracelet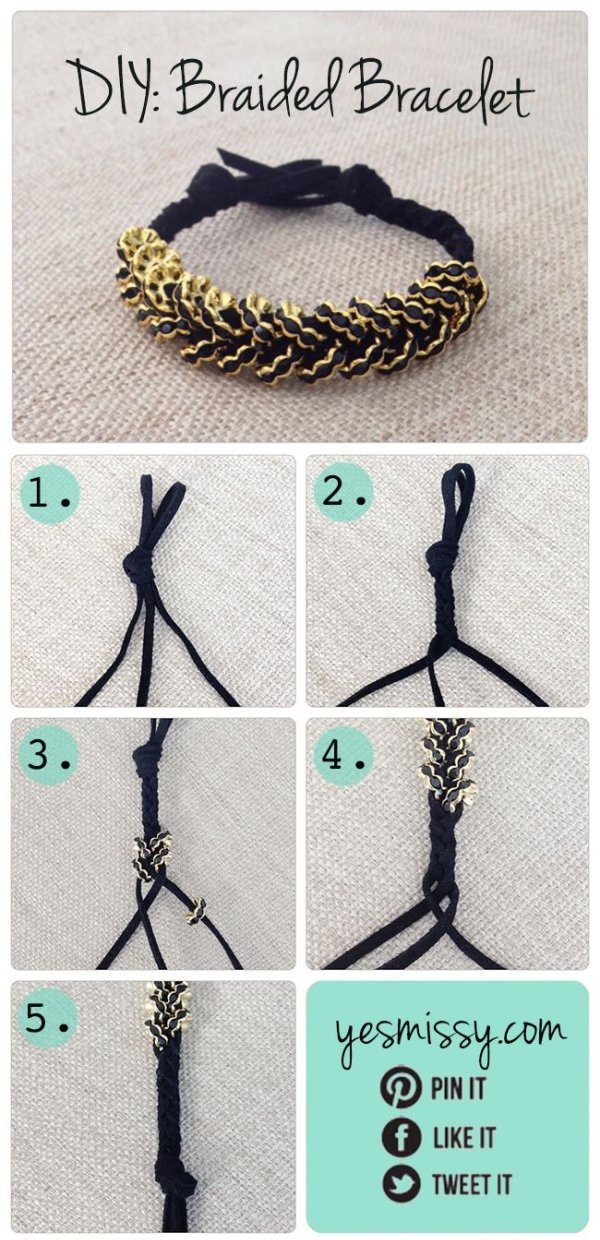 Via DIY Bracelet: Glammed Up Hex ...
Quite simple, but quite effective.
12

Armbandjes

Via Ontzettend schattige armbandjes Door zJulie
I love this name - Dutch or German? - whatever, it sounds pretty.
13

Silver Earrings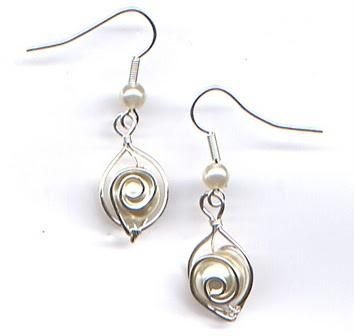 Via DIY Tutorial: DIY Jewelry / ...
Probably not one for immediate beginners but this shows what jewelry you could be making for yourself.
14

Easy Necklace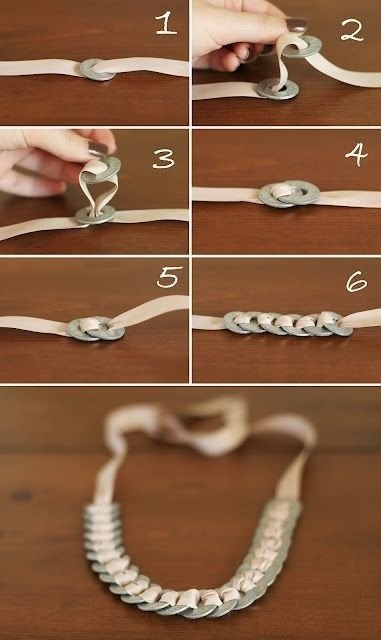 Via easy
Am loving this technique.
15

Colorful Bracelet

Via YourInStyleGuru
Choose your own favorite colors.
16

DIY Wire Bracelet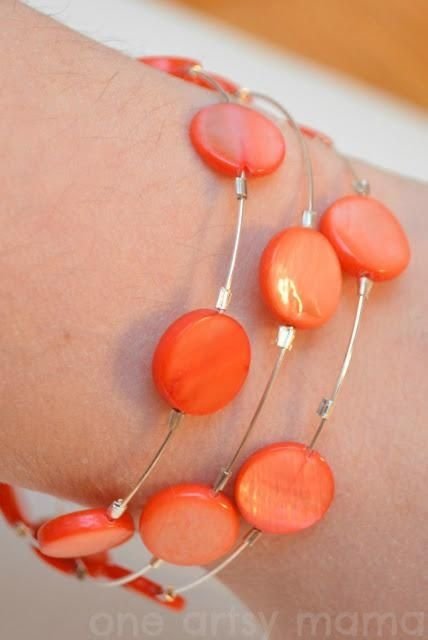 Via DIY Tutorial: DIY Wire Bracelet ...
This doesn't look anything like homemade.
17

Pearl Fashion DIY Jewelry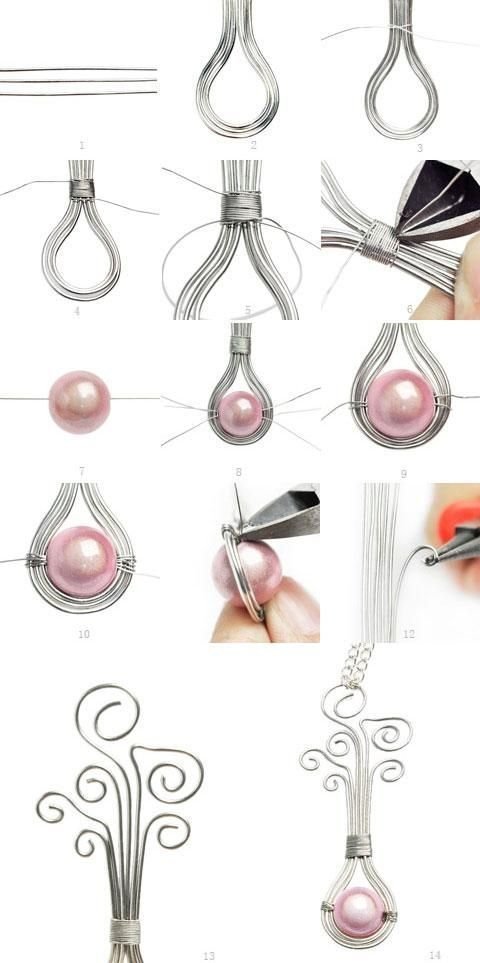 Via DIY Tutorial: DIY Wire Necklace ...
Practice your wire twisting skills for this little beauty.
18

Scrap Bead Project

Via 精盈之美—D……_来自上官清持的图片分享-堆糖
Scrap beads or remnants of a broken necklace can be used for this.
19

DIY Blue Stone Bracelet

Via 16 Pretty Bracelet Tutorials - ...
The blue stones are a perfect accessory for a denim based outfit
20

Simple Shamballa Bracelet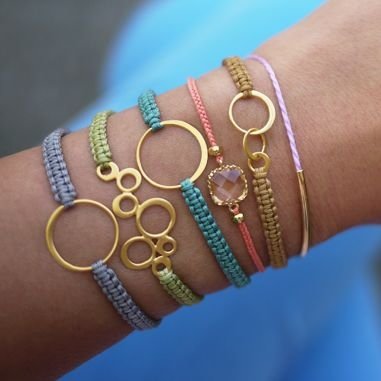 Via Simple Shamballa BraceletFree Diy Jewelry ...
So many combinations. So little time.
21

Hot Glue Rings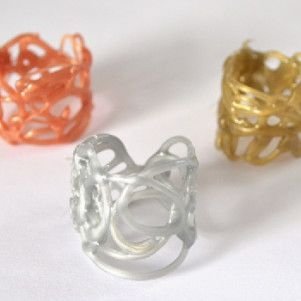 Via dreamalittlebigger.com
Hot glue? What a clever idea.
22

DIY Ring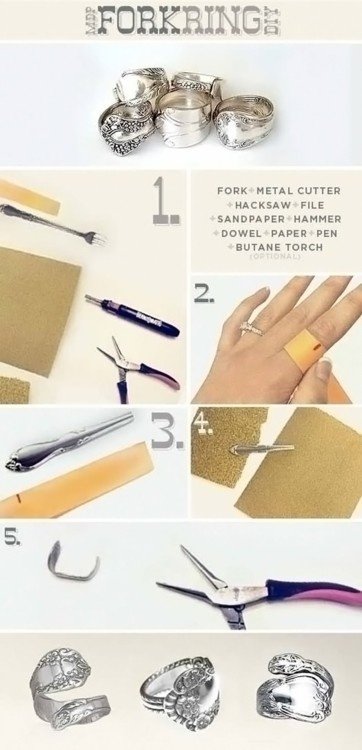 Via whaaaaaaaaaaat! AWESOME IDEA!!!!! :D I ...
DIY jewelry from cutlery. How innovative and clever.
23

DIY Bracelet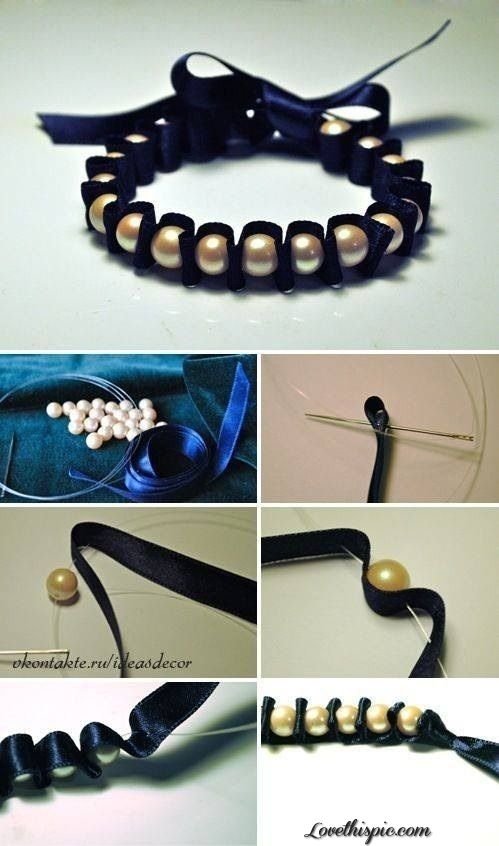 Via DIY bracelet diy crafts easy ...
This looks fairly simple to do.
24

DIY Pandora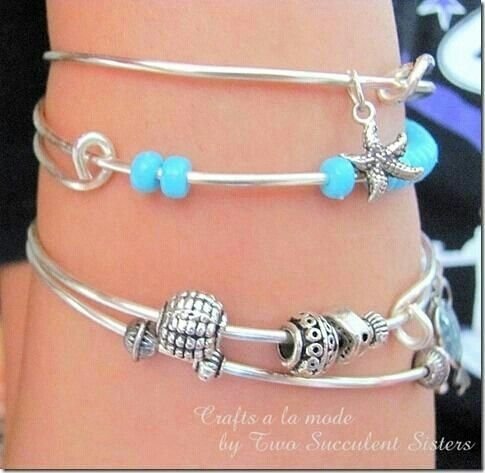 Via Jewelry
Save costs with DIY Pandora.
25

Double Chain Necklace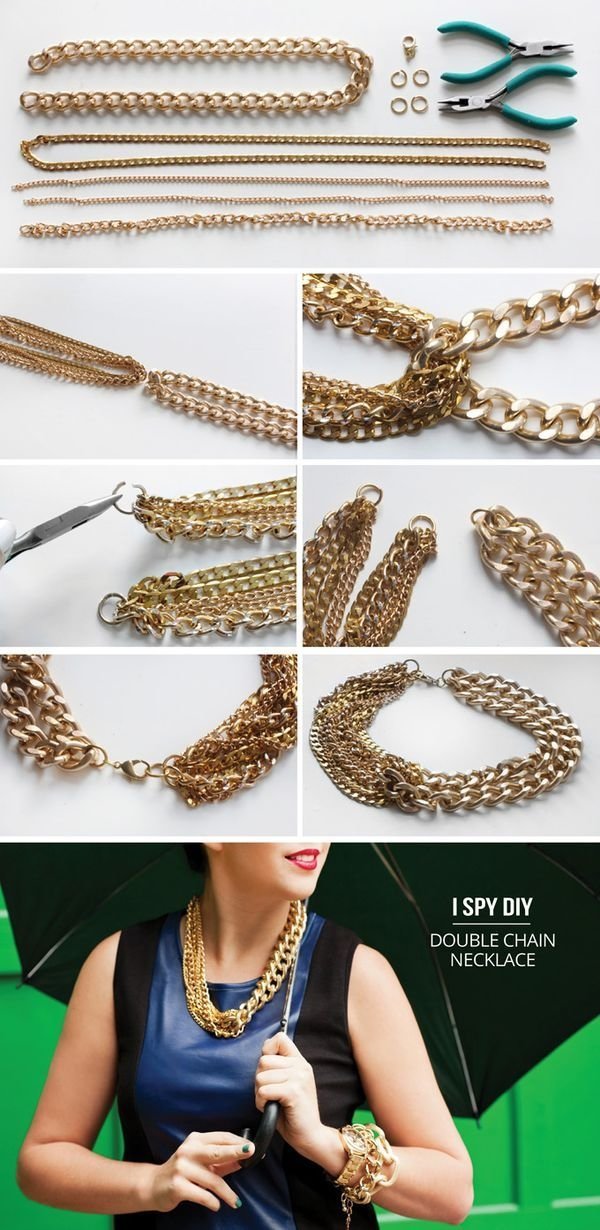 Via diy jewelry display
Make use of existing gold colored chains.
26

Transformed Bangle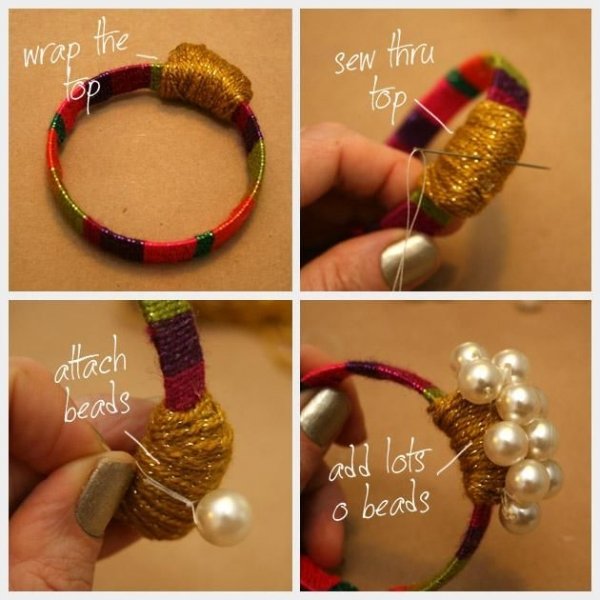 Via DIY Tutorial: DIY Bracelet / ...
Change up a plainish bangle to something snazzy.
27

Tassel Earrings

Via DIY Tutorial: Earrings / DIY ...
All you need is some basic jewelry supplies and patience to cut the strands to equal lengths.
28

Clothespin Jewelry

Via DIY Jewelry Projects - Make ...
Clothespins? Yes! Clothespins!
29

Rhinestone Ear Cuff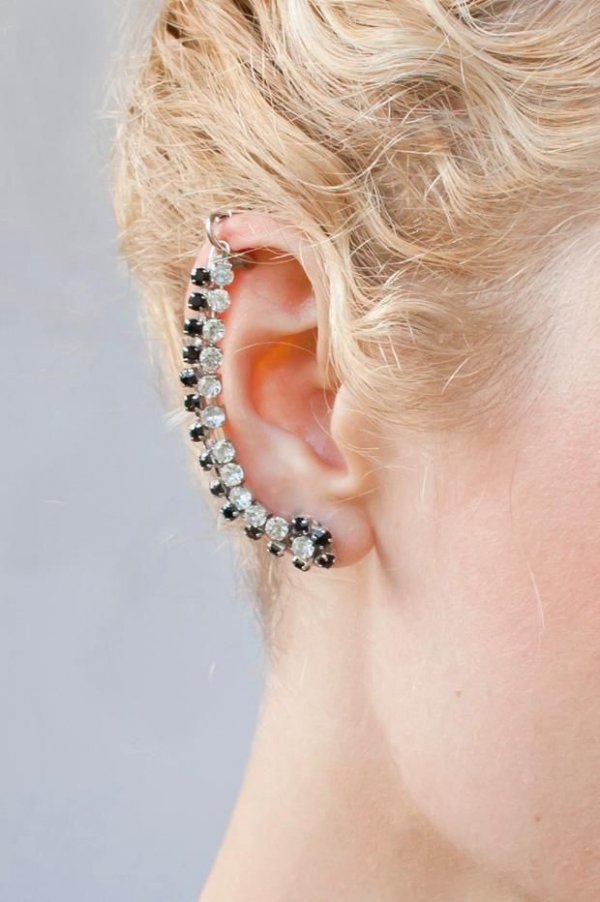 Via DIY Tutorial: DIY Jewelry / ...
Well this certainly makes a statement.
30

Bugle Geometric Necklace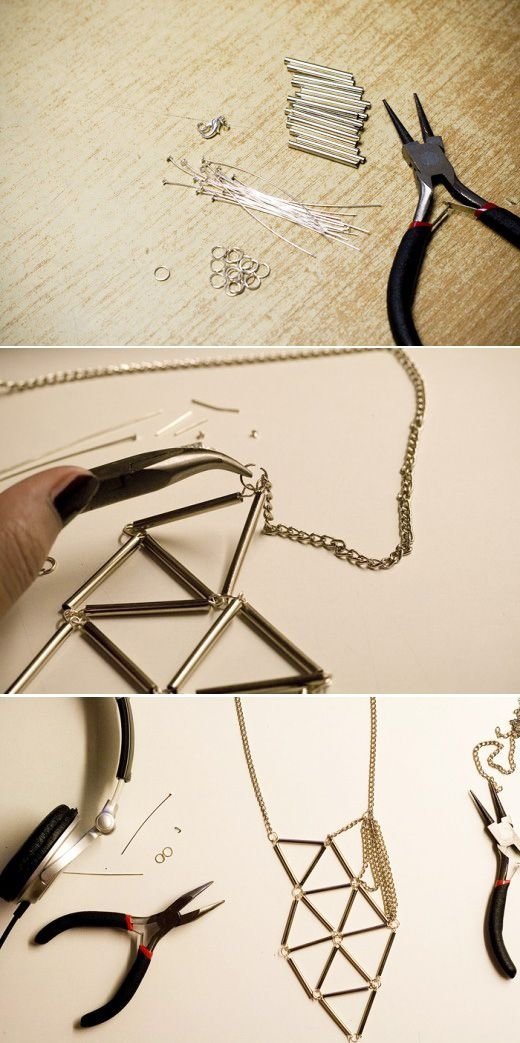 Via 46 Ideas For DIY Jewelry ...
You can make all sorts of geometric shapes with this technique.
31

No Sew T-shirt Scarf Necklaces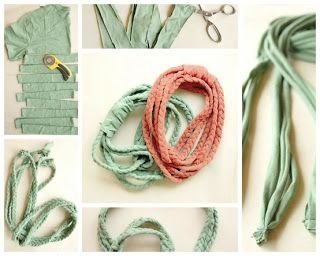 Via The Simple Craft Diaries: No ...
What a great way to recycle a t-shirt.
32

Ombre Celtic Knot Bracelet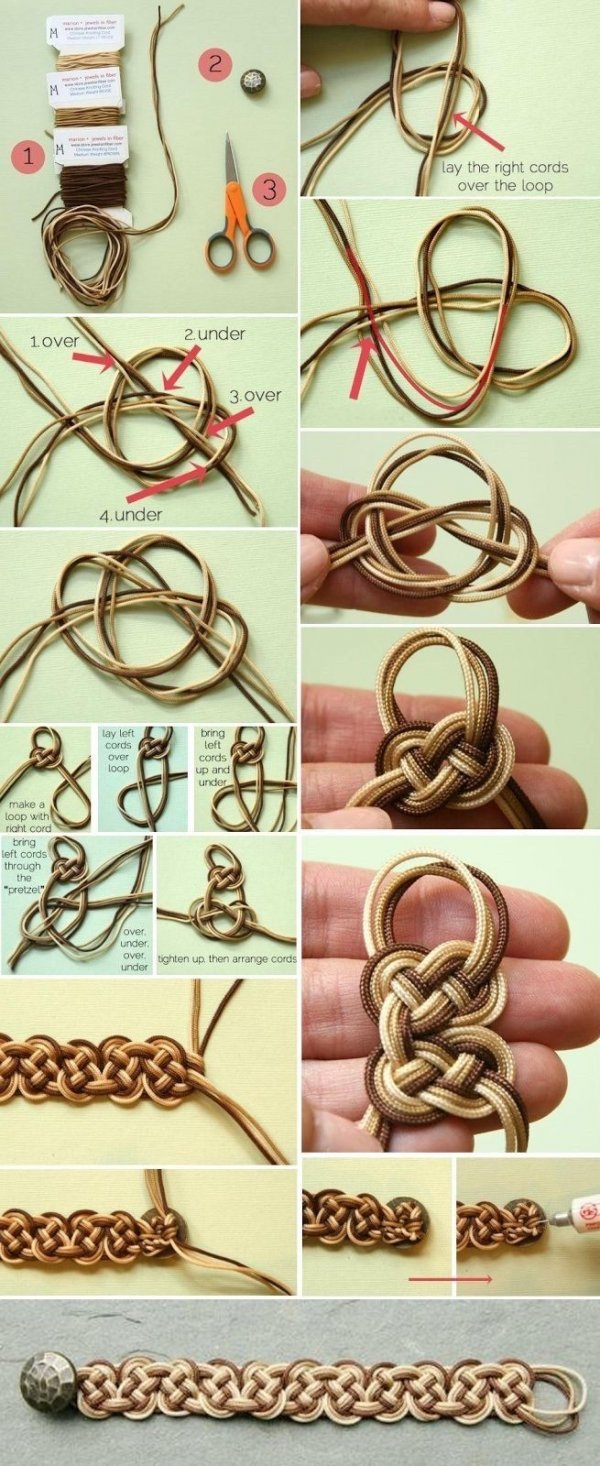 Via Linky Party, Vegan Hummus Bites ...
Celtic knots never go out of style.
33

DIY Ear Cuff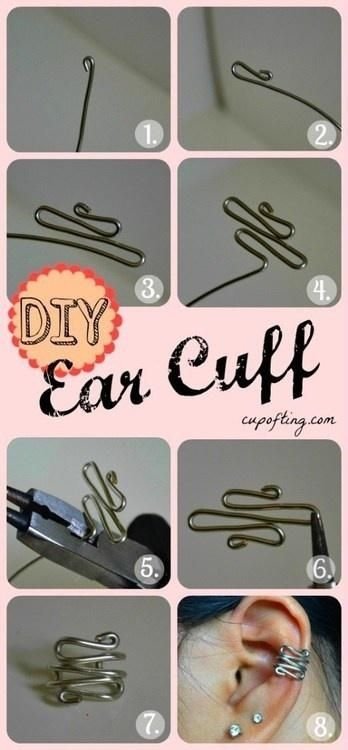 Via DIY Tutorial: DIY Ear Cuffs ...
Easy to do and simply stylish.
34

String Bangle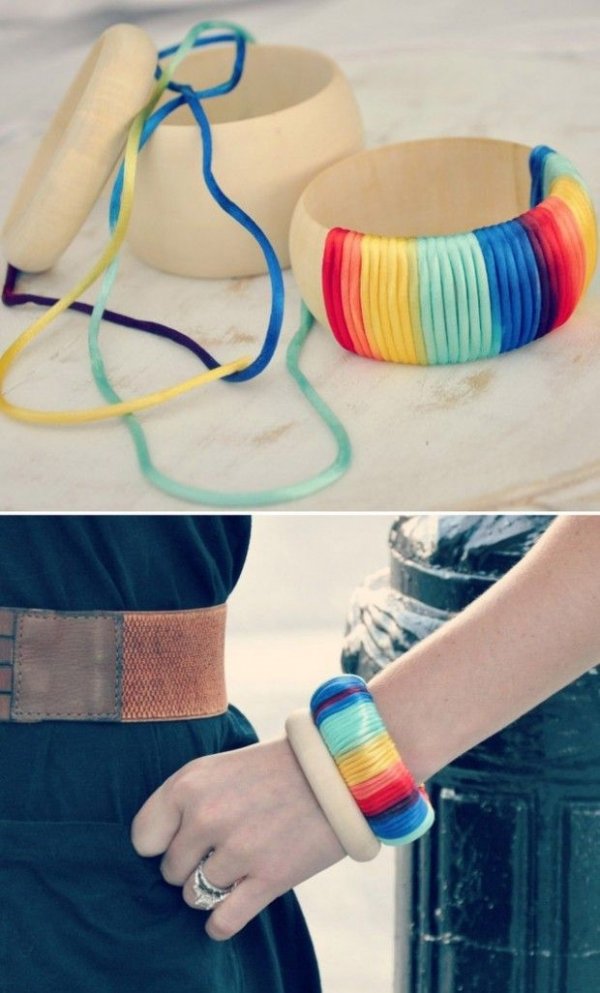 Via 46 Ideas For DIY Jewelry ...
Jzoosh up a simple bangle with colored thread.
35

Paper Bracelet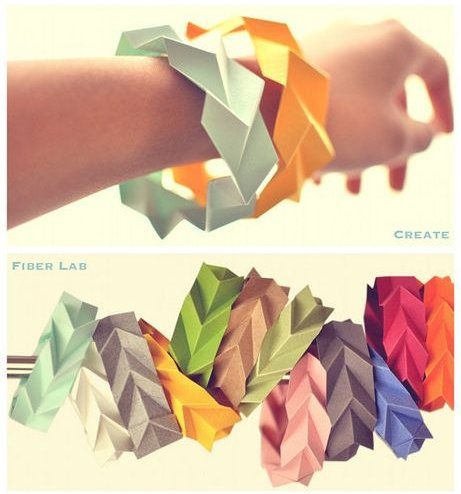 Via 46 Ideas For DIY Jewelry ...
Can you believe these bracelets are made from folded paper?
36

Friendship Bond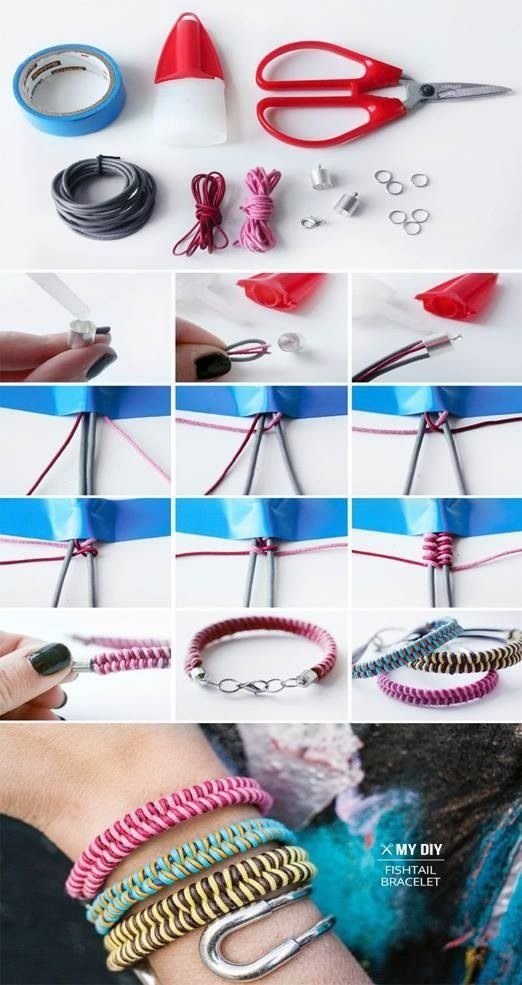 Via
Please rate this article