When you wear necklaces that make a statement, you really take your outfit up a notch. Even if you're wearing a plain tee and skinnies, a statement necklace will send your look from the land of so-so into the stratosphere of high style. The best part is that there are so many different necklaces that make a statement, you can easily find something that works with your personal aesthetic. Don't believe me? Just take a look!
---
1

A Statement in Pink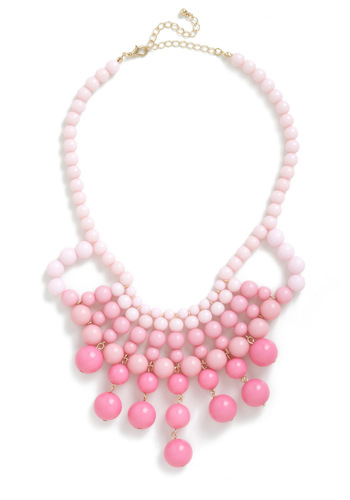 I adore pink necklaces that make a statement, partly because a good portion of my wardrobe is devoted to black and white. Something pink, whether it's vibrant hot pink or softly feminine like ModCloth's What About Bauble? Necklace (for just $21.99, by the way), can add a luscious bit of loveliness to your ensemble. Beads are always a great way to make a statement, so check out similar pink necklaces or beaded pieces at ASOS, Ruche, and Forever 21.
---
2

Simple but Chic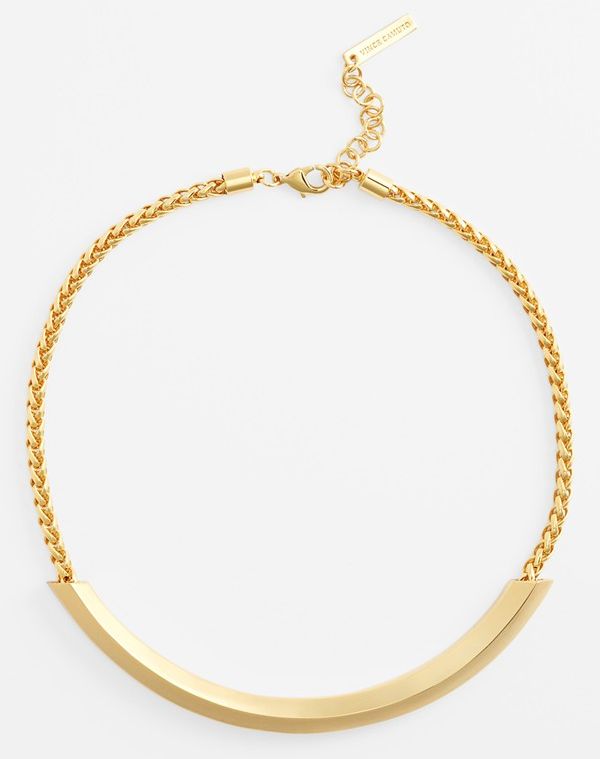 You can make a statement while still being subtle. Sometimes some chunky links or a single eye-catching detail does the trick. Vince Camuto's "Rope Royalty" Bib Necklace is an excellent example. It's available at Nordstrom for $68, but there are inspired, affordable pieces pretty much everywhere, in gold, silver, bronze, and pewter.
---
3

Sharp and Pointy Style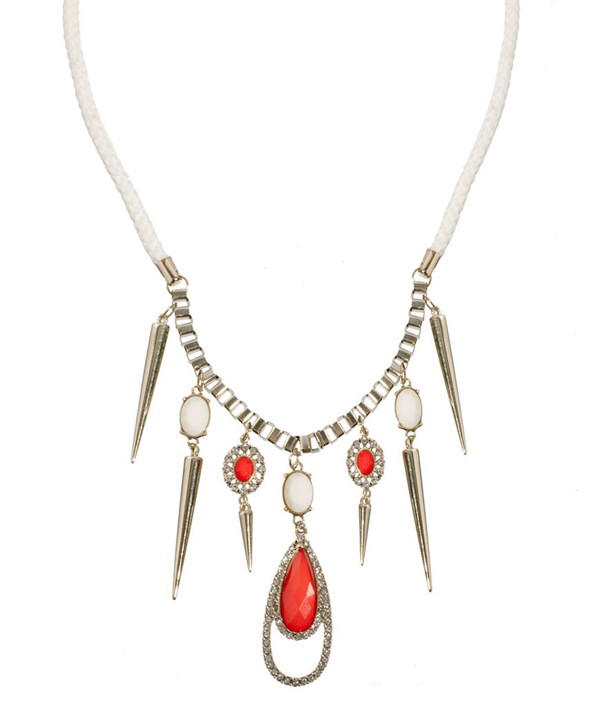 Most statement necklaces are colorful, but that doesn't mean you can't get a little edgy too. The spikes on this $27.15 Warehouse Coral Statement Necklace from ASOS add some punk rock appeal to the jewels and coral pieces. I suggest checking out Torrid for some hardcore statement necklaces too.
---
4

Ride the Wild Side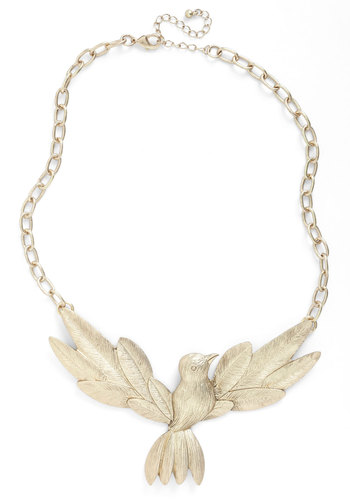 A lot of necklaces that make a statement feature animals. It's becoming a big trend, so you can find pretty much any animal in any color from places like ASOS, Ruche, and Anthropologie. I for one am mad for the feathered Perchin Place or Thing Necklace from ModCloth, which you can snatch for just $19.99.
---
5

Evoke the Sunset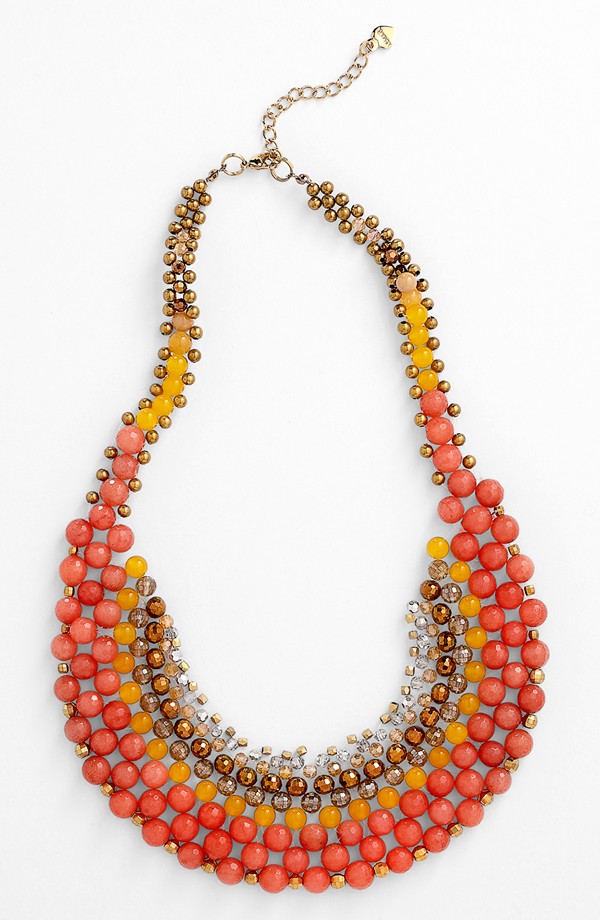 Bright colors are a key aspect of statement necklaces, as you can see with this Nakamol Design Beaded Necklace from Nordstrom. You'll be able to find more options for less than $98, but do keep an eye out for vibrant hues – whether you prefer sunset shades of salmon, yellow, and gold, oceanic colors, or a pretty purple palette.
---
6

Blooming with Fashion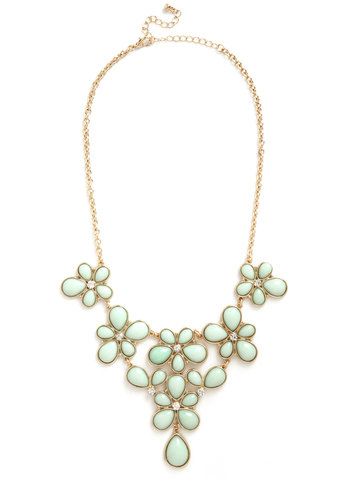 To me, ModCloth's too-cute Court and Sparkle Necklace is perfectly J.Crew-inspired – but for only $24.99, it's a lot more affordable. You can find necklaces with this type of floral look in every color imaginable, from ASOS, Ruche, Anthropologie, and many other retailers.
---
7

Dark and Decadent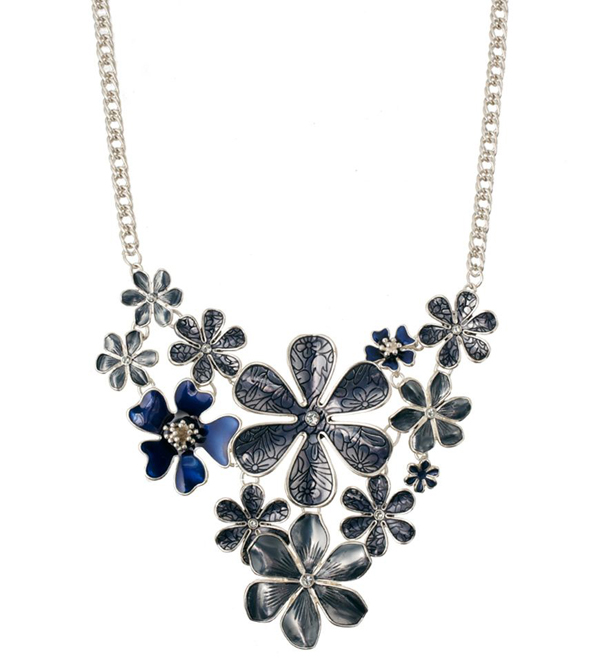 Although bright colors are the word of the day, you can feel free to unleash your darker side. I love this Pilgrim Statement Floral Necklace from ASOS, and I can envision paying $56.85 for it – maybe. It's not necessary, though; you can find darker palettes from Forever 21, Nordstrom, and many other top jewelry spots, so don't be afraid to get more dramatic.
---
8

Sleek Meets Sizzling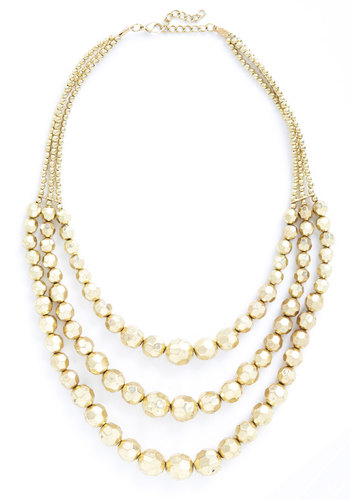 Sometimes you just want something a little sleek and understated. When you're in the mood for that subtle statement look, again, try something like this Dare to Disco Necklace from ModCloth, for $29.99. Play around with beads or chunky chains; you don't have to go all out in bright colors to make a splash.
---
9

Plain with a Punch
You don't have to keep your colors neutral, either. You can still find something simple and statement-making. I started with pink, and with the Nali Statement Multi Bead Necklace from ASOS, I'm ending with it as well. I love hot pink and black! This is a little longer than most statement necklaces, but you'll get a lot of wear out of it – especially since it's only $17.82!
Statement necklaces are fun, but they can also be incredibly chic. It all depends on what kind of look you're going for, whether you want to be vibrant and vivacious or sleek and stunning. Still, there's something for everyone, even if your idea of a statement leans more toward subtle. How do you style your own statement necklaces?
More
Comments
Popular
Recent