7 Tips on How to Combine Your Jewelry with Style ...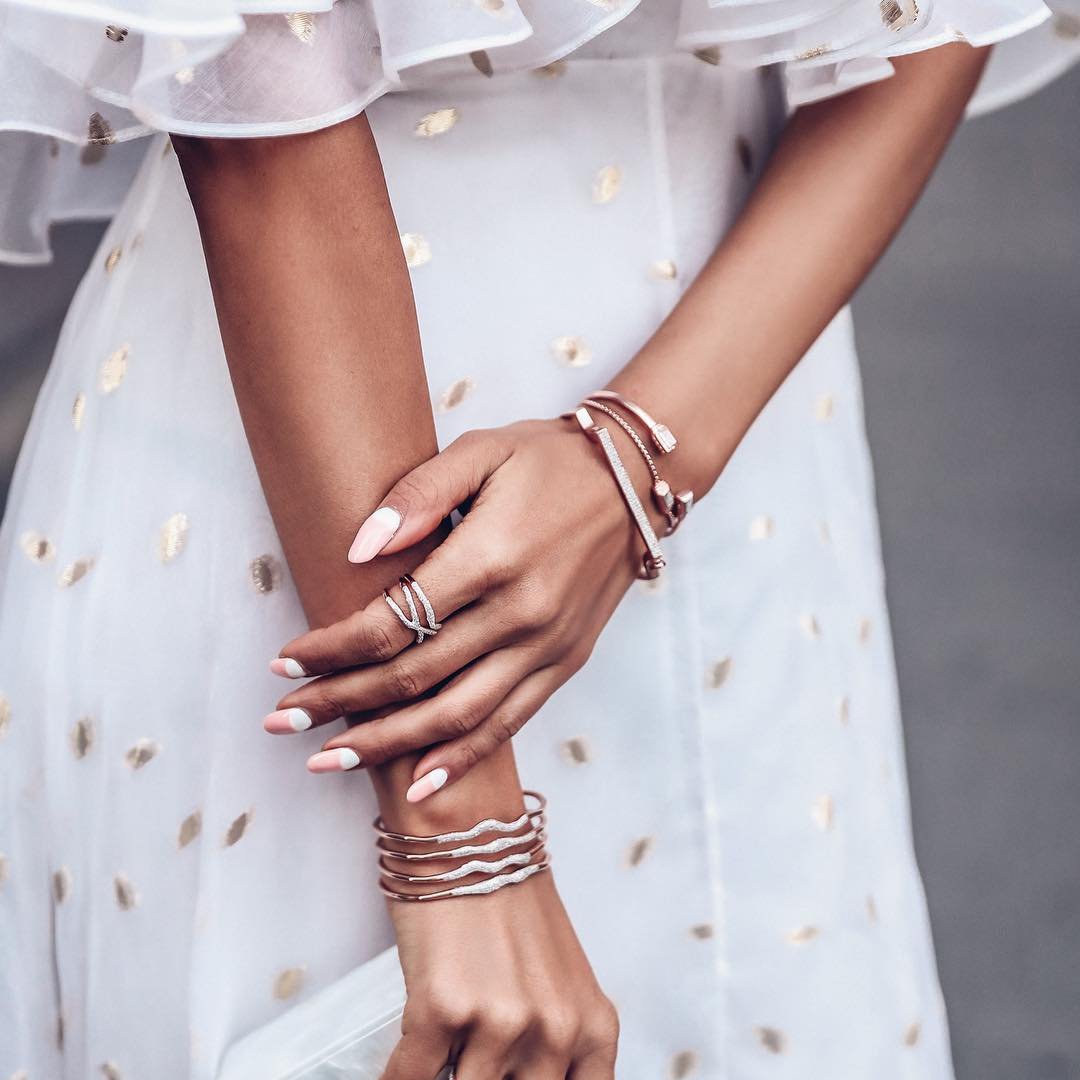 Pulling off a fabulous look doesn't involve clothes and shoes only – I'm sure you already know that. In fact, even the best outfit can look rather average if not accessorized properly, while glam, sparkly, expensive dresses look extremely cheap when a person decides to dazzle everybody by adding more glitz than the outfit needs. Well, don't worry- I've decided to write this post, not because I think you ladies lack taste but because jewelry is a very interesting topic that deserves to be talked about over and over again. And I'm sure you have a lot of interesting pieces that are eagerly waiting to be worn again! So, here's some ideas, tips and rules to think about:
Silver, yellow gold, red gold – they all go together so don't be afraid to experiment and mix your metals until you find the combination you like. You can wear all your bangles at once or mix stackable rings in ways you've never tried out before. The rule that says silver can be worn with silver only is definitely out so oil up your squeaky jewelry boxes and check to see which ones of your long-forgotten pieces can be reused in a completely new, trendy way!
When it comes to necklaces, more is definitely just perfect. That means you can wear more than one necklace and they don't even have to be the same length or color. In fact, the more layers you manage to create, the more interesting your style will be. Layer your pearls for a vintage look, combine metals, leather and natural stones for boho or combine chains with charm pendants and lockets for a more modern touch.
3.

Add Some Color and Texture
Think pearls, gems or natural stones but don't stop on thinking, use them too! There's only one thing you need to keep in mind and that is to never match cheap, obvious bijoux with real pieces. Real stones, in the other hand look great with both gold and silver elements and the only thing you need to worry about are the color and style of your outfit.
A huge ring is an eye-catching piece of jewelry, so you don't really need more than one. You can put one on each hand and still get away with it but, in that case, you must make sure the style and the stones match. Overdoing it won't give you any style points here and you may even expose yourself to the risk of looking cheap, regardless of how expensive your rings really are.
5.

Your Clothes Matters a Lot
Heavily beaded or sequined outfits don't require any jewelry at all. You can get away with a neutral piece but, unless you're planning to show up with a banner that says, "The Sun is on vacation, I'm going to shine for you today", anything more than that is just tacky. Feel free to layer your necklaces if you're going to be wearing a plunging V neck top or a turtleneck but opt for bangles in case you're about to go Rihanna-style and wear a dress with embellished shoulder pads.
Yes, they are a girl's best friend but you should definitely leave them at home during the day. You see, diamond jewelry is very elegant and, as such, doesn't tolerate a lot of experimenting. Do wear your engagement ring at all times but save the diamond earrings, bracelets and necklaces for special, black tie events, important celebrations and all those times when you are sure you'll be totally dressed up.
If you have a gorgeous ring you don't wear because it's too heavy/small/big, you can always put it on a chain and turn it into a totally wearable pendant. A long necklace can also be worn in many different ways! You can knot it, double it or even wear it as a bracelet. Interesting, lightweight charm pendants can be attached to hoop earrings, for example.
But don't let me tell you what to do with your jewelry; I'm sure you have plenty of ideas too! Tell me, what are your favorite pieces and how do you like to wear them?
Top Photo Credit: TinyApartmentCrafts
{{#comments_count}} Show Commnents ({{comments_count}}) {{/comments_count}}