Initial necklace styles tend to be very timeless in their appeal. Initial necklaces are just one way of incorporating more personalised touches to your jewellery collection. While a nameplate necklace may be too obvious, an initial necklace is a subtler option. Personally, I've had an initial pendant necklace since birth and it holds a very special place in my jewellery collection. If you've ever wanted an initial necklace, or are keen to give one as a gift, take inspiration from the following options.
---
1

ASOS Mini Initial Pendant Necklace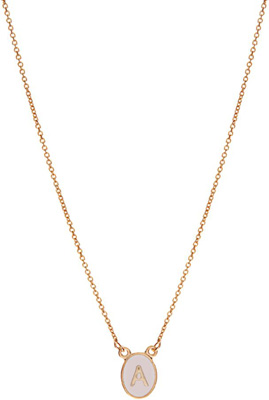 Price: $10.47 at us.asos.com
This initial necklace is a lovely option. It features a delicate enamelled pendant with a metallic frame and initial detailing. The pendant sits on a short gold-tone belcher chain with a bolt clasp closure. You could choose an initial based on your name, that of a loved one, or even a lucky letter.
---
2

Forever 21 Initial Necklace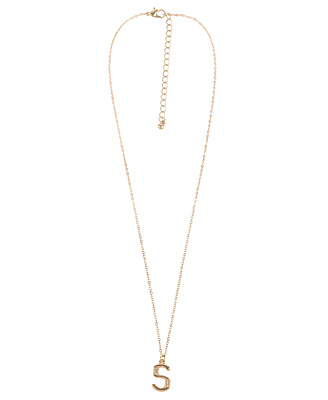 Price: $3.80 at forever21.com
Add a bit of bling to your everyday look with this rhinestone encrusted necklace. It has a simple design and features a letter charm at the end of an oval chain. It also has a lobster claw clasp and high polish finish. This style of necklace is available in both gold and silver colourways.
---
3

Jennifer Meyer Initial Pendant Necklace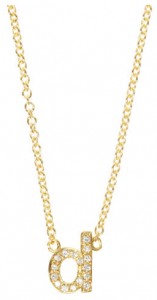 Price: $1125.00 at barneys.com
If you're looking for an investment piece, or something to last a lifetime, then this initial necklace is it. It is made from 18-karat yellow gold and features a diamond encrusted pendant. The lowercase type font is also a playful, contemporary touch.
---
4

Auroroa Lopez Mejia Initial Necklace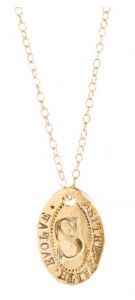 Price: $2175.00 at barneys.com
Thought the last necklace was expensive? Well take a look at this one. This 18-karat gold necklace features a gold cable chain and an engraved pendant. The pendant not only contains an initial, but also the words 'aspire, faith, evolve'. The pendant has a bit of a beaten up look about it, and you'd never guess it costs so much just by looking at it.
---
5

Sam Ubhi Initial Pendant Necklace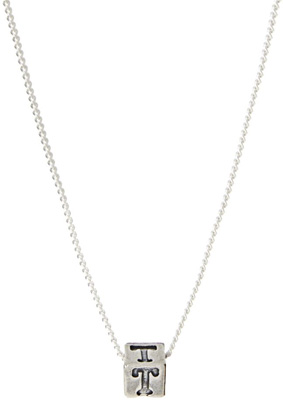 Price: $44.76 at us.asos.com.
This initial necklace has a fun and playful design. It is crafted in silver and features a cube initial pendant. The pendant is set on a fine curb chain and features a bolt ring fastening. It's quite a delicate piece of jewellery that could easily be worn on a daily basis.
---
6

Urban Outfitters Initial Heart Locket Necklace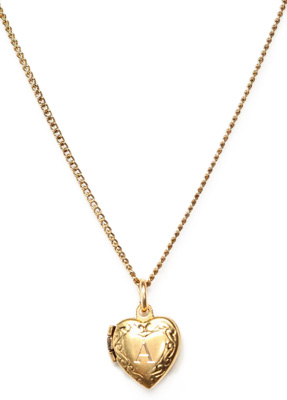 Price: $18.00 at urbanoutfitters.com
This locket necklace has a lovely vintage inspired design. You could easily mistake it for an antique or family heirloom. This necklace features an initial engraved locket that sits on a fine gold-tone chain. Wear it with your favourite vintage dress or your favourite anything, really!
---
7

Jennifer Meyer 14-karat Gold Diamond Letter Necklace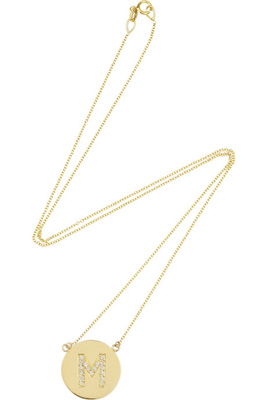 Price: $1500.00 at net-a-porter.com
This initial necklace features an engraved disc pendant. It is made from 14-karat gold and is set with 0.09 to 0.18-carat diamonds, depending upon the letter. The pendant sits on a fine chain with a clasp fastening. This necklace could easily become one of your daily jewellery pieces, making it money well spent.
An initial necklace is something that can be something very personal. I love it when jewellery tells a story or has some significance. What do you think of these initial necklaces?
Top photo: pinterest.com
More
---
Comments
Popular
Recent