COMMENT
Exotic blue rings always remind me of clear blue skies, tropical destinations, deserted beaches and crystal-clear sea and that's why I've decided to write about them today. Everybody's talking about orange these days and, although I like the general idea, I don't think we should change our styles totally just because somebody said so. Well, that's where these afore mentioned exotic blue rings fit in as they are, obviously, an ideal way to avoid the orange madness and still look and feel like an exotic beauty. Do you agree? Well, check out these 8 fabulous rings then:
1. Cluster Beads Ring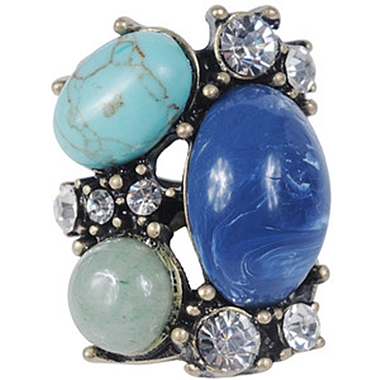 Eye-catching, elegant and totally cool- this ring reminds me of the sea, sun and all those wonderful postcards and brochures that make everybody go "Oooh!". It's probably not the piece you'd want to pass on to your children but hey, fashion jewelry doesn't have to be everlasting! It looks great and that's the only thing that matters.
Island Flower Ring
Explore more ...