Cocktail rings are ideal for expressing your personal style or adding a pop of edge and style to your outfit. They work well for anything, whether you're at work, on a date, or going out for drinks. They're my favorite piece of jewelry, because they make it so easy to add a touch of glam to your outfit. There are lots of gorgeous cocktail rings for spring blossoming in stores, showcasing the season's most popular colors. If the recent spate of warm weather has made you want to express yourself in bright hues and cool designs, check out all these trendy cocktail rings for your spring wardrobe!
---
1

Stephan & Co. Rhinestone Burst Statement Ring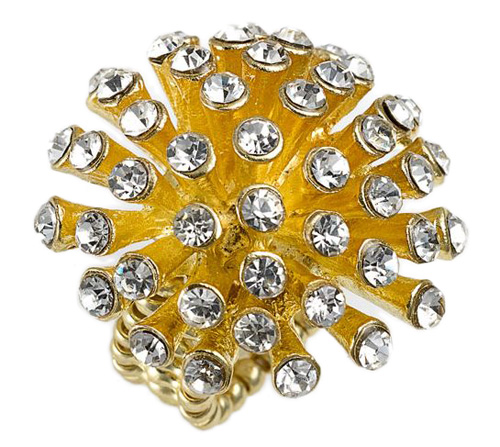 Price: $14.00 at shop.nordstrom.com
As you'll see on this list, not all stylish cocktail rings have to be seriously expensive. After all, they're akin to costume jewelry – absolutely gorgeous, quite often, but without requiring you to spend an arm and a leg. In addition to being affordable, this one incorporates the trend for bright yellow you'll see this spring. However, yellow is bright and if you find it too abrasive, this is a fantastic compromise. It's innovative, interesting, and pretty, but the yellow doesn't steal the eye.
---
2

Les Nereides Floral Ring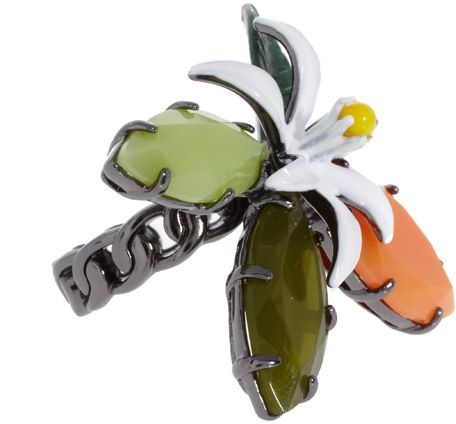 Price: $80.57 at asos.com
This is a subtler cocktail ring, but still lovely. It's enamel, but the leaves themselves are glass. The colors are muted, so this is perfect for more subdued occasions, like work or meetings, where you still want to have a touch of color. I love the design of the band as well, in addition to the gunmetal color.
3

Kate Spade New York Gerbera Garden Ring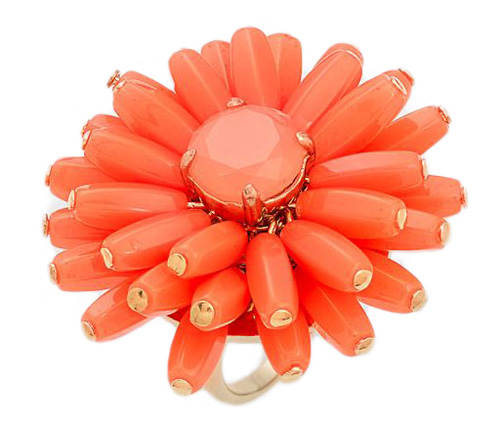 Price: $78.00 at shop.nordstrom.com
There are several rings this ring is perfect for spring. The color is most important, because coral is one of the most prevalent shades of the new season. As well, Gerbera daisies are just kind of happy and optimistic and open. The shape and design are incredibly spring like. Plus, coral goes with so many other hues, from black to something like sky blue or navy.
---
4

Lipsy Gold and Pink Square Stoned Ring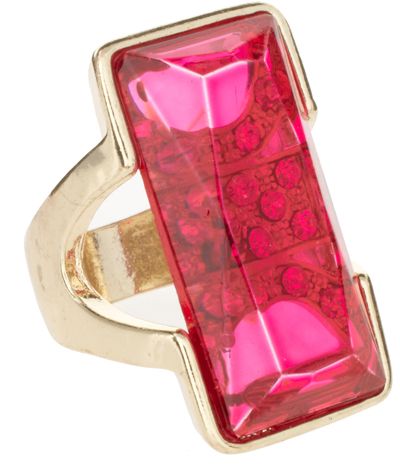 Price: $8.95 at asos.com
Like I said, there are lots of really affordable cocktail rings for spring. As you might imagine, I love the hot pink stone, especially against the gold. The rectangular cut gives it a more streamlined look, which lets you get away with this kind of bright, eye stealing color.
---
5

Juicy Couture Hard Core Couture Stone Cluster Ring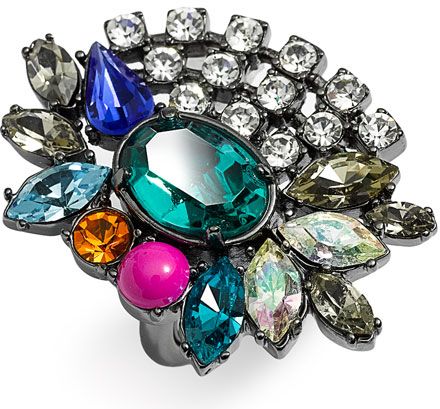 Price: $44.90 at shop.nordstrom.com
I confess, I love a lot of Juicy Couture Jewelry, including this cocktail ring. The colors are ideal for spring and the design is stunning. I love the way it mixes so many different hues, materials, shapes, and stone sizes. This is a really fun piece and it will look great with casual outfits by adding just the right touch of glamor.
---
6

ASOS Stone Set Cocktail Ring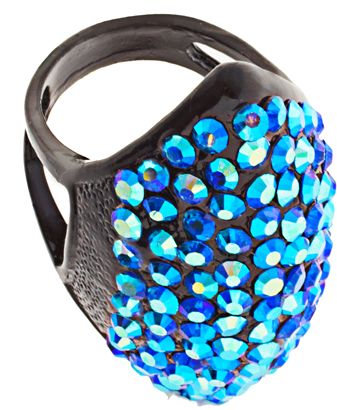 Price: $21.49 at asos.com
Blue is a big color for spring as well, and I love this electric blue hue. The stones are diamante, designed to look a little bit like sequins. The color stands out against the dark finish on the metal, providing some additional dazzle. It'd probably try to find complementary or outright matching nail polish to wear with this one.
---
7

Lori Bonn Spice of Life – Chai Cluster Ring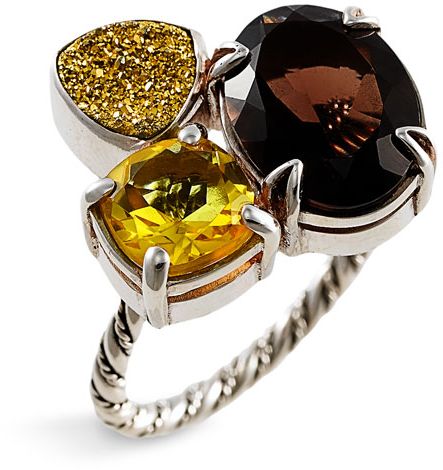 Price: $98.90 at shop.nordstrom.com
Here's another take on the yellow trend seen this season. It also incorporates the tendency toward warmer complements for some of the spring's brightest choices. This ring looks edible, and I love the different shapes and stones. Also, the band itself is made of silver that's been partially recycled, so that's cool.
---
8

Les Nereides Gem Stack Ring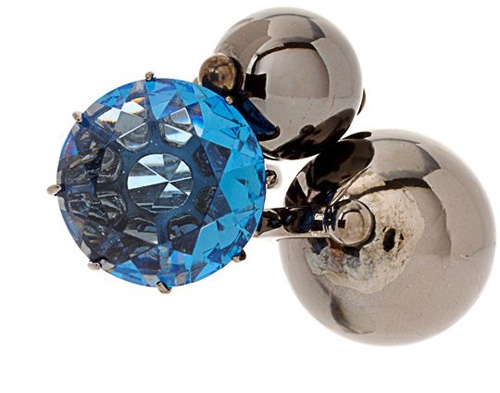 Price: $60.88 at asos.com
This is actually a set of three cocktail rings, which is even better. They stack together and create a really original appearance. The blue stone against the gunmetal colored balls makes a great splash of color. Plus, okay, I'm always a fan of the three-in-one!
---
9

Marc by Marc Jacobs Claude Mixed Media Ring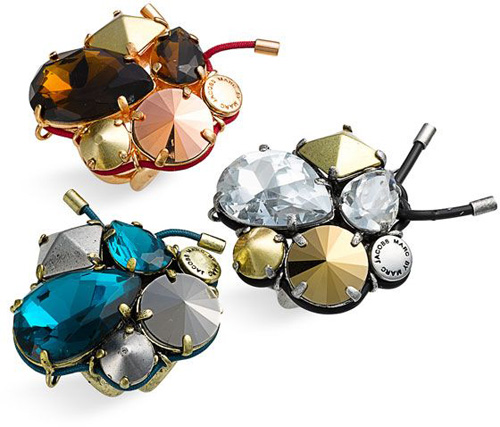 Price: $58.90 at shop.nordstrom.com
So, that explains my love for these lovely little rings. In addition to echoing the springs biggest color trends, each ring here features unique pyramids and an almost industrial feel, thanks to the metal work. The rose gold and chocolate combination is probably my favorite, although the periwinkle and silver is gorgeous, too.
---
10

Luv AJ Crystal Chunk Cocktail Ring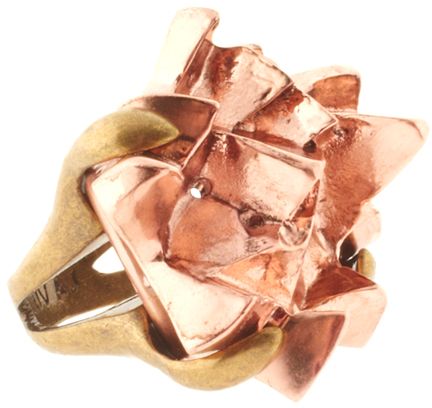 Price: $64.46 at asos.com
Here's another rose gold cocktail ring for spring, arranged in a chunky, trendy design. I love the warm tone of the gold, along with the definite pink undertones. The band is brass, creating a harmonious complement to the rosy face of the ring.
Since you can wear cocktail rings while you're working, with dressy outfits, or with jeans and tee shirts, they make great statement pieces. I love all the bright stones and sparkling metals I'm seeing in many of these! They make me want to throw off winter for good and haul out clothes and styles meant for warmer weather. What are some of your favorite cocktail rings for spring?
Top Image Source: weheartit.com
---
Popular
Related
Recent