Who doesn't want to be clued in on the best statement necklaces?! It's can be hard to find bold necklaces that make a statement and get your noticed. There are a lot of articles about makeup to make a statement or shoes, but let's focus on necklaces. There are so many great accessories out there, you just have to look at them! Here are some of the best statement necklaces out there!
---
1

J.Crew Technicolor Floral Necklace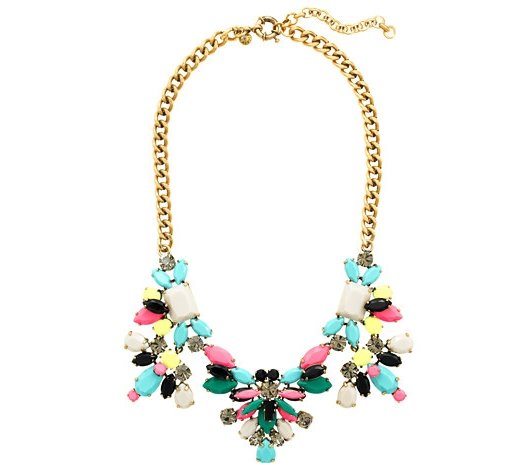 This is not a necklace for people who are afraid to take risks, but then again none of the best statement necklaces are! They weren't kidding when they decided to call this necklace "technicolor." The stones and flowers are made with really fun colored resin. This necklace will definitely brighten up any outfit you decide to wear! While this is definitely a great necklace in the spring, don't be afraid to add it to a look anytime.
Price: $165 at jcrew.com
---
2

Ben-Amun Cord and Bauble Statement Necklace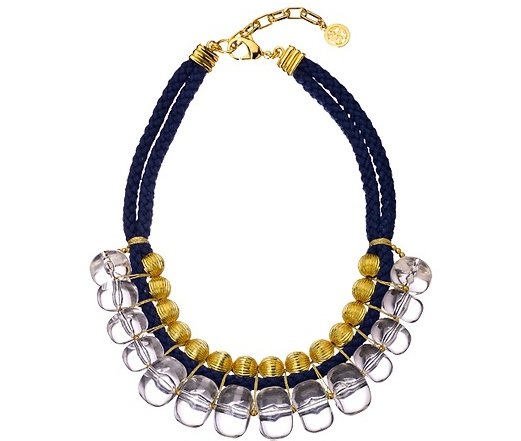 This necklace is like something I've never seen before. The best part of the necklace is the glass-like feature made out of acrylic glass called lucite. The gold plated beads definitely add something eye catching to this necklace too. Navy and gold are a classic combination that you can always count on to be around, so don't worry about it going out of style.
Price: $230 at polyvore.com
3

House of Harlow 1960 Leather Drop Necklace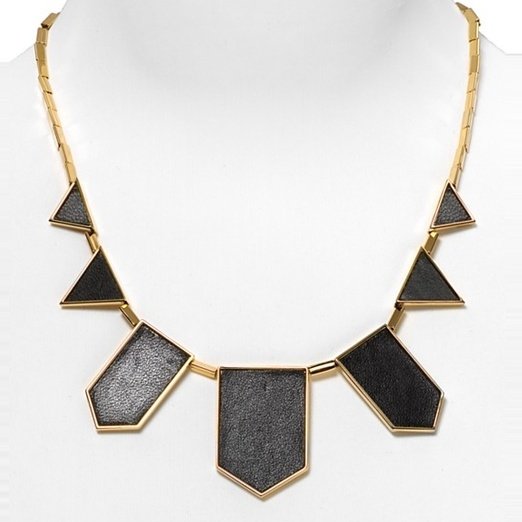 House of Harlow is a great place to look for anything! Nicole RIchie definitely knows what she's doing when it comes to clothes and accessories. This is very different than the cute flowery feel that was shown in the first necklace on this list. This is a chic necklace for when you're feeling kind of tough. This necklace comes in both black and khaki and is made with genuine leather and 14K yellow gold plated backing.
Price: $75 at shop.nordstrom.com
---
4

Kate Spade New York Give It a Swirl Triple Strand Necklace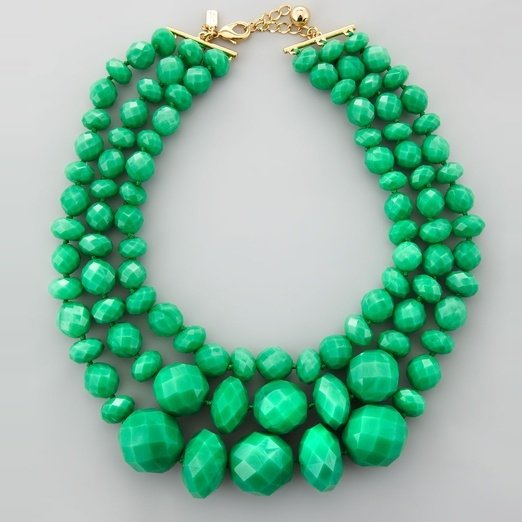 This necklace's color is probably it's best feature! The beautiful color is guaranteed to brighten up any outfit. The great chunky beads will draw attention to your neckline. The beads are made out of enamel. This necklace has been compared to Wilma Flintstone's classic chunky white necklace. Why not add a classic look to your array of accessories?
Price: $79 at gilt.com
---
5

Alexis Bittar Lightning Bolt Collar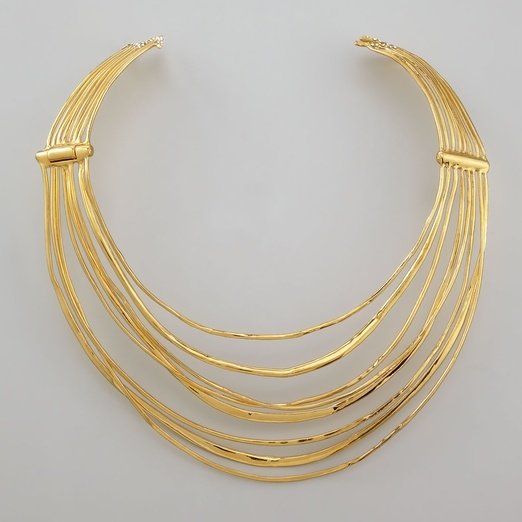 I personally love this necklace! It's so simple and yet it really draws your eye. The gold strands are paperclip-thin and encrusted with Swarovski crystals. Talk about glam! This necklace proves that jewelry doesn't have to be huge or bright colors to grab some attention.
Price: $345 at neimanmarcus.com
---
6

Tildon 'Vintage Floral' Statement Necklace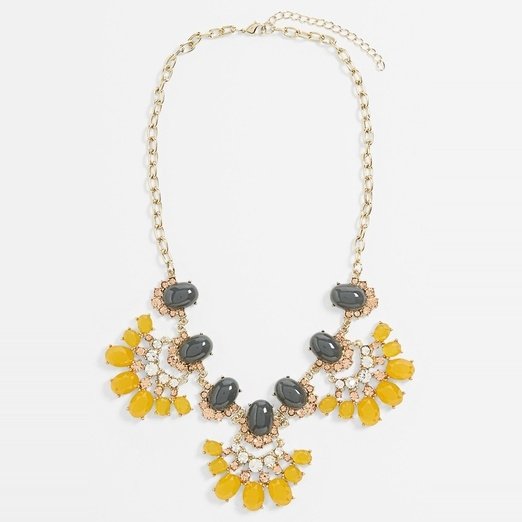 This is one of the cheaper necklaces on this list, but that doesn't mean that it's any less eye catching than the others. Not a fan of the yellow? Don't worry about it because the necklace also comes in red. The necklace is made of resin and gold tones. This necklace will definitely catch people's attention.
Price: $38 at shop.nordstrom.com
---
7

Anthropologie Floret Rope Necklace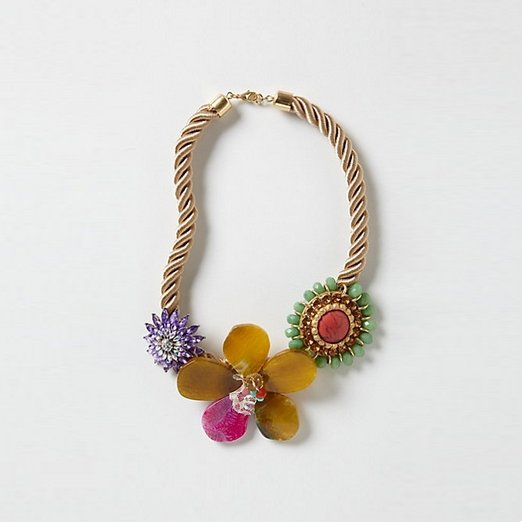 This is a great eye catching piece! This is definitely a unique piece that will make people stop and look. With three very different pieces on the silk rope, it's likely that people haven't seen something like it before. The flowers on the silk rope are made from Swarovski crystal, agate, jade, glass, and coral. The rope is held together by a lobster clasp. The best part is that not only do you have a great statement piece, but think of all of the things you can match with!
Price: $58 at anthropologie.com
---
8

Bauble Bar Amethyst Archipelago Bib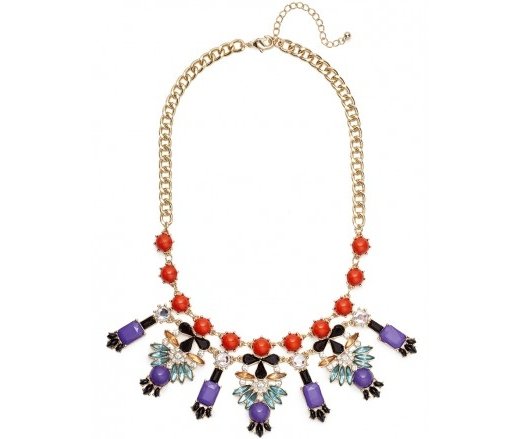 Woah! Talk about colorful! This necklace was definitely made for someone who loves to mix and match their colors. Not everyone will love this necklace, but those that do won't find anything as fun as this! This necklace offers a lot of matching possibilities or will draw the eye when you choose to wear a neutral outfit.
Price: $38 at svpply.com
---
9

Multi Chain Statement Necklace by Pim + Larkin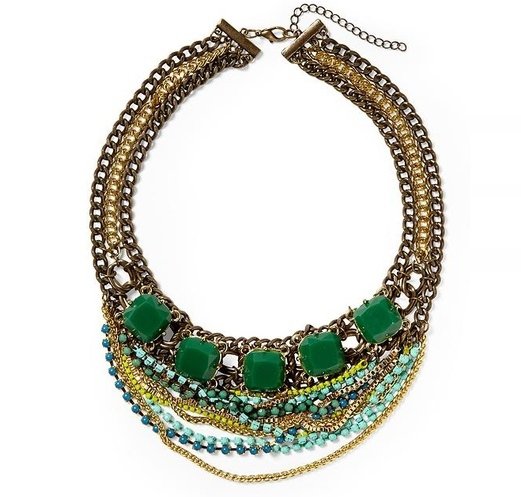 This is definitely for the jewel toned lovers out there! Not only is it nice and chunky, but it also combines emerald, mint, blue, and gold resin and gold tone metal. It looks really nice and expensive, but you get it for a pretty decent price. Anything you pair this with is sure to look amazing.
Price: $68 at keep.com
---
10

Zara Crystal Flower Necklace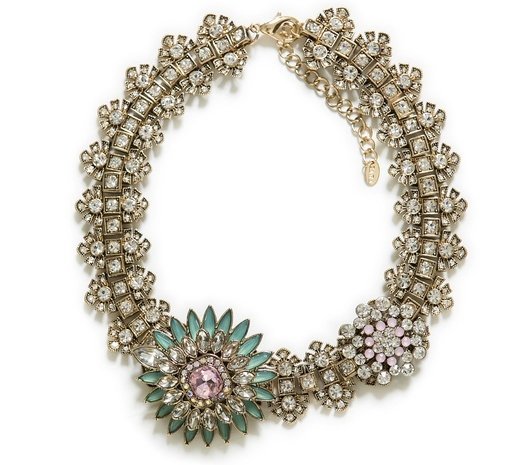 This gorgeous and expensive looking necklace is made with glass and steel, but makes your looks like you're wearing a glacier around your neck. The colors are pale and neutral enough to wear with almost anything. It's definitely an eye catching piece because it's so chunky and people will definitely want to know where you got it!
Price: $40 at keep.com
---
11

Jessica Simpson Necklace, Two-Tone Red Swag 3-Row Statement Necklace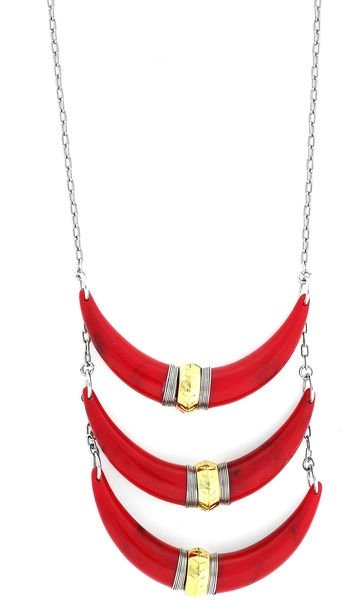 Made with gold tone and rhodium-plated mixed metal, this gorgeous red necklace will definitely catch the attention of anyone who sees it. The length alone will make a statement because the necklace doesn't just want to be on your neck, it wants to hang down and invade your outfit. This is a necklace that needs to be the main attraction of your outfit!
Price: $42 at macys.com
Everyone needs at least one statement necklace in their jewelry collection, why not make it one of these? You can't go wrong with any of the choices on this list. There's something for everyone whether you prefer a more subtle statement or if you really want to wow people.
---
Comments
Popular
Related
Recent