Diamond earrings are timeless. Whether they are a pair of fabulous statement earrings or more subtle studs, I think every woman needs to own at least one pair of diamond earrings. Diamonds aren't cheap, however, so treat your diamond earrings as an investment piece. Simple studs and hoops will most likely get you the most wear. That said, it doesn't hurt to look at some of the more extravagant designs currently out there. Take a look at some fabulous diamond earrings below.
---
1

Anita Ko Gold Diamond Earrings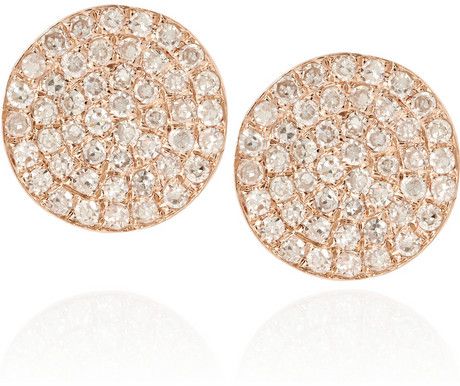 Price: $2090.00 at net-a-porter.com
These rose gold diamond earrings are elegant and sophisticated. They have a simple stud design and the circular face is encrusted with pave 0.40-carat diamonds. The rose gold finish is also much warmer than typical yellow and white gold. They could easily become a high rotation piece in any wardrobe.
---
2

Ileana Makri Diamond Snake Earrings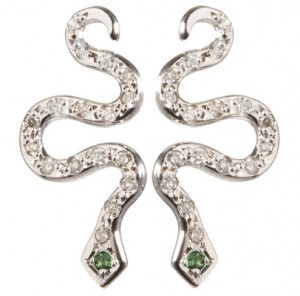 Price: $1595.00 at barneys.com
These snake shaped earrings are beautiful to look at. Animal inspired designs are a tried and true favourite, and these earrings are no different in their appeal. They are made from 18-karat white gold and feature diamond embellishments with green tsavorite 'eyes'. They'd make an interesting addition to any evening outfit.
3

Stone White Gold Diamond Earrings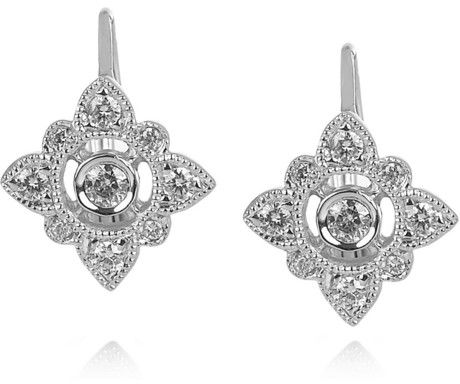 Price: $2045.00 at net-a-porter.com
These white gold earrings have a certain vintage feel to them. They could almost pass for family heirlooms! They have a floral inspired design and feature 0.25-carat diamonds throughout. Wear these with a black A-line dress and pumps for a timeless look.
---
4

Ivanka Trump Diamond Earrings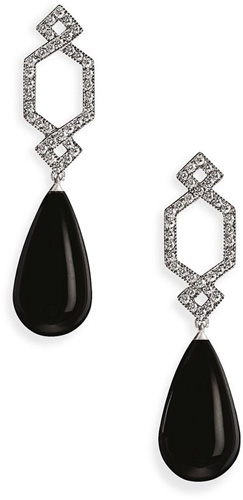 Price: $1800.00 at shop.nordstrom.com
These diamond earrings have a Deco inspired design. The diamond encrusted tops are set off by a thick onyx drop. The combination of the black onyx and white diamonds is quite striking. Earrings like this should be worn with your hair up and with a glamorous gown.
---
5

Bony Levy Diamond Hoop Earrings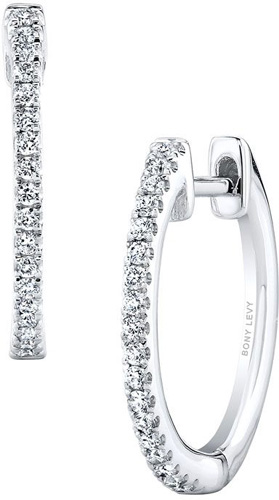 Price: $945.00 at shop.nordstrom.com
Diamond encrusted hoop earrings are an easy way to add some glamour to your everyday outfit. These particular earrings have a white gold finish and feature 0.18-carat diamonds. They're a simple yet stunning option.
---
6

Fabrizio Riva White Gold Diamond Earrings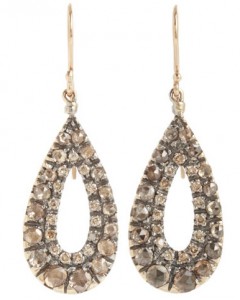 Price: $2075.00 at barneys.com
Brown diamonds make an interesting alternative to the classic white version. These earrings feature an oxidised gold frame and brown diamonds at the drop. These diamonds would look great with a flowing Grecian-inspired gown, or something equally bohemian inspired.
---
7

Jennifer Meyer Diamond Wishbone Earrings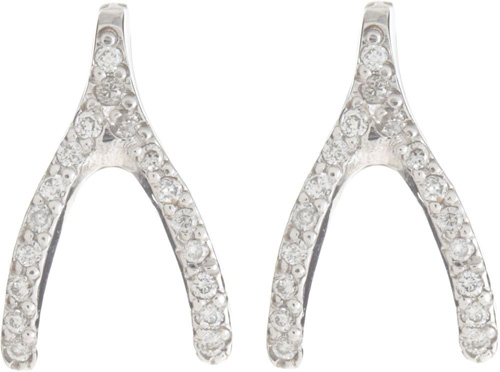 Price: $1000.00 at barneys.com
These diamond earrings have a quirky wishbone design. These wishbone earrings have an 18-karat gold frame and are set with white pave diamonds. Hopefully the wishbone design brings plenty of luck as well!
---
8

Wendy Nichol Black Diamond Earrings

Price: $350.00 at barneys.com
You can't go past a pair of simple stud earrings for everyday wear. These diamond earrings are a bit edgier in the fact that they feature black diamonds. They're perfect for those who want an alternative to the ultra-feminine appeal of white diamonds.
If you like the look of these fabulous diamond earrings, don't forget that you achieve a similar effect with more affordable alternatives such as cubic zirconia or crystals. Which of these diamond earrings do you like best?
Top photo: weheartit.com
More
---
Popular
Recent