Chandelier earrings effortlessly add a serious touch of glam to any outfit, whether it's casual or dressy. Long, dangling earrings look fantastic with jeans and tees or the perfect little black dress. Whether you like bright colors, sleek metals, or subtle designs, I've found some really incredible pairs of earrings. Trust me, if your ears aren't already pierced, you'll want to run right out and get it done. Take a look at these glamorous chandelier earrings and let me know what you think!
---
1

Kendra Scott Oralie Statement Drop Earrings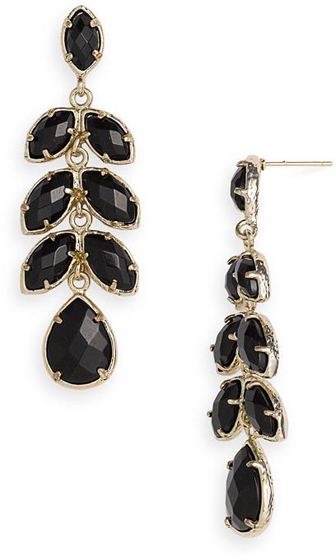 Price: $68.00 at shop.nordstrom.com
If you're looking for a subtler pair of chandelier earrings, this pair is perfect. The design is beautiful and a little quirky, especially when you opt for the turquoise version. The green onyx works for both casual and fancier outfits, and the black works with anything. You could wear that pair with a complementary colored dress or with your favorite pair of jeans and a cardigan!
---
2

Laurent Gandini Marie Antoinette Sterling Silver Lace Earrings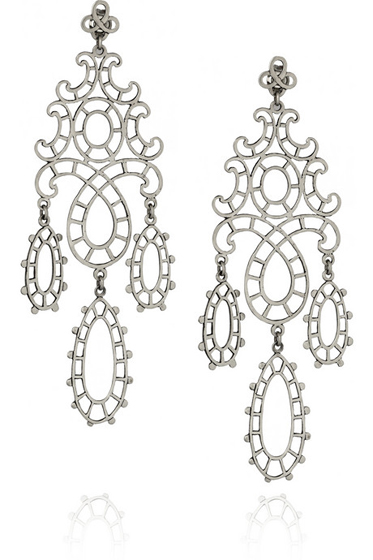 Price: $610.00 at net-a-porter.com
Okay, I know these are expensive, but you have to admit, those are some glamorous chandelier earrings! I couldn't help it, I love the lace design. I prefer silver to gold, so these appeal to me on that level as well. You could wear them with chic every day items, like a charcoal skirt and a pastel twin set, or with a really elegant party dress. Love!
---
3

Nadri Triangle Chain Chandelier Earrings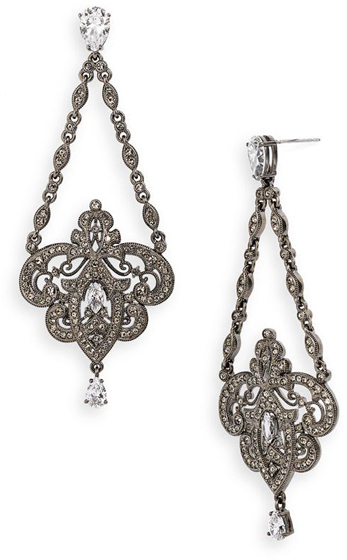 Price: $63.90 at shop.nordstrom.com
I absolutely love hematite – the color, the sheen, the edginess. These earrings feature gorgeous filigree made with an equally lovely pave. I love the chain from which the pendants dangle, plus the pear shaped design itself. It's evocative of the fleur de lis, which is my favorite design.
---
4

Big Bang Silver and Brass Chandelier Earrings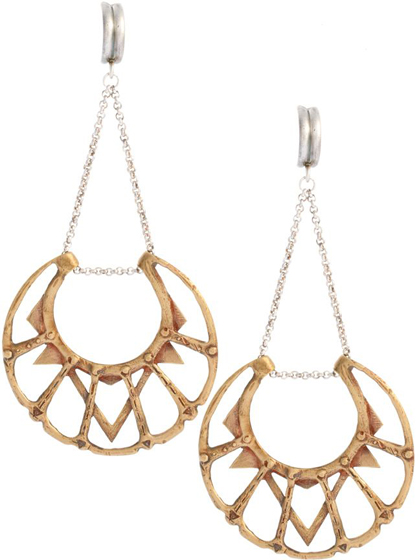 Price: $205.91 at us.asos.com
Bright, bold metals are incredibly popular this season, and you can take advantage of that trend with the right pair of chandelier earrings. These are silver and brass, and the color is just lovely. The sunburst design is really fantastic, making these a perfect choice for more laid back outfits during warm spring and summer days.
---
5

Tasha Crystal Kite Chandelier Earrings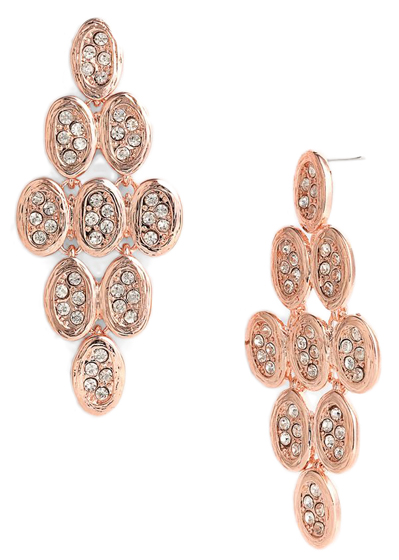 Price: $58.00 at shop.nordstrom.com
Although I'm not exactly a gold girl, I do love rose gold, which is why these lovely long earrings caught my eye. The pave crystals provide some additional dazzle and glamor, and I actually really love the way they reflect the shape of the ovals. You can also get this style in yellow gold or silver, it all depends on what you like best!
---
6

Erickson Beamon Pink Opal Duchess of Fabulous Chandelier Earrings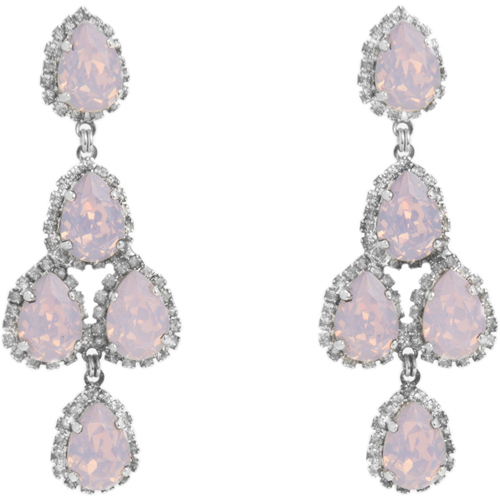 Price: $430.00 at barneys.com
With a name like that, how can you go wrong? I know these are pricey as well, but I couldn't resist! I love pink opals, and these are just gorgeous. They look so cool and icy, able to complement any eye color, hair color, or skin tone. You'll want to think about silver or white gold accessories with these earrings, and make sure your hairstyle calls attention to theme.
---
7

Judith Jack Serenity Chandelier Earrings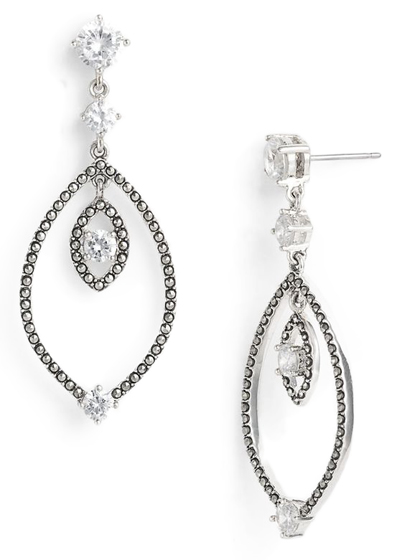 Price: $198.00 at shop.nordstrom.com
These earrings work perfectly as costume jewelry. They feature marcasite in pave along with cubic zirconia, but from the glitter you'd think they were made of black and white diamonds. They'd go great with any kind of outfit, and the drop design provides an edgy look.
---
8

Iosselliani Multicolor Rock & Crystal Chandelier Earrings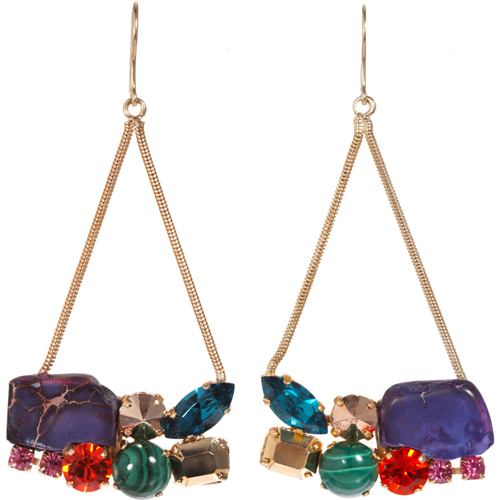 Price: $240.00 at barneys.com
However, if you're looking for really edgy, really funky earrings, here you go! These long dangling earrings are bright, playful, and colorful, so they'll go with any color palette. They feature rose gold too, which warmly mixes with the pink, red, purple, and green stones. Add some glam to a chic outfit, or wear them with a Boho look.
---
9

BCBGeneration Adele Chandelier Earrings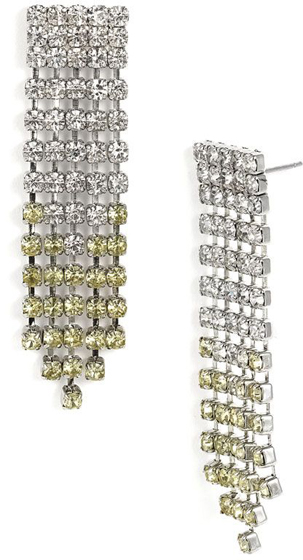 Price: $38.00 at shop.nordstrom.com
For less than $40, you can let these stunning ombre earrings add some serious glitz to your wardrobe. Ombre is such a big trend right now, and it really looks terrific with earrings. These look like a sparkling waterfall, or like they have a glittering gradient effect. Beautiful!
I love wearing chandelier earrings to add something fancy or edgy to my outfit. They're so versatile, which is something you should always look for in jewelry. Remember, though, work that versatility; sweep up your hair and throw on a pair of long earrings no matter what you're wearing! What are your favorite kinds of earrings to wear?
Top Image Source: pinterest.com
More
---
Comments
Popular
Recent