In your face jewelry is a trend that has supersized statement earrings reigning supreme for the season. Unabashedly bold and eye-catching, these attention-seeking earrings are long and luxurious with bright color bursts and shimmering jewels for fall. Not recommended for the faint of heart, these 9 supersized statement earrings for the season are high-impact drama with playful and fun flair.
---
1

Kenneth Jay Lane Crystal Clip Earrings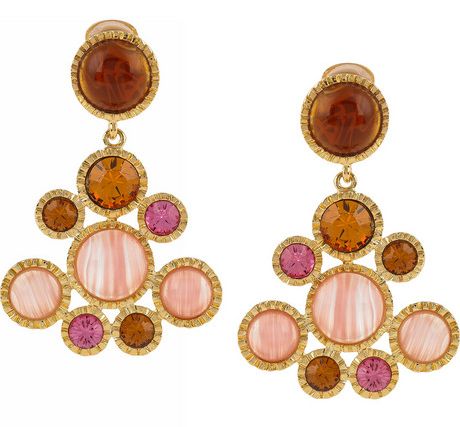 Price: $175 at net-a-porter.com
The soft, warm earthy tones in these Kenneth Jay Lane earrings are quintessential for the fall season, making for a subtle statement that doesn't compete with the sheer size of these earrings. If bright and bold pops of colour isn't your style, but you still want to incorporate a statement earring into your look, then this pair is perfect for you. Chic and sophisticated, this pair will make you center of attention in the statement earring's fashion moment.
2

ASOS Jewelled Earrings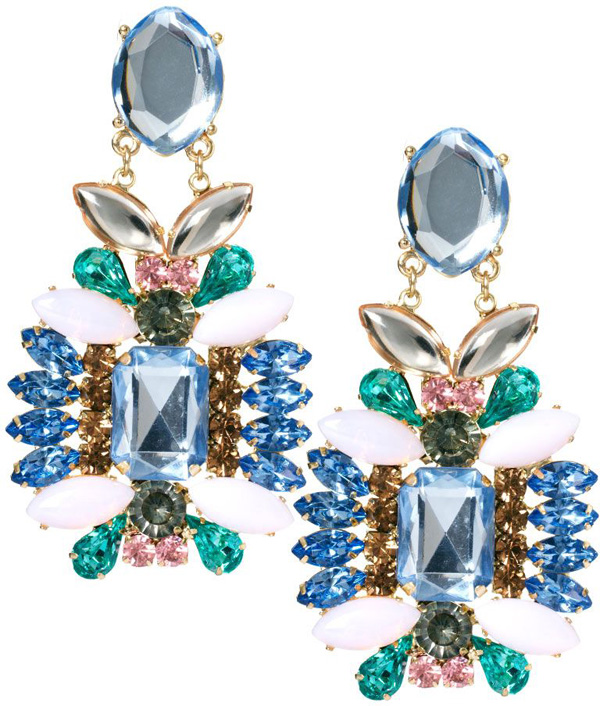 Price: $31 at us.asos.com
Supersized faceted crystal clear jewels allow for glamorous sparkle and shine. The transparency of these multi-coloured stones is perfect for light reflection causing a glistening radiant look when the sun is out this season. Cool tones make these drop statement earrings less showy so you can sport them for daytime or nighttime wear.
---
3

J.Crew Cabochon Fan Earrings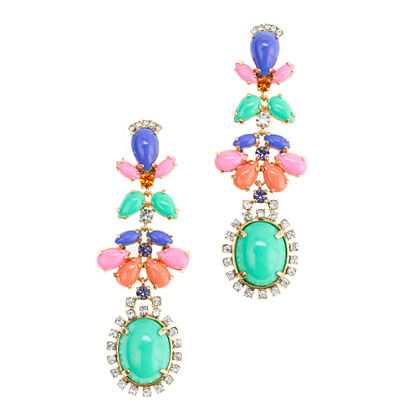 Price: $90 at jcrew.com
Made with saturated opaque stones, these cabochon fan earrings from J.Crew give a nod to 50s glamour in sweet pastel shades. Pair these earrings with a full skirt or fit and flare dress for a full on chic vintage vibe. The dangling design of this pair will have movement and presence whether hair is worn up or down.
---
4

Suzanna Dai Romani Large Drop Earrings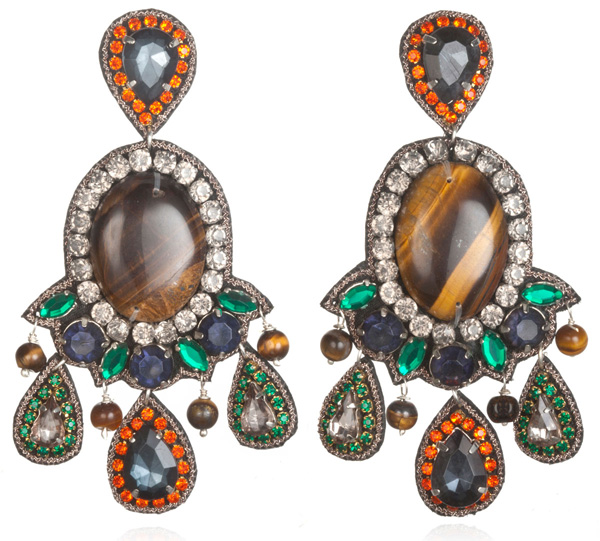 Price: $225 at suzannadai.com
The dark, rich jewel tones of these Suzanna Dai earrings make for perfect dark and moody fare for fall. For a truly opulent take on the statement earring trend, wear this pair with your favourite little black dress with your hair pulled back in a bun for a look that's sure to sparkle and shine. Make these your go to statement earrings for fall regardless of occasion and receive high-style attention all season long.
---
5

Dannijo Jelani Earrings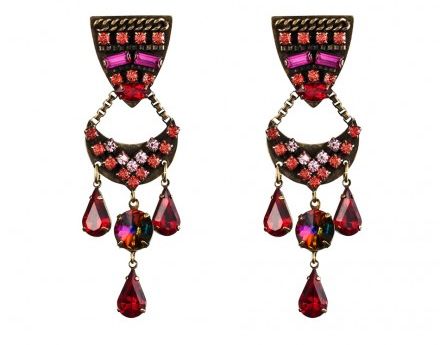 Price: $198 at dannijo.com
The tribal-esque feel of these Dannijo earrings mixed with pops of bright pinks and ruby reds creates an elegant look with ladylike sophistication. The oxidized silver plating allows the bold colour combination to stand on its own without being overpowering so you can wear these all year round. Long dangly drops are refined options that will draw people in and direct attention to your face for your own superstar moment.
6

Amrita Singh East Lake Autumn Earrings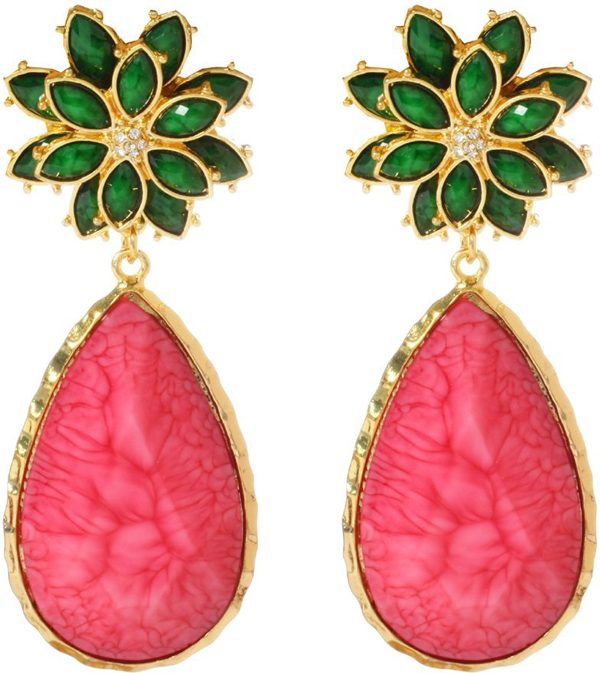 Price: $100 at amritasingh.com
If supersize styles don't fit your fancy then opt for dainty drops like these Amrita Singh earrings. Resin stones in contrasting fuchsia and evergreen tones still provide a larger than life statement without the overbearing size of some statement earrings. You can transition this pair easily into summer and the in-between seasons because of its cool colour combination.
---
7

H&M Large Clip-on Earrings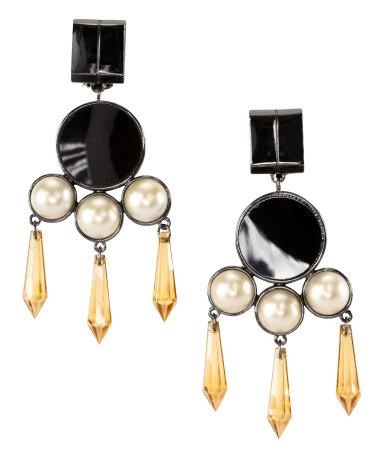 Price: $9.95 at hm.com
Pay homage to the art deco era of the 20s with these large clip-on earrings with plastic beads from H&M. A sophisticated combination of black and silver stones with creamy pearls and clear champagne coloured beads make for an elegant style yet are still statement worthy. Classic enough to dress up for work or play, these earrings are lavishly luxe. Pair with demure drop waists and lustrous metallic's to relive the roaring 20s in these earrings as a fabulous flapper.
---
8

Jolita Jewellery Olivia Clip on Earrings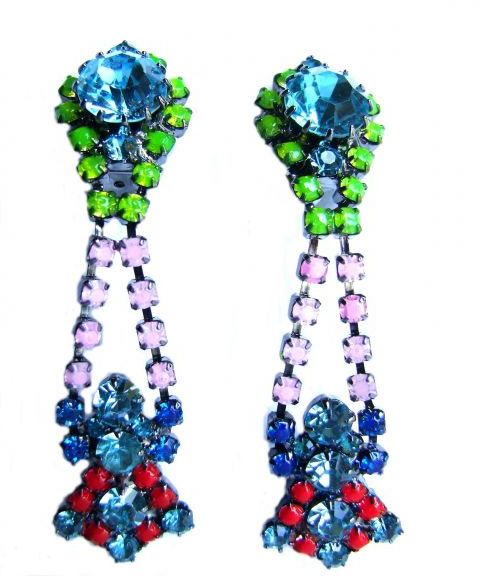 Price: $213 at boticca.com
For a fun and playful take on the statement earring trend try these hand painted clip-on earrings. A mix of bright and pastel colours add a contrasting yet complimentary design perfect for evening soirees or cocktail parties. Dipped in black chrome this pair gets a sleek and edgy finish that is cool and contemporary. Long with a jeweled cluster at the end these earrings are noticeably vivid and charming.
---
9

Bounkit Labradorite and Amethyst Statement Earrings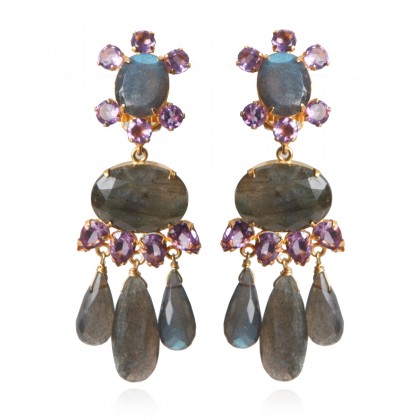 Price: $429 at charmandchain.com
Dark and elegant, these drop statement earrings are ultra-luxe and delicate. With minimal colour the light amethyst jewels set a refined style against the sophisticated labradorite stones. This eye-catching sparkling pair will instantly elevate all your evening looks this season.
Whether it's dangling drops, chic cabochons or crystallized chandeliers, statement earrings are making their mark in fashion this season. Unexpected colour combinations and sparkling accents make for the ultimate high-end finishing touch for fall. Create drama and impact while heading into the season in the shape of supersized statement earrings. Will you be sporting a supersized statement earring this season?
Top Image Source: vogue.com
---
Popular
Related
Recent