Taking your time to accessorize and complete a fabulous look with a few pieces of fabulous jewelry is always time well spent so, in case you're not a fan of big rings I have been writing about in one of my previous posts, it's about time for us to explore other options. Like bangles, for example. Equally eye-catching and stylish, these jingly pieces are an absolute must-have. So take a peek at these following 10 fab looking bangles and tell me what you think.
Table of contents:
1

Interlocked Bangle Set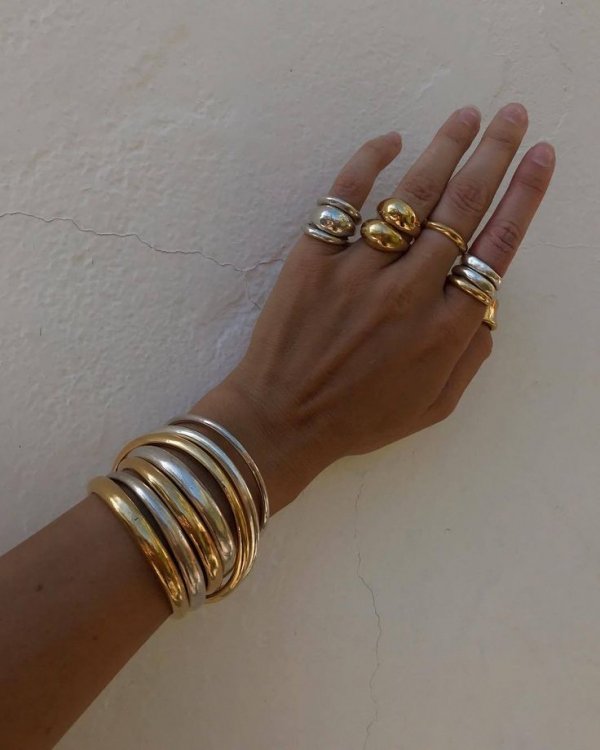 Price: $5.80 at forever21.com
Gold or silver tone, the choice is yours so, if you don't like all that jingling, I suggest you make it soon. This fab set of interlocked bangles is not only less noisy but easier to wear and store and, you must admit that having all of your bangles accounted for at all times can be a huge timesaver. Now, do I have to mention that it looks great or the image says it all?
2

Black Tie Affair Bangles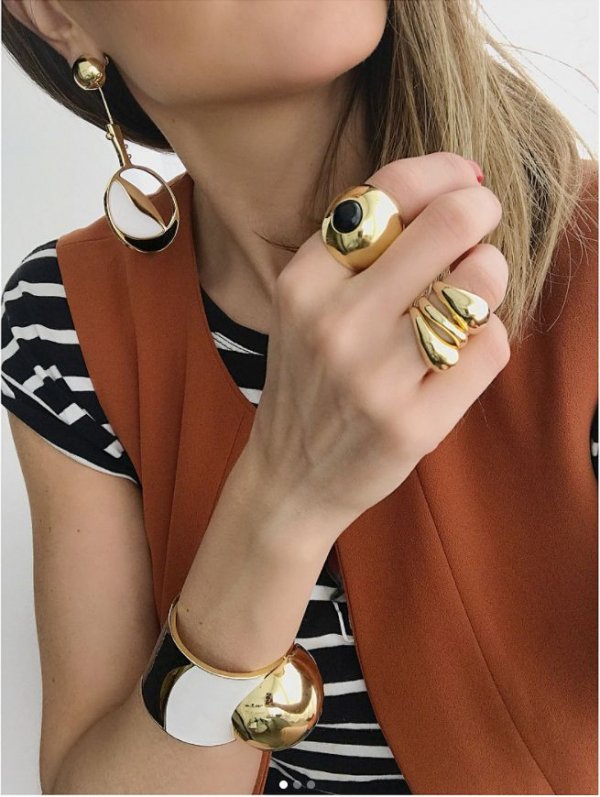 Price: $9.80 at forever21.com
This eye-catching set includes not two, not five and not seven but thirteen bangles that will compliment almost any elegant outfit you could think of. If you're like me and have about a million of black dresses, this could be a great way to accessorize them without having to step out of your comfort zone. Yay!
3

Angel Wings Hinge Bangle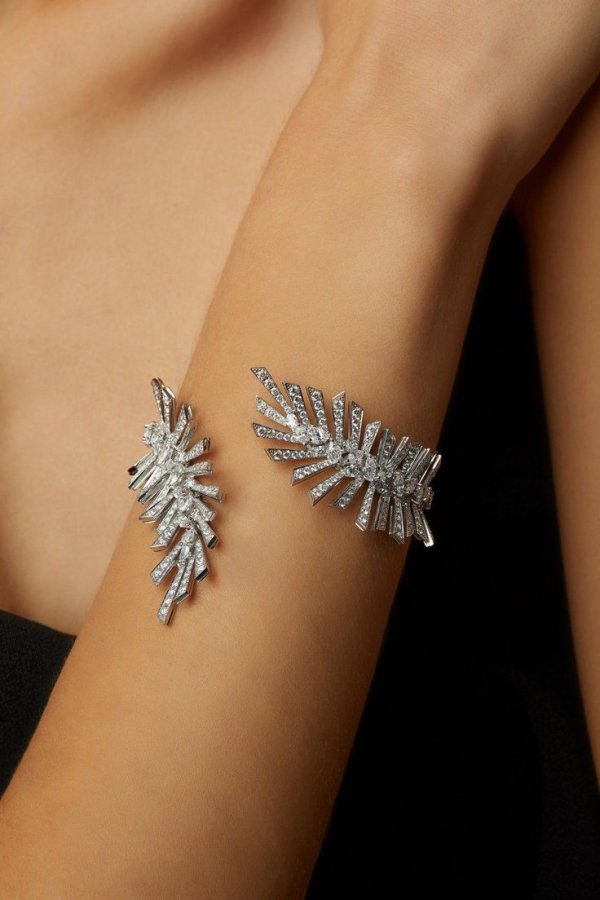 Price: $7.80 at forever21.com
Chunky, eye-catching, unusual and very sweet so, all of you angels out there, here's a chance to finally get those wings you've deserved. LOL! Gold and blue are definitely a match made in heaven so, in case you've ever questioned the effect of this combo, here's a chance to confess and make amends.
4

Colorful Panels Bangles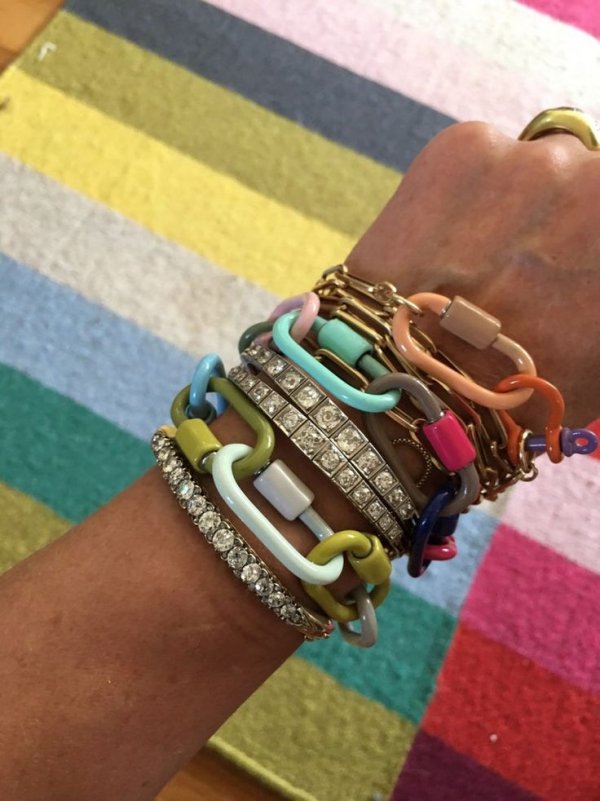 Price: $7.80 at forever21.com
The product description says you shouldn't be afraid to add some color to your life and – guess what? I totally agree! This set of three bangles is so interesting and easy to match because the color of your outfit doesn't matter at all. It could make a single color outfit more interesting or enhance the effect of your carefully chosen multi colored garments and just think about that "WOW" effect these bright panels and antique finish will have in the summer, when you decide to model that gorgeous "Caribbean beauty" tan!
5

Metal and Resin Bangle Set by French Connection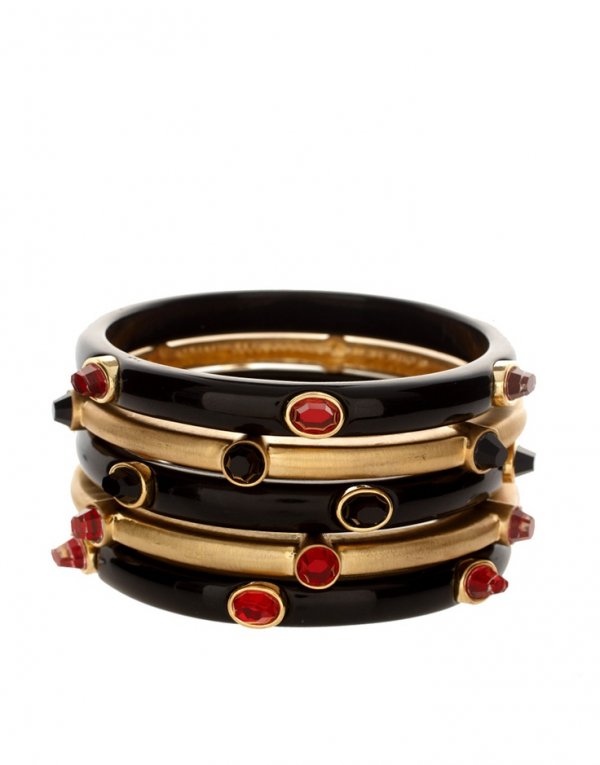 Price: $32.27 at asos.com
Black, gold and crystal embellishments – this bangle is so in but it also looks like it has been teleported through time straight from Camelot. Huge castles, beautiful ladies, brave knights, shiny swords and powerful wizards – you could have your own piece of magic right here! Now, I might be a bit crazy but this bangle really reminds me of old times.
6

Chunky Animal Bangle Set by Lipsy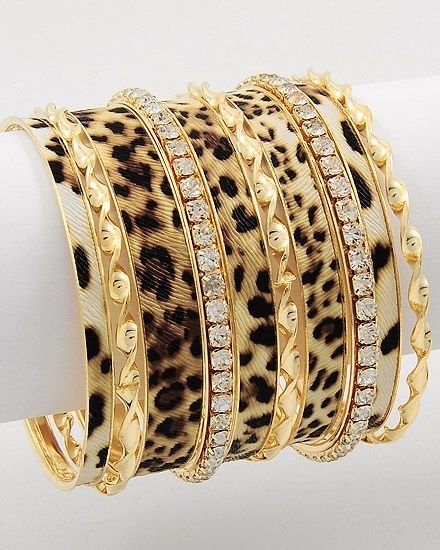 Price: $21.52 at asos.com
Meow! Slip into that fabulous party dress, wear your favorite pair of killer heels and let's get that party started! But don't forget to wear this fabulous set! Massive animal print bangle will give you your daily fix of animal prints while these slim ones provide that mesmerizing shine, movement and jingle, of course! A perfect way to wear animal prints without having to actually wear them!
7

Jagged Bangle Set by House of Harlow 1960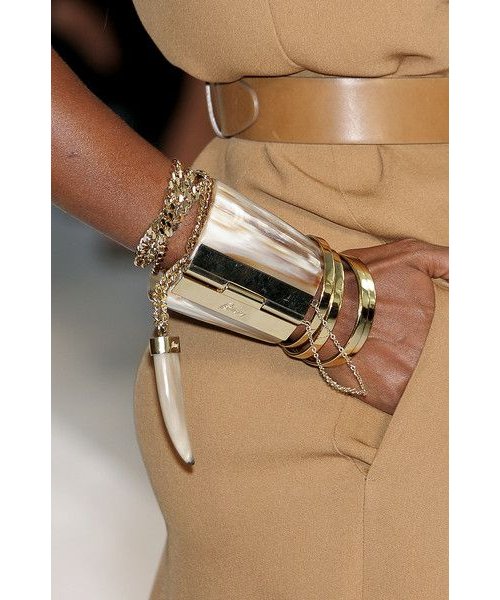 Price: $518.18 at asos.com
They say the picture is worth more than a thousand words so I'm just going to leave it to you to check it out and decide if this set of bangles is really worth 500+ bucks and 1000+ words. I'd say yes, but only for the words part because, although it looks amazing, I wouldn't blow all that cash on something that isn't gold or silver but merely gold and silver plated. The design is definitely worth mentioning so, check it out and keep a lookout on similar but normal-priced bangles.
8

Natural Stone Bangle Set by ASOS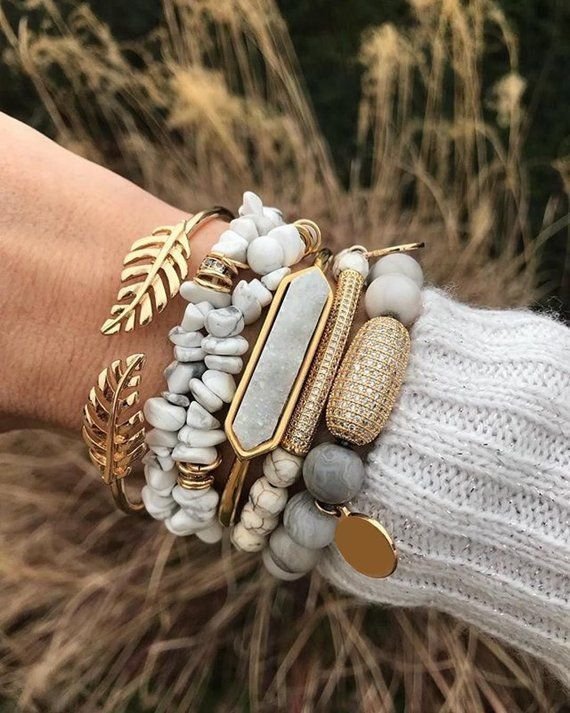 Price: $35.86 at asos.com
Oh! This bangle set simply must find its way into my jewelry box and I even think I even have a necklace to match! Natural stone jewelry always looks great and it's incredibly easy to match and wear in all occasions. This "earthy" look is great for the summer but, add a couple of gold or silver elements, and you'll see it transforming from casual day jewelry to glamorous evening eye-catcher.
9

Enamel Bangle Set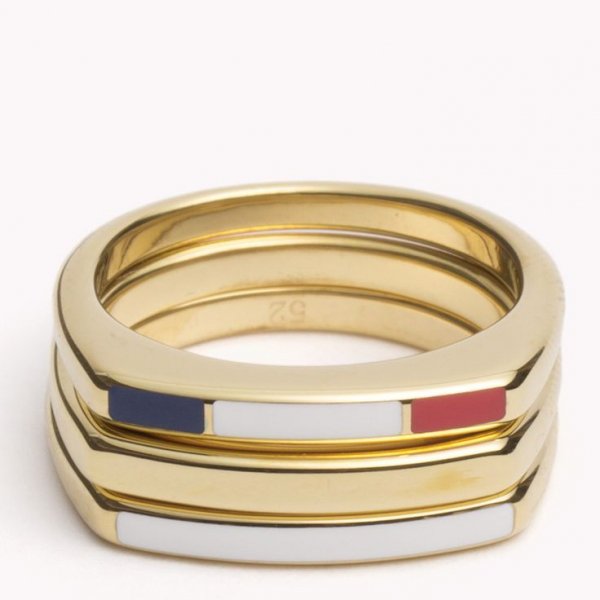 Price: $6.80 at forever21.com
This set of three very elegant peach or cream enamel bangles is just what a lady needs! Nude, neutral, layered look is hot and here is the perfect accessory to complete it with. Glossy gold toned body completed with shiny enamel in some of the two delicate colors mentioned above proves that going neutral doesn't have to mean being plain. It's actually the other way around!
10

Paisley Print Bangle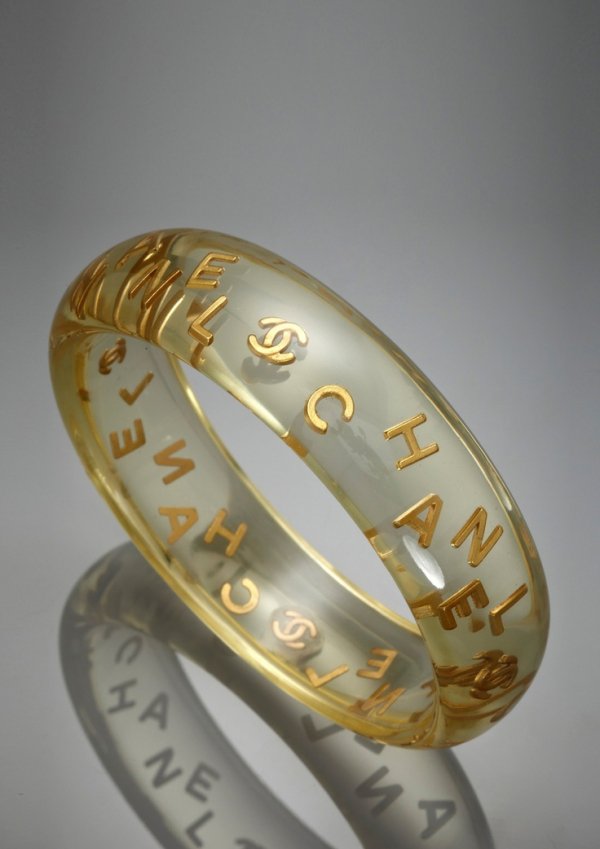 Price: $5.80 at forever21.com
Retro, colorful and chunky bangle like this one is something you'd probably think twice before buying but feel glad that your did so, after you've worn it once. Yup, I know it kind of looks like something grandma used to wear, but just think about it… It's fun, colorful, big and shiny and that's exactly the way we like our summer accessories!
Which one of these fab looking bangles would you choose for yourself? Now, don't tell me there isn't a single one you like! After all, two sets of bangles and a little bit of creativity are everything we need to keep accessorizing like pros.
Please rate this article