I don't normally care much about key rings — I've been using the same Victoria's Secret PINK key ring for more than two years now — but lately I've fallen in love with everything from Tiffany, and that includes their gorgeous key rings. I've had to exhibit a lot of self-control, so I haven't bought any… yet. Here are 8 gorgeous Tiffany key rings.
Table of contents:
1

Tiffany Notes round Tag Key Ring

Price: $235 at tiffany.com
My favorite collection at Tiffany is Notes, inspired by the handwriting on wedding invitations. The tag is round, and features the script in a galaxy titanium finish. To add your keys, unscrew one of the balls at the end of the ring, slip the keys on the ring, and screw the end back on.
2

Super Bowl XLV round Tag Key Ring

Price: $125 at tiffany.com
Until today, I had no idea that Tiffany was the creator of the NFL's highest award, the Vince Lombardi Trophy. This sterling silver key ring features the official symbol of the Super Bowl XLV, and would make an ideal gift for the football fan on your Christmas shopping list.
3

Tiffany 1837 Circle Key Ring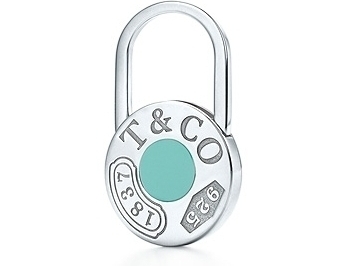 Price: $235 at tiffany.com
This sterling silver key ring is shaped like a lock, and is a classic Tiffany favorite. It's small and elegant with one round Tiffany Blue accent in the middle.
4

Tiffany Daisy Key Ring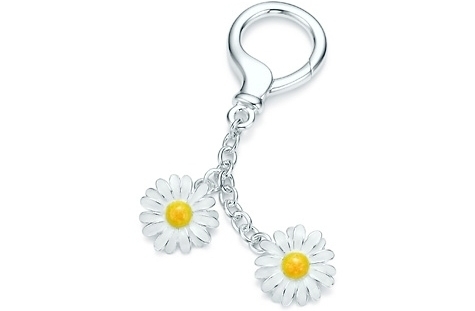 Price: $300 at tiffany.com
So dainty and pretty, this key ring could be a constant reminder of summer flowers even on the coldest of winter days. It's made of sterling silver with yellow and white enamel accents for the daisies. I love the clip-style ring for the keys.
5

Tiffany Vintage Key Ring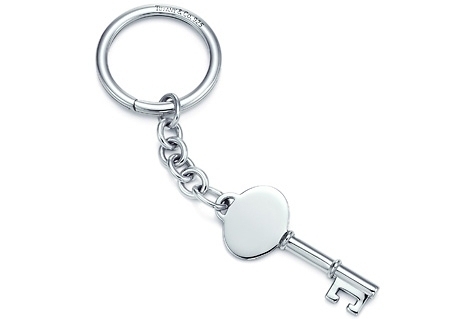 Price: $145 at tiffany.com
This key ring is inspired by vintage keys, the ones used to open treasure chests. It's made of shining sterling silver, and would make a wonderful housewarming gift!
6

Tiffany Pineapple Tag Key Ring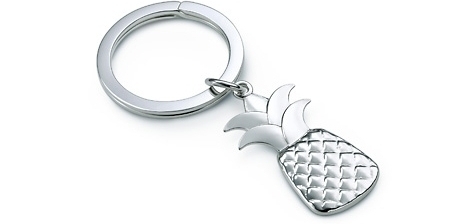 Price: $75 at tiffany.com
The pineapple has long been a symbol of hospitality, so this sterling silver key ring featuring an elegant pineapple fob, would also make a lovely housewarming gift! I love the simplicity of the design, and the price is completely affordable.
7

Tiffany 1837 Valet Key Ring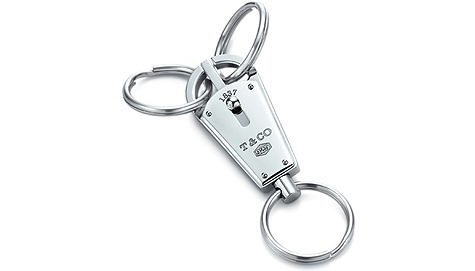 Price: $170 at tiffany.com
If you tend to leave your car at valet rather than park and walk, then this is the key ring for you. The key rings detach easily, giving the valet attendant and driver only as much access as you'd like. The ring is made of stainless steel with a sterling silver accent.
8

Return to Tiffany Heart Tag Key Ring

Price: $140 at tiffany.com
This is my favorite Tiffany key ring, a classic, featuring a heart-shaped tag with the traditional "Return to Tiffany" script. If your keys are lost, the kind soul who recovers them can turn them in to any Tiffany store, traceable (and returnable to you) by the unique number engraved on the fob. Handy!
Those are just a few of the dozens of gorgeous key rings available at Tiffany. As you can see, they range in prices so there's probably one in your own budget (and mine too). Which of these key rings do you like best? Or is there another Tiffany key ring you like better?
Please rate this article