I adore statement jewelry, especially unusual, eye-catching rings. But it can be hard to make a statement that doesn't say anything about being gaudy or just plain weird, so I've been looking very carefully for a few new statement rings, and I've found a treasure trove of them online! Here are 7 unusual rings from Anthropologie.
---
1

Stacking Babushka Ring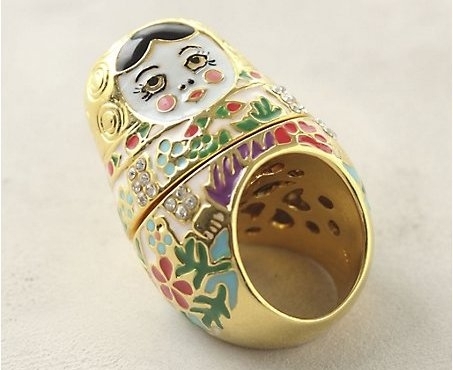 Price: $198.00 at anthropologie.com
This dainty matryoshka doll hides a sweet secret — remove her from the top of this 18-karat gold plated brass ring to reveal another, smaller doll, nearly identical. Both are incredibly detailed, perched atop a gorgeous band and available in a size 6 or 7 to fit most hands. Wear this with an embroidered skirt in rich reds and a stark white short-sleeved blouse.
---
2

Golden Moment Ring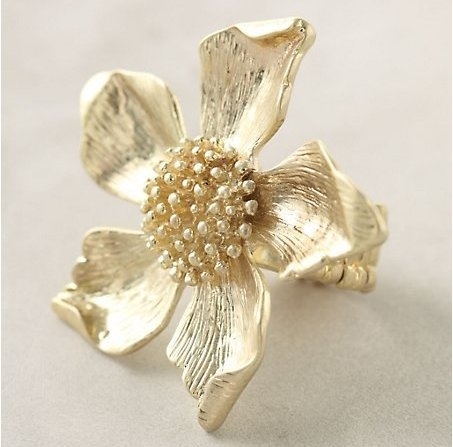 Price: $34.00 at anthropologie.com
Celebrate the beauty of one perfect dogwood flower with this gorgeous gold-tone statement ring. It features five delicately curled petals around a faux-pearl center, and the band is elasticized, much like a watch band, for a perfect fit. I'd wear this with a tweedy pencil skirt, high-heeled oxfords, and a sheer, ruffled blouse.
---
3

Crushed Amethyst Ring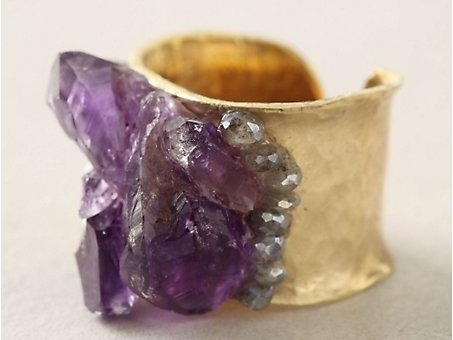 Price: $178.00 at anthropologie.com
How gorgeous! A plain brass band, topped with tiny round lavender crystals then a cluster of deep purple labradorite, handmade by De Petra in the USA. It's not as chunky as it looks, measuring only one inch across, but it's sure to be noticed and appreciated every time you wear it.
---
4

Frog Lake Ring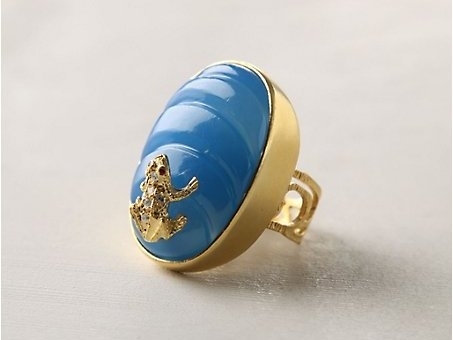 Price: $338.00 at anthropologie.com
This unusual ring is reminiscent of vintage brooches, featuring a rippled blue onyx pool and one lone bather, a tiny gold-plated frog. He's graceful, and charming, with glittering rhinestone eyes, available in a size 6 or 7.
---
5

Horseshoe Bay Ring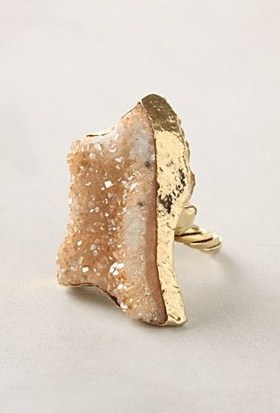 Price: $128.00 at anthropologie.com
Just imagine how wonderful this organically shaped cut of pink sand druzy quartz would look on your fingers. The warm gold literally warms my heart! Wear with an LBD and dazzle all in your orbit.
---
6

Colorful Crags Rings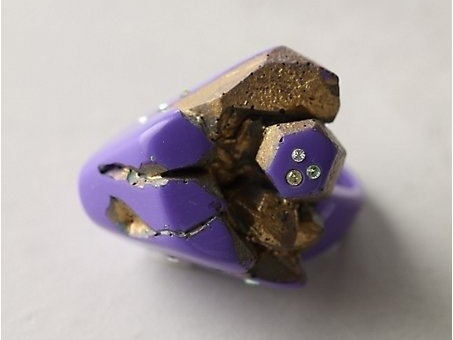 Price: $198.00 at anthropologie.com
This gorgeous ring by Triian is truly unique, made of craggy resin and topped with glittering, gleaming Swarovski crystals. Choose from four colors (purple, brown, yellow, and white) and wear with pride. I'd wear this with a menswear-inspired ensemble and tall, sleek patent heels.
---
7

Rolling Gems Ring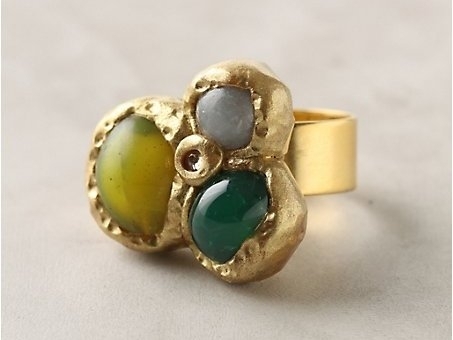 Price: $98.00 at anthropologie.com
Three beautiful orbs perch atop a brilliant 24-karat gold plated band, rich green and dove grey. The ring's designed by Cleo & Cat, and made in the USA… wouldn't this be gorgeous with a floral-print romper and wedges?
Any of these rings would be a magnificent addition to your collection, sure to make a stylish statement without over-doing it. I adore the matryoshka doll and the Seven Sisters, but they're all so pretty! Which of these unusual rings do you like best, and what would you wear it with? Please share!
More
---
Popular
Recent