Who didn't love dinosaurs at one time or another when they were little? They're fascinating, frightening, and really incredibly cool! I never outgrew my love for them, and I still make frequent trips to the Field Museum in Chicago every chance I get, so I can marvel at Sue, their impressive T-Rex. In everyday life, I celebrate these prehistoric giants by wearing them as accessories… here are 8 super-cute dinosaur accessories!
Table of contents:
1

"the Original Vegetarian" Dinosaur Necklace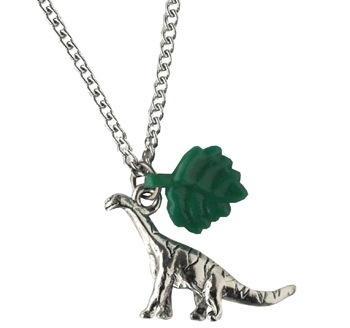 Price: $12.00 at shanalogic.com
What better way to announce your own vegetarian leanings than with this adorable necklace, featuring one of the first leaf-eaters, the Brachiosaurus? He's made of shiny silver-tone metal and hangs from an 18" chain with his favorite treat, a big green leaf.
2

Little Dinosaur Necklace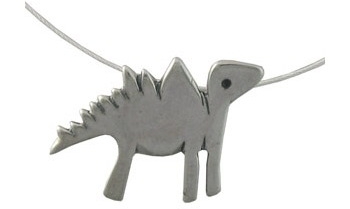 Price: $28.00 at shanalogic.com
Mark Poulin's jewelry designs are simple but sweet, and this spiny Stegosaurus is no exception! He's made of genuine sterling silver, and is set on a slinky, comfortable silver-tone nylon cord. Isn't he (or she?) adorable?
3

Dinosaur Earring Set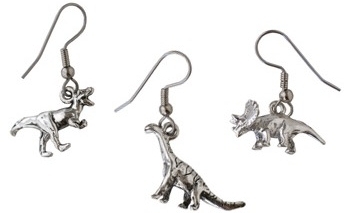 Price: $14.00 at shanalogic.com
Mix and match your way to prehistoric prettiness with these three earrings. There's one T-Rex, one Brachiosaurus, and Triceratops (my favorite!) all intricately detailed and dainty. I'd wear these with a 1940s style pencil skirt and cropped blazer and wristlets, and pretend, just for one day, I work in a museum. If you like this set, you may also want to take a peek at the matching charm bracelet…
4

Dinosaur Pin Set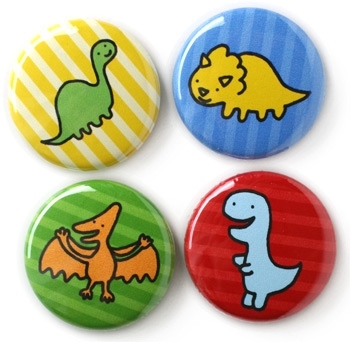 Price: $7.00 at shanalogic.com
Add a little dino flair just about anywhere with this set of pins by Missy Kulik. Each one of the four pins features a smiling dinosaur, and measures one inch. They're perfect for adding to a tote or a coat, and for sharing with friends! I love the bright colors and the adorable illustrations… especially that stubby-armed T-Rex.
5

Dino Might Necklace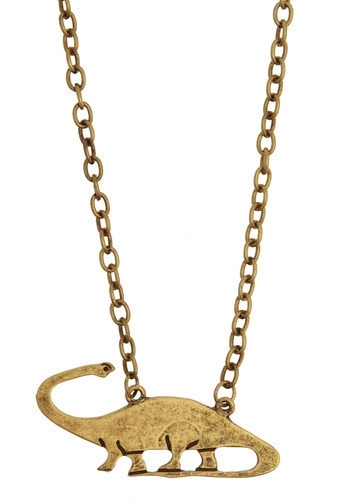 Price: $12.99 at modcloth.com
This gold-tone giant, the mighty Brontosaurus, dangles impressively from an adjustable gold-tone chain, gracing the most chic ensembles with his dignified presence and stateliness. His likeness is chunky, sizeable, measuring two inches across and 1 inch tall. I'd wear him with a pretty floral frock and tall lace-up boots…
6

Allosaurus Earrings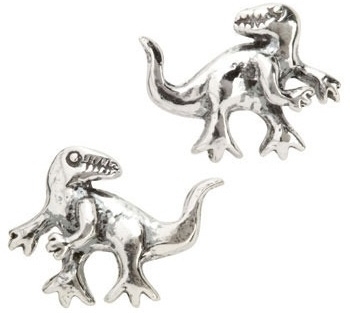 Price: $14.99 at modcloth.com
These tiny sterling silver, sweetly detailed Allosaurus earrings may look a little scary at first, but that's not a hungry growl, that's a giggle! Can you think of a better way to attract a fellow science nerd? I'd wear these with a vintage-inspired fitted tee and dark skinny jeans… and my glasses instead of contacts, of course!
7

Distinct Extinction Necklace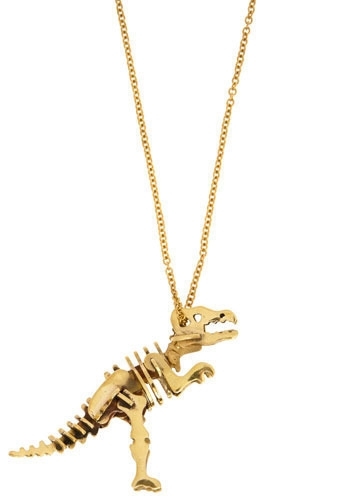 Price: $79.99 at modcloth.com
What a statement necklace, one that roars, "I love dinosaurs!" It's an intricate reconstruction of Sue (at least I think it is), a T-Rex, all in heavy brass hanging from a 29-inch chain. She'll be the focal point of whatever outfit you choose to wear her with… I'd wear this with an LBD and peep-toe patent heels, with a few matching bangles on one wrist.
So if you're a dino-nerd, like me, you must have at least one of these cute dinosaur accessories! They're so much fun to wear, and they're all so adorable! Which of these dinosaur accessories do you like best, and how would you wear it? Please share!
Please rate this article