Where are all those sparkly tiaras when you need them? But seriously ladies – have you tried to browse your favorite web shops for tiaras? Well, don't even bother because you definitely won't find any! My search returned some pretty wacky stuff including a chandelier and a 10 piece cookware set. Don't worry, though, as I've finally managed to hunt down some pretty amazing sparkly tiaras for you to see and here they are now:
Table of contents:
1

Tacori Bridal Silver, Topaz and Pearl Tiara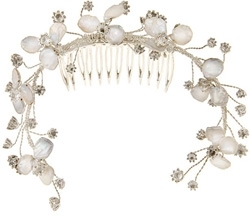 Price: $171.99 at overstock.com
Tacori super sparkly tiaras are not only feminine and sweet but made from great materials too! The combination of sterling silver, delicate white topaz and elegant Keshi pearls will definitely turn you into a real princess. Plus, a sweet floral design goes perfectly with beach wedding dresses or romantic garden wedding styles.
2

Tacori Bridal Silver, Mother of Pearl and Crystal Tiara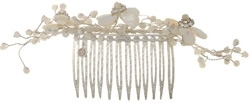 Price: $135.99 at overstock.com
If your style can be described as "less is more" and your wedding attire is supposed to be glitzy in a perfectly glamorous but low key way, definitely check out this wonderful, perfectly proportioned tiara! Sparkly crystals surrounded with gorgeous mother of pearl flower petals are elegant enough to make even the simplest beach wedding dress look special. The best thing about it is that you don't have to worry about overdoing it.
3

Tarina Tarantino Headband Tiara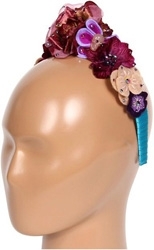 Price: $105.00 at zappos.com
But weddings, anniversaries, birthdays and proms shouldn't be the only times when you're allowed to look and feel like a princess! Be the brave fashionista you want to be and don't be afraid to look like a modern princess everyday! This one is nothing like the other sparkly tiaras shown in this post because it looks totally cool and casually chic while still having that standard tiara shape that will let everybody know that the princess is coming through!
4

Mini Tiara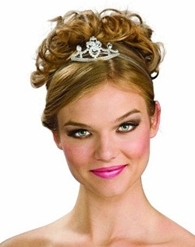 Price: $11.99 at amazon.com
If Rihanna could wear a mini crown, you can definitely wear a mini tiara. It's totally cute and sweet, plus you don't have to have a special occasion to wear it. I'd wear a totally wacky dress and use this tiara as a stylish party headpiece! Seriously!
5

Royal Tiara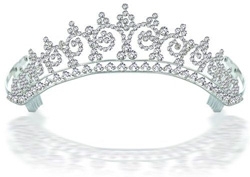 Price: $49.99 at amazon.com
The next one on my list of sparkly tiaras is this extravagant Cartier-inspired one that is actually very similar to the one Kate Middleton wore for her royal fairytale wedding. A perfect one to wear with an elegant princess style dress for your big white wedding. Wouldn't you agree?
6

Rhinestone Tiara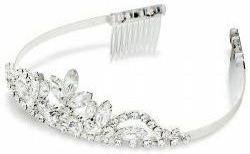 Price: $14.99 at gifts.com
Another small but very elegant piece of bridal bling, so you might want to check it out before that big white wedding I've mentioned above. I like it because it's sparkly enough to complete the whole princess-like bridal look but small enough not to be a huge distraction. It's perfect!
7

Pearl Whitney Tiara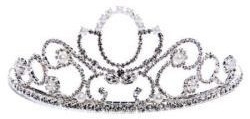 Price: $33.99 at gifts.com
If both rhinestones and pearls are what you need for your big day, definitely check out the last suggestion. This tiara is a bit too tall for my taste but hey, I'm sure there is a special lady out there that's not only braver than me but thinks this tiara would be a perfect match! And the shape is definitely lovely.
But let's rest our eyes a bit now and I'll use this brief moment to ask you for your opinion on tiaras. Do you like them or think they are too sugary and princess-like? Would you consider wearing some of these sparkly tiaras for your wedding or you prefer less flashy things?
Please rate this article