Opulent Jewel-Encrusted Earrings **aren't just for dress anymore, so feel free to wear them with almost any outfit, any time! **Jewelry is by far one of the easiest ways to add a bit of spark to an outfit, especially by wearing just the right pair of opulent jewel-encrusted earrings. Your choice of jewels can complement and define your entire look. If you want to add a bit of stylish sparkle, especially for evening wear, try wearing a pair of jewel-encrusted earrings. No matter what your budget, there is bound to be an option to suit you. Just take a look at the following opulent jewel-encrusted earrings.
---
1

Marlyn Schiff Rhinestone Cluster Earrings

**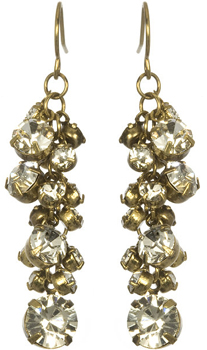 Price:** $42.00 at charmandchain.com These opulent jewel-encrusted earrings are reminiscent of chandeliers. They are made from glass rhinestones and feature French wire hooks. These drop earrings are an effortless way to add a touch of glamour to your outfit. Keep the rest of your jewelry to a minimum to really let these earrings sparkle.
---
2

Alexis Bittar Druzy Droplet Rhodium Small Zaire Teardrop Earring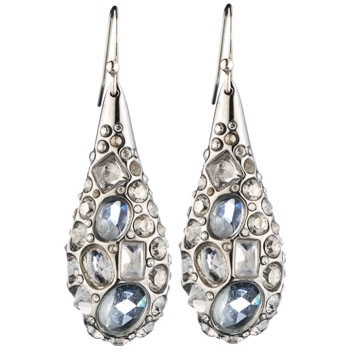 Price: $195.00 at alexisbittar.com
The teardrop shape of these earrings is what really makes them stand out. Despite the amount of 'bling,' they are still quite delicate. The jewels have been placed in an almost random mosaic design. The combination of clear and blue jewels really complements the overall water/droplet design.
3

Bijou Heart Gather 24-Karat Gold-Plated Peridot Earrings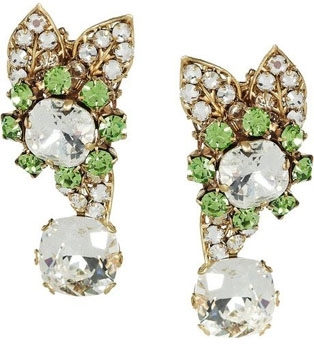 Price: $360.00 at net-a-porter.com
The intricate flower and leaf design of these opulent jewel-encrusted earrings is what makes them so eye-catching. The earrings are 24-karat gold-plated and feature faceted Swarovski crystals and a green peridot embellishment. They are also a clip-on design, meaning you can wear them whether your ears are pierced or not. Ideally, these would look great with hair brushed back and away from the face.
---
4

Isharya Bling Maharani 18-Karat Gold-Plated Earrings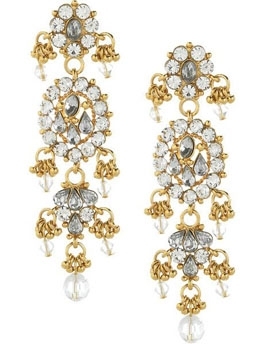 Price: $150.00 at net-a-porter.com
These earrings are jaw-dropping. They are 18-karat gold-plated and feature a tiered design. They are embellished with clear and light-blue cubic zirconium stones, both in round and teardrop shapes. The earrings also feature a butterfly fastening. These earrings are really busy, so its best to keep the rest of your outfit fairly simple.
---
5

Topshop Small Jewelled Chandelier Earrings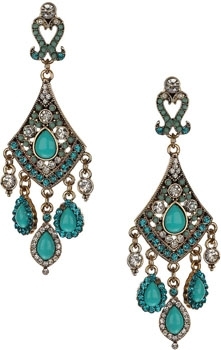 Price: $30.00 at us.topshop.com
These drop earrings have such an antique, gypsy feel about them. The combination of turquoise and clear rhinestones creates quite an eye-catching effect. The translucent stones are also offset by solid turquoise stones. If you are looking for something a bit more funky, then these chandelier drop earrings may be just the ticket.
---
6

Topshop Rhinestone Leaf Stud Earrings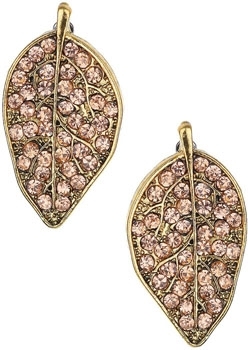 Price: $18.00 at us.topshop.com
These leaf-shaped earrings are a delicate and fun way to get in on the trend. The metal body is embellished with several peach coloured rhinestones. The rhinestones are separated by delicate metal veins. These opulent jewel-encrusted earrings will easily take you from day to night.
---
7

Talullah Tu Lace-Covered Jewel Earrings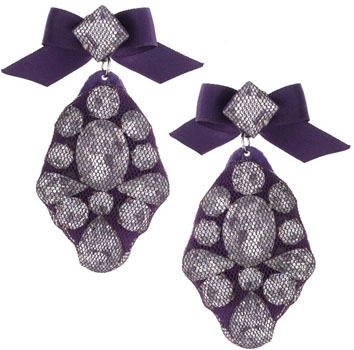 Price: $26.90 at asos.com
These earrings have a youthful and fresh design. They feature a layered jewel design with a mesh overlay. The fabric bows at the top of each earring are a playful design feature. The faceted stones range from oval to teardrop shapes, and the mesh overlay creates quite an interesting effect.
No matter if you prefer drop earrings or studs, opulent jewel-encrusted earrings are a sure fire way to add a bit of bling to your outfit. If you know how to style right, you can even wear opulent jewel-encrusted earrings with the most casual outfit in your wardrobe. Of course, these kinds of earrings also make a wonderful addition to a more formal ensemble. Which of the above earrings do you find most appealing, or have you found another pair of jaw-dropping and opulent jewel-encrusted earrings to share?
---
Popular
Related
Recent