Fashion Statement Necklaces make bold additions to any outfit. This season you should at least at one statement necklace to your repertoire. This season's fashion statement necklaces are perfect for updating a basic outfit. There are a range of styles available, from sleek metallic designs to those that are more tribal and trend-based. Take a look at a few fashion statement necklaces below.
---
1

Kenneth Jay Lane Gold-Plated Oversized Necklace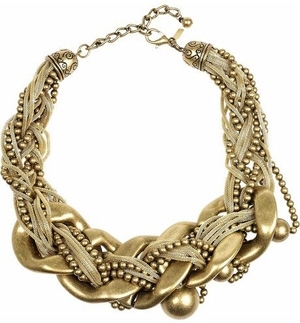 Price: $150.00 at net-a-porter.com
This oversized necklace would do well to glitz up an outfit. It is 22-karat gold-plated and features a large chain design with smaller interwoven chains throughout. It also features ball embellishments These kinds of fashion statement necklaces would look great against simple blouses or dresses.
---
2

Topshop Fallen Angel Wing Collar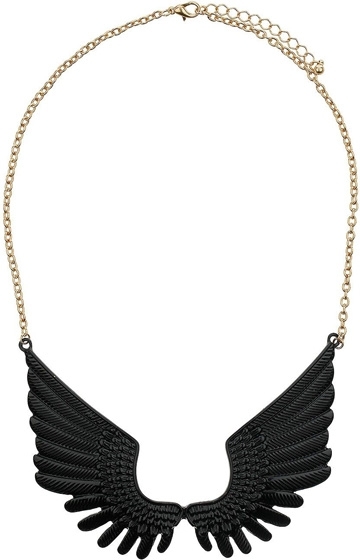 Price: $28.00 at us.topshop.com
This angel wing necklace is sure to make a statement. It features a large angel wing pendant on a gold-tone chain. The chain has a clasp fastening with an additional extension chain. This necklace would look great worn with a white blouse and coloured jeans.
Trendinig Stories
More Stories ...
3

Topshop Premium Facet Necklace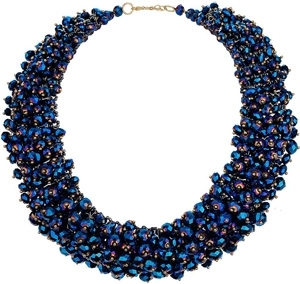 Price: $150.00 at us.topshop.com
This colourful necklace consists of clusters of faceted beads. The blue beads create a metallic holographic effect which is perfect for evening outfits. This necklace would look great worn with a shift-style dress in a similar blue colour.
---
4

Pamela Love Navajo Inspired Cutout Brass Necklace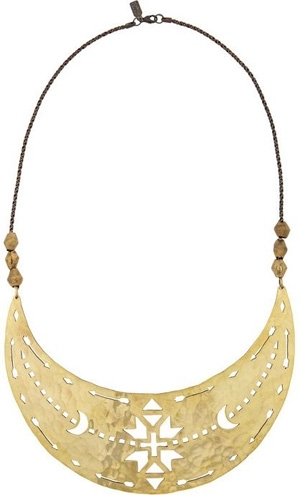 Price: $465.00 at net-a-porter.com
This necklace has a cool Navajo inspired design. It is crafted from gold-tone brass and has a mottled finish. It features cutout stars, half-moons, and Navajo-inspired patterns. Wear this necklace with casual outfit of a red sweater, indigo denim jeans, and wedge ankle boots.
---
5

Topshop Premium Toffee Bead Necklace

Price: $120.00 at us.topshop.com
This oversized beaded necklace has an ornate design. It features toffee-effect beads set against brown coloured rhinestones. Fashion statement necklaces such as these are great for creating a sense of drama to an outfit. This type of necklace would look best worn with a V-shaped neckline.
---
6

Yves Saint Laurent Gold-Plated Jade Serpent Necklace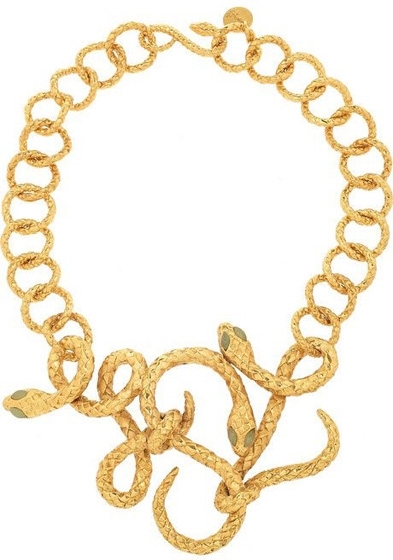 Price: $2450.00 at net-a-porter.com
At first glance this YSL necklace looks like it has a swirling gold design. On closer inspection, you'll notice that the necklace actually has a coiled serpent design. The gold plated serpents feature jade stones at the eyes. This necklace would look best worn against a bare décolletage.
---
7

ASOS Gem Torque Necklace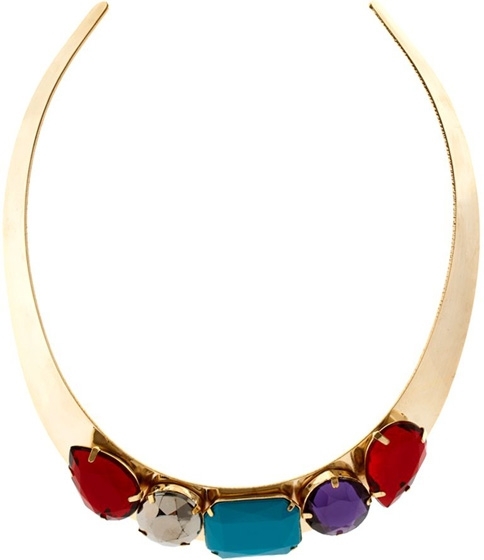 Price: $25.00 at asos.com
Collar-style fashion statement necklaces are an on-trend choice. This affordable necklace consists of a gold-tone neckband with large gemstone embellishments to the front. The multicoloured gemstones sit in raised settings. This sleek necklace could easily be incorporated into a number of casual and dressy outfits.
---
8

Marion Vidal Hermine Necklace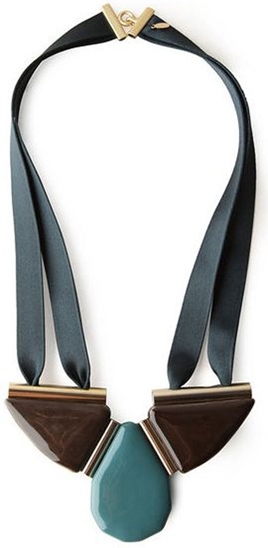 Price: $625.00 at lagarconne.com
This bold necklace has an arty design. This bib-style necklace features glazed ceramic beads strung on a satin ribbon strand. It also has gold-tone brass hardware and a hook closure at the back. Keep it simple and pair this necklace with a basic black shift dress.
Fashion statement necklaces can be worn with a range of outfits, depending on the style and design. Oversized drop necklaces are well suited to eveningwear, whereas brightly coloured numbers work well during the daytime. Which of these fashion statement necklaces do you like most?
Top Image Source: weheartit.com
---
Popular
Related
Recent