Stylish Friendship Bracelets are a great gift idea for you and your BFF. They say a lot about your style, too, and make a great accessory to any outfit. While friendship bracelets may seem like a remnant of your childhood, they are making a comeback. A braided, beaded, or woven friendship bracelet is the latest must-have accessory. They add a casual, slightly bohemian vibe to an outfit. See, when you buy or make stylish friendship bracelets, it's not the whole braided yarn bit you might remember from your younger years. You can DIY your own version, or invest in one of these stylish friendship bracelets below.
---
1

Made for Orelia Mkanda Friendship Bracelet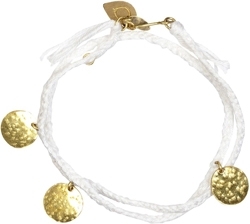 Price: $50.00 at us.topshop.com
This basic but stylish friendship bracelet is made from recycled brass and cotton cord. It features three brass discs attached to a white cotton cord, and a brass hook fastening. The brass discs are smooth on one side and have a pebbled finish on the other. Stack this bracelet on with other gold-tone bracelets.
2

Nikki B Braided Friendship Bracelet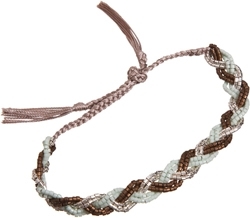 Price: $110.00 at barneys.com
This bracelet features interwoven glass beads on silver silk threads. The beads come in brown, light green, and silver. The silk thread feels quite luxe against the skin. This bracelet has a tie closure and can easily be adjusted to fit.
---
3

Chan Luu Beaded Leather Friendship Bracelet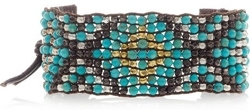 Price: $345.00 at net-a-porter.com
Stray from thin rope-like friendship bracelets with this wide beaded one. It is made from chocolate leather and gold, turquoise, and silver beads. It has a button and knotted loop fastening and can be worn at two lengths. For something a bit eclectic, pair it with a bright coral sundress. The colors make it an extremely vibrant and stylish friendship bracelet.
---
4

Topshop Daisy Friendship Wristwear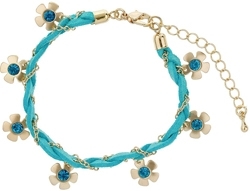 Price: $12.00 at us.topshop.com
Add a splash of turquoise to your outfit with this sweet daisy chain bracelet. It features intertwined suede and gold-tone chains, with small daisy charms. Each charm features a bright blue gem at the centre.
---
5

Juicy Couture Embellished Friendship Bracelet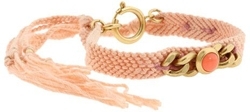 Price: $38.00 at couture.zappos.com
This woven friendship bracelet features gold-tone chains. The focal point of the bracelet is the gold-tone chain and coloured stone embellishment. It has a gold-tone clasp fastening at the back. Wear this with some chunky gold rings to add interest to your outfit.
---
6

Jade Jagger Rudra Bead Ruby and Quartz Bracelet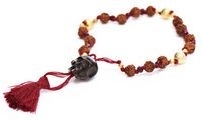 Price: $267.00 at matchesfashion.com
Most stylish friendship bracelets are made from string or similarly woven materials. This bracelet features light brown Rudra and gold beads on a burgundy-red string. It is adjustable and also features a black smoky quartz skull and red tassel charm. This would look great worn with a burgundy top and black skinny jeans.
---
7

Made Mauzi Friendship Bracelet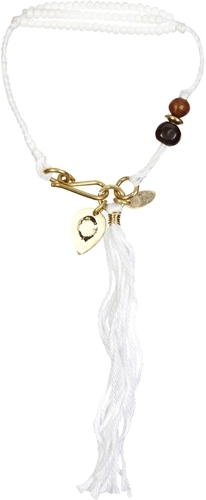 Price: $50.00 at us.topshop.com
Stylish bracelets can be made from a range of materials. This one is made from recycled brass, cotton cord, and corn beads. It has a hook fastening and long tassel detail. Wear this with a casual summer outfit of tank top, denim shorts, and leather sandals.
---
8

Carolina Bucci Set of Two Lucky 18-Karat Gold Bracelets

Price: $1300.00 at net-a-porter.com
This set of two entwined stylish friendship bracelets is a quite elegant take on the trend. These bracelets feature 18-karat gold fine chains, silk threading, and charm adornments. The smiley face and flower charms are meant to symbolise happiness and friendship. With two in a set, you can share one with a friend.
Whether you buy one of these stylish friendship bracelets, or make your own inspired version, a friendship bracelet is a fun way to relive your childhood. Stock up and share the fun with your closest friends! When you add stylish friendship bracelets to your outfit, or give your BFF the opportunity to do so, you're really adding a charming, eclectic piece, one that will spark conversation and even envy. Which of these stylish friendship bracelets would you wear?
---
Comments
Popular
Related
Recent