If you're a fashion-forward gal on a budget and are looking for a pretty accessory to keep you punctual, these wonderful watches are a real find. While you can find designer watches for hundreds or even thousands of dollars, who has the time to even earn that kind of money? You've got places to be and people to meet, and with these wonderful watches at bargain prices, you'll be right on time and budget.
Table of contents:
1

Geneva Platinum Studded Wrap around Watch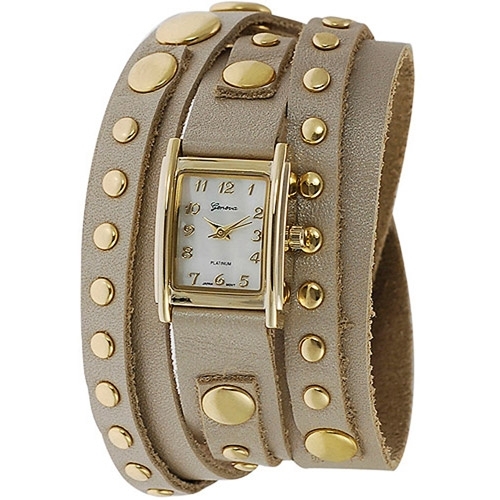 It's hard to believe that Walmart.com has such a large selection of wonderful watches for financially savvy fashionistas. This platinum studded wrap around style is right on trend, and at only $24.99, right on the money. Available in black, white and this creamy beige with gold toned studs, this is one watch to keep your eye on.
2

The Tilting Top Hat Watch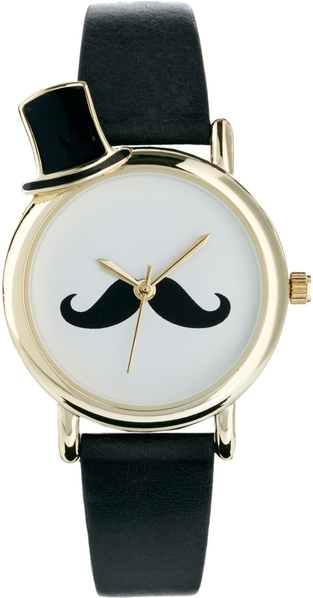 This men's style watch for the girls has a novelty charm while still being quite classy. From the leatherette band to the gold trimmed face, this gentleman's mustache and top hat embellishment makes a cute wristwatch for the ladies. It's dapper. It's delightful. It's just charming. And for just $33 it could be yours from visit ASOS.com
3

New Look Vintage Pearly Bangle Watch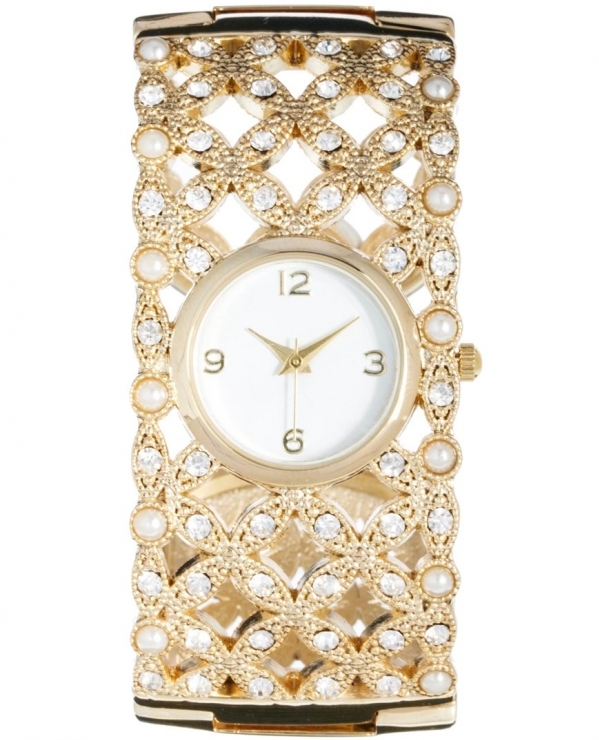 This faux pearl and rhinestone embellished bangle band watch is as much a fashion accessory as it is a means of telling the time. It's feminine, elegant and affordably priced at just over $32 from ASOS.com. Perfect for work or an evening out, this bangle watch by New Look is a vintage style piece for present day trends.
4

Geneva Rhinestone Accented Watch Set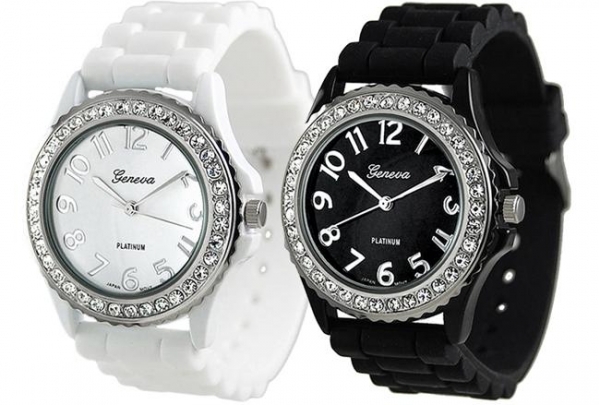 If you're looking for wonderful watches without handing over a wad of cash, than look no further, because I've got the perfect pair. This rhinestone accented watch set features a brilliant face that's classy enough for work with a comfortable silicone band fit for everyday wear. And now it's time for the best part: This black and white pair of rhinestone trimmed watches can be yours for just $23 from Overstock.com
5

Merona Animal Print Dial Watch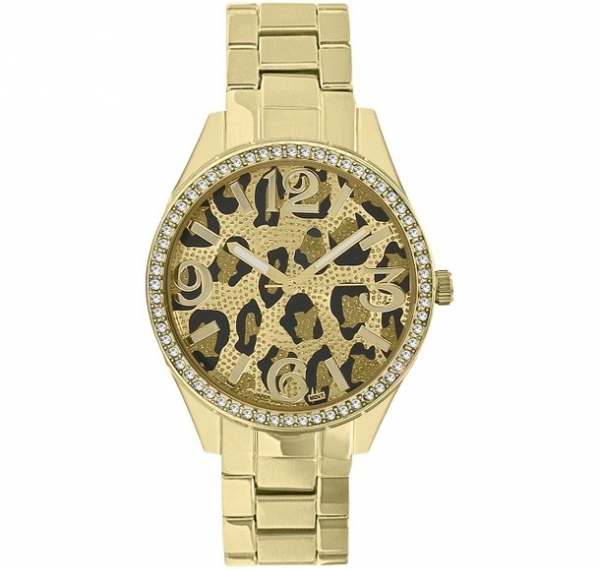 The rose gold toned bracelet watch is reminiscent of similar Betsey Johnson designs, and is a piece that brings all of the sass without all of the sticker shock. With an edgy leopard print face and rhinestone trim, this is one watch that can't be tamed. And at just $19.99, you wouldn't want it any other way.
6

Rotating Bow Tie Watch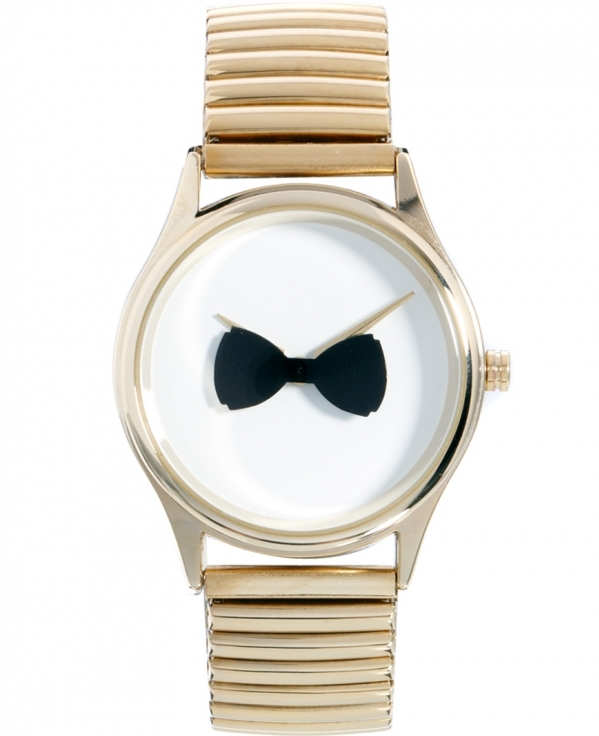 This adorable stretch band watch is a black tie affair on a budget. The simple, unnumbered face is made adorably elegant with a rotating black tie. That's right. This gold toned watch had a teeny tiny black tie that spins around as the hours tick by. And for under $40, this bow tied time piece can be yours from ASOS.com.
7

XOXO Silver-Toned Bracelet Watch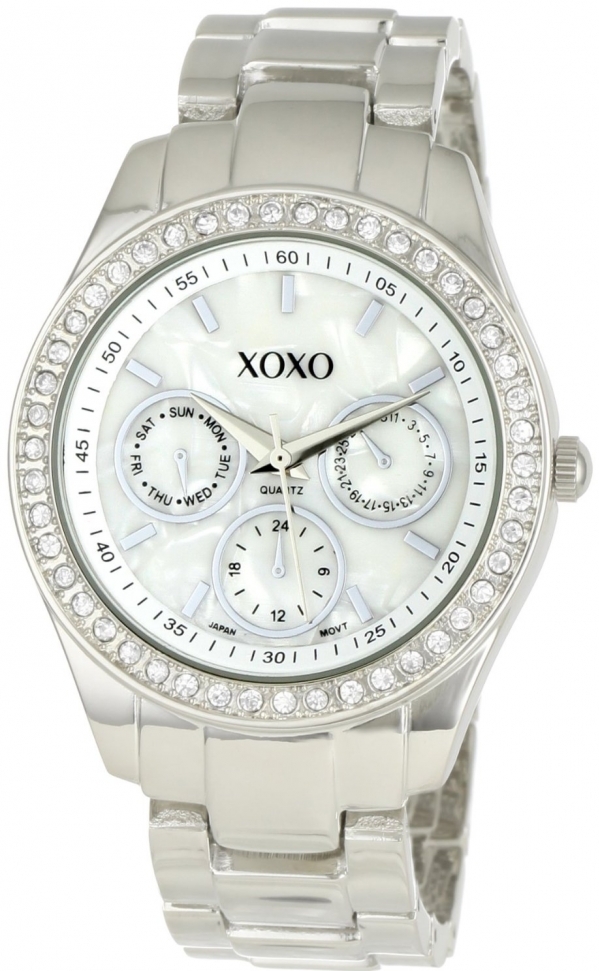 This glamorous silver-toned watch is almost deceptively designed. The rhinestone accents and decorative dials make this analog display watch looks so much more expensive than the $19.99 price tag. It's a luxury look without the luxury cost. And if you're looking for a bit of that luxury on your left wrist, you can find this XOXO silver-toned bracelet watch at Amazon.com.
It's amazing to think that watches are becoming obsolete to the digital clocks of our ever-accessible cell phones. But with a statement-making wristwatch that doubles as a fashion accessory, time and the latest trends are on your side. Which budget-friendly watch is your favorite?
Please rate this article