There's a reason Tiffany is one of our favorite jewelers — their pieces are all gorgeous, timeless, classic. All of their collections are amazing, with a little something for everyone, to suit every personal style and budget. This includes the Keys collection, which is one of my favorites, with so many beautiful designs to choose from, it would be impossible to pick a favorite. But we can try, right? Here are 7 beautiful Tiffany Keys pendants, sold with or without chains.
---
1

Tiffany Keys Ornate Heart Key Pendant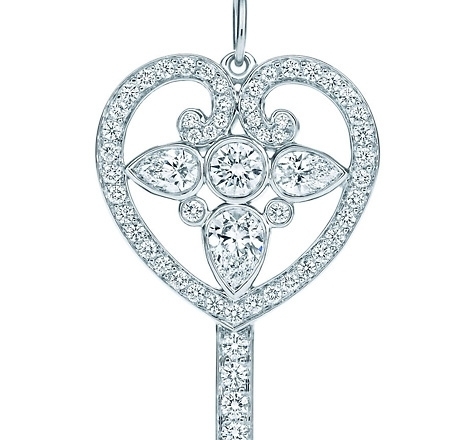 Price: $6,900.00 at tiffany.com
This key pendant is so ornate, so glittering, it's almost rococo. It measures 1¾ inches long and is completely covered in more than a full carat of gleaming round and pear-cut diamonds set in platinum. What a beautiful way to celebrate an anniversary or Valentine's Day!
---
2

Tiffany Keys Twist Heart Key Pendant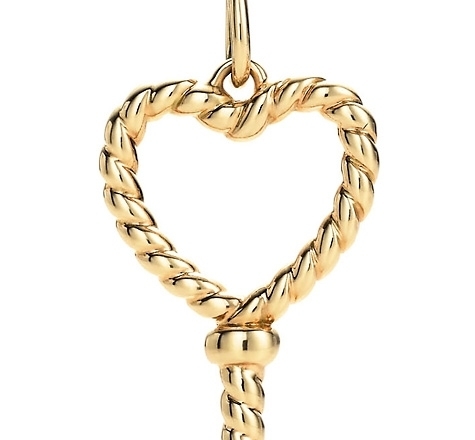 Price: $750.00 at tiffany.com
This simple, elegant key pendant features a twist — literally. It's made of plain 18-karat yellow gold but is made in a whimsical twisted pattern, measuring 1½ inches long. Hang it on the matching chin (sold separately) or add it to a charm bracelet. So pretty!
---
3

Tiffany Keys Daisy Key Pendant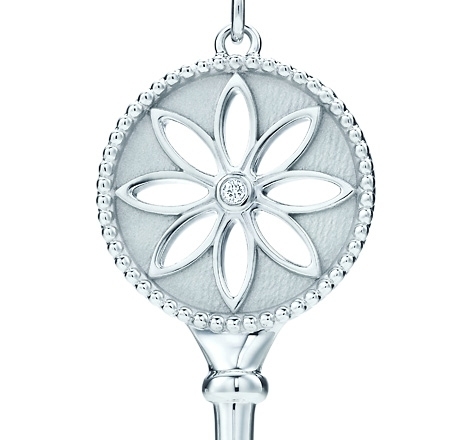 Price: $400.00 at tiffany.com
What a gorgeous gift for the flower aficionado or glamorous gardener on your gift-giving list! This key pendant features a daisy shape in the middle, all in gleaming sterling silver with a tiny round-cut diamond in the center and a Tiffany "T" and the end. It measures a sizeable 2½ inches long.
---
4

Tiffany Keys Kaleidoscope Key Pendant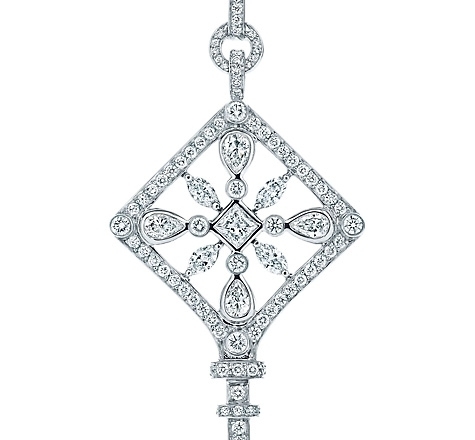 Price: $13,000.00 at tiffany.com
This key pendant boasts a pleasing pattern in the center, all done in shapely marquis, square, and round diamonds set in platinum. The design is geometric and orderly, but the pendant is still lush and glittering, ideal for celebrating the careful style of your favorite architect or designer.
---
5

Tiffany Keys Quatra Heart Key Pendant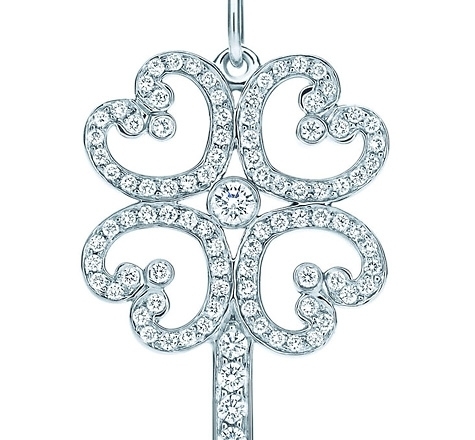 Price: $3,500.00 at tiffany.com
Is this tiny pendant made in the shape of a lucky four-leaf clover, or four sweet hearts grouped on end? Does it matter, really, for either way it's gorgeous, covered in glittering round diamonds with a total carat weight of 0.36 set in platinum. It's small, ideal as a graduation or Sweet 16 gift, measuring only 1¼ inches long.
---
6

Tiffany Keys Crown Key Pendant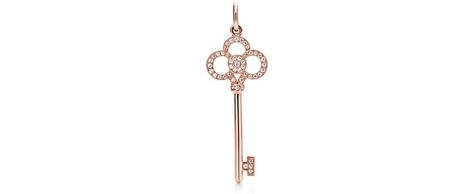 Price: $1,600.00 at tiffany.com
This crown-topped key pendant is fit for a princess, for it's made of gorgeous 18-karat rose gold, and measures a petite 1½ inches long. It features a ransom of glittering round-cut diamonds (0.13 total carat weight) and would be the perfect way to tell your daughter, niece, or granddaughter just how much she means to you.
---
7

Tiffany Keys Trefoil Key Pendant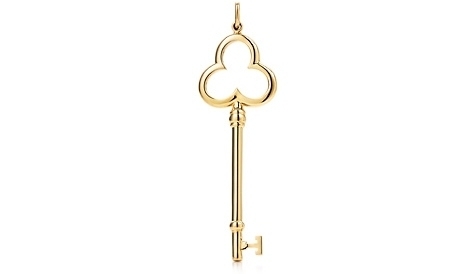 Price: $975.00 at tiffany.com
While many other key pendants require diamonds to give them extra shine, this stark, elegant shape needs none of that finery to make an impression. It features a simple trefoil shape on top with a serif Tiffany "T" at the bottom, a classic, timeless key shape that would look stunning at the end of a gleaming gold chain, in 18 karat yellow gold to match.
There are literally dozens more pendants in the Tiffany Keys collection, but these are the ones I'm coveting most right now. With so many to choose from, the question is, which of these do you like best, and how would you wear it? Or is there another one you fancy more?
More
Comments
Popular
Recent