I was preppy from the first. When other little girls were planning their weddings to firefighters or astronauts, I wanted to snag a man on Wall Street, someone who wore button-down shirts and carried a briefcase. Nowadays, not much has changed, which means I love giving cuff links as gifts. And my favorite place to window shop for them is the same place I love to shop for m own jewelry… here are 8 gorgeous cuff links from Tiffany.
Table of contents:
1

Tiffany Keys Cuff Links

Price: $225.00 at tiffany.com
These sterling silver cuff links are shaped like vintage keys, the ones that opened the key in his grandfather's desk drawer that held the butterscotch candies he loved when he was a boy. These would be a thoughtful way to remind the man in your life to dote on his grandchildren more, by carrying on his grandfather's butterscotch legacy.
2

Tiffany Moderne Cuff Links

Price: $225.00 at tiffany.com
So modern, so urban, ideal for the edgier, hipper man, one whose long shirt sleeves hide an intricate, meaningful tattoo. One who shoots decidedly sexy black and white fashion shots on the weekends, but works for The Man during the week.
3

Frank Gehry Torque Cuff Links

Price: $325.00 at tiffany.com
These brushed sterling silver cuff links are simple, at first glance, rectangles, but skewed into a very modern, sleek shape. Any man who has a thing for racy European sports cars would love these cuff links.
4

Tiffany Airplane Cuff Links

Price: $225.00 at tiffany.com
Ideal for a man who pilots place, either professionally or just for fun, these miniature aeroplanes are all style, with just a hint of whimsy. They're made of bright sterling silver and are so detailed!
5

Atlas Cuff Links
Price: $450.00 at tiffany.com
Made of sleek titanium with sterling silver details, these cuff links are part of the timeless
Atlas collection. They feature classic Roman numerals, and are also available in a darker titanium finish.
6

Paloma's Groove Cuff Links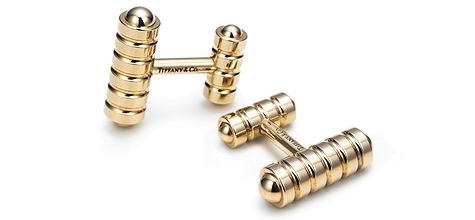 Price: $2,750.00 at tiffany.com
Get your man into the groove with these sleek, ultra-modern barrel-style cuff links in brilliant 18-karat yellow gold. The thin barrels are banded with rings, giving them a waved look. The cuff links feature two barrels, a short one in back (inside) and a tall one in front (outside).
7

Bull and Bear Cuff Links

Price: $275.00 at tiffany.com
Ideal as a gift for the up-and-coming or already-established Wall Street wonder, these cuff links are a matched set, though they don't match: a bear and a bull. Which type of market do we have today? They're made of sterling silver (a commodity) and are very realistically detailed.
8

Tiffany Signature Cuff Links

Price: $375.00 at tiffany.com
These unique cuff links are made with two pillars of inky-black onyx, wrapped 'round with knots of sterling silver. The tall bar is up front, on the outside of the cuff, and its smaller twin is on the inside, in back.
These are just a handful of the gorgeous cuff links at Tiffany, and there are so many more on the website and in stores… there are bound to be at least a few pairs your man will love! Which of these pairs of cuff links do you like best, and why?
Please rate this article