I adore statement jewelry, especially statement rings and necklaces, and the ones offered by Tiffany are my particular favorites. They feature simple designs, but in breath-taking proportions, often with one gleaming stone in the center and a few supporting stones in a brilliant, elegant setting. There are so many Tiffany statement rings to choose from, but there are a few I've been eyeing for weeks. Here are 7 gorgeous Tiffany statement rings.
1

Tiffany Sola Yellow Diamond Ring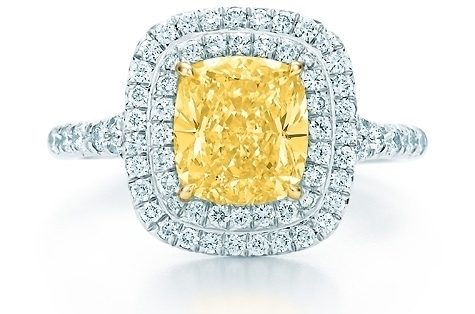 Price: $7,100.00 at tiffany.com
This stunning statement ring features a brilliant cushion-cut yellow diamond surrounded by twin rows of gleaming round diamonds set in platinum and 18-karat gold. It's ready to dazzle as a cocktail ring, and will be handed down for generation, from one chic woman to the next.
2

Jean Schlumberger Leaf Ring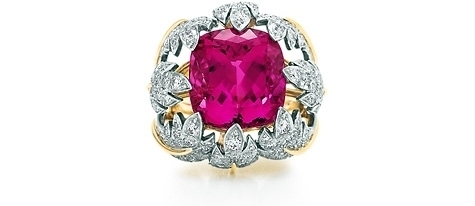 Price: $59,000.00 at tiffany.com
How dramatic! A singular 12-carat pink rubellite, cushion-cut, surrounded by round-cut diamonds mounted on glittering leaves — now this is a statement ring! I love the contrast of the yellow gold with the leaves… it's so gorgeous!
3

Tiffany Bezet Yellow Diamond Ring

Price: $2,500.00 at tiffany.com
True yellow diamonds are rare, beautiful… and ideal for making a statement. The sunshine-yellow of this bezel-set diamond is perfectly suited to its 18-karat yellow gold setting. It's simple, elegant, and perfect… I love it! This would be my first choice…
4

Tiffany Pink Sapphire Ring

Price: $61,000.00 at tiffany.com
This is another cocktail ring, one that makes a statement, with its brilliant pink emerald-cut nearly 5 carat sapphire surrounded on either side by trapezoid-cut white diamonds, each more than a half-carat. All three are set in a gleaming platinum band.
5

Tiffany Lucida Diamond Ring

Price: $176,000.00 at tiffany.com
When a particular diamond is patented by Tiffany, you know it's got to be something special, and indeed, the Lucida is truly breath-taking. This one is more than 3 carats itself, surrounded by 24 smaller round-cut diamonds. What statement does this ring make? You choose. It's dazzling!
6

Tiffany Pink Sapphire Ribbon Ring

Price: $130,000.00 at tiffany.com
A simple front view of this statement ring doesn't do it justice — view it from the side and you'll see what makes it so spectacular. The center stone is a 7 carat cushion-cut pink sapphire, surrounded by a ribbon of glittering round-cut diamonds, set in a yellow gold band with midnight blue round-cut sapphires. It's colorful, unusual, and so chic!
7

Tiffany Double Border Diamond Ring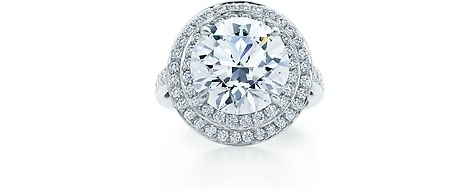 Price: $1,475,000.00 at tiffany.com
This is the ultimate Tiffany statement ring, one round 6-carat white diamond, peerless, with a color grade of D and a clarity grade of IF. It's set within two rings of diamonds, all of which together create the most striking statement ring I've ever seen.
Suddenly, no other statement rings compare… everything else is a pale imitation of these, so dramatic and dazzling! My favorite is the third one, with the yellow diamond set in yellow gold. But enough about me! Which of these Tiffany rings makes the statement you love best, and why? Please share!