The cost of natural gemstones can reach astronomical heights but, believe it or not, there is affordable emerald jewelry out there in the form of "created" gems. Emerald is the traditional gemstone of May. It is also associated with Taurus and Gemini, memory and faith. If you want to celebrate May, recognize your astrological sign or just rock this gemstone, then consider these options for affordable emerald jewelry.
---
1

Oval Cut Bracelet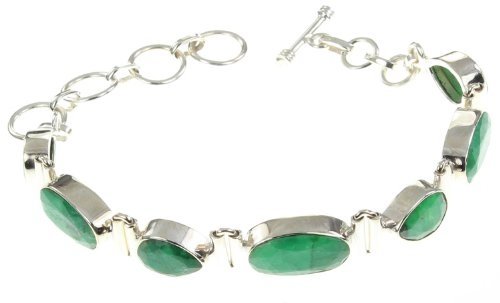 There is no doubt about it, emerald is stunning. It is also pretty expensive. However, man-made "created" emeralds capture the look and elegance without the hefty price tag. Thank goodness for that, because this oval cut bracelet from amazon.com is remarkable. Add this bit of affordable emerald jewelry to your accessory collection and insert some earthy sparkle into your wardrobe.
2

Stackable Ring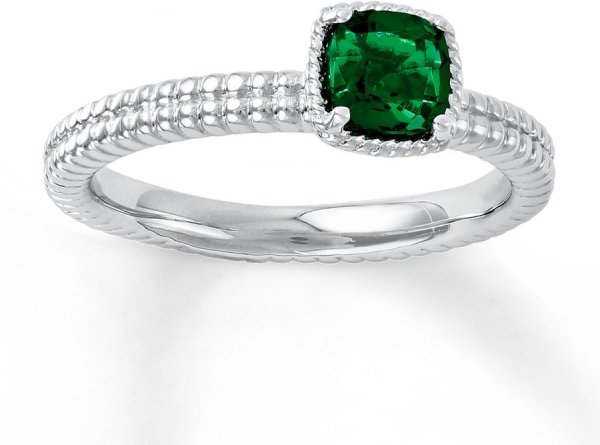 I can't decide if it is the cushion cut gem or the tufted sterling silver band that gives this ring an extra bit of elegance. The intense green color is absolutely eye-catching. The overall design of this stackable ring from jared.com is simply elegant. Be sure to store this beauty in an airtight container when not in use. Long term exposure to air will cause silver to tarnish.
---
3

Stud Earrings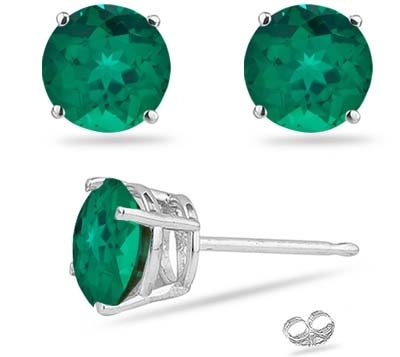 Speaking of simple yet stylish jewelry! This pair of Russian Lab-Created Emerald studs is set in four-prong sterling silver posts. Available from emeraldjewelry.com, this set could be yours, easily. These stud earrings are perfect for any outfit. I would wear them with jeans and a t-shirt.
---
4

Vintage Style Set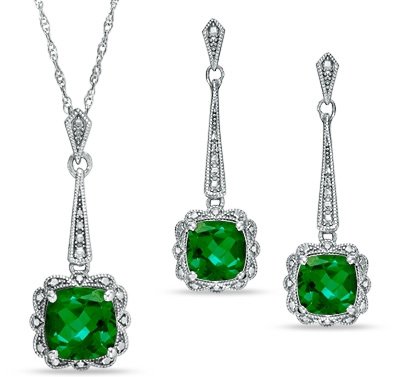 As if we need further evidence that emeralds are timeless, get a load of this set from zales.com. These delicate pieces will add a bit of romance to your outfit. From the cushion cut stones to the scalloped edging, the look is vintage without the estate pricing. This earrings and necklace make a very nice heirloom treasure. I would wear this set with neutral colors, giving the stones room to pop!
---
5

Lucky Clover Necklace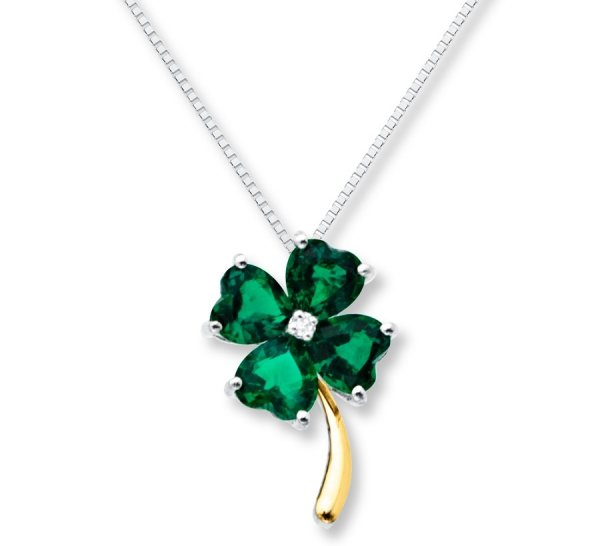 Emerald evokes beautiful images of lush grasslands and ethereal green space. This sweet little lab created emerald necklace from kay.com echoes the sentiments of that imagery. The heart-shaped petals, round center diamond and sterling silver box chain add lovely details to this dainty piece. Mythology of various cultures designates the four leaf clover as a symbol of luck. Perhaps a bit of luck will come your way while wearing this necklace.
6

Tennis Bracelet

If you want a sparkly piece of arm candy then check out this beauty. The Miadora sterling silver created emerald bracelet from overstock.com will meet your needs. Those deep green stones, set in a sterling silver link bracelet with diamond accents, shine extra bright. Wear this piece alone for elegant effect or stack with a sterling silver bangle for a bold statement. This fantastic bracelet will be a great addition to your jewelry collection.
---
7

Statement Ring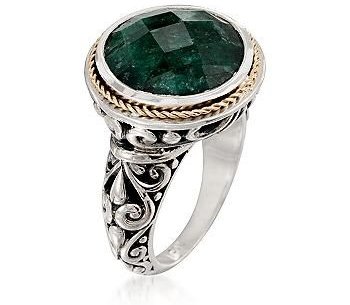 It is said that Cleopatra loved emeralds. They are gorgeous and also said to symbolize long life and rebirth. This Balinese Ring set in a gold and sterling silver band from ross-simons.com is a beautiful statement piece. Wear it alone or pair with a gold bangle. Either way, you will surely feel like royalty when you wear it.
Emerald has the ability to be both incredibly stately and fantastically casual at the same time. You could wear it with any outfit. Do you love emerald, too? How would you rock this gem?
---
Comments
Popular
Related
Recent