Here are seven watches from Michael Kors that will add the finishing touch to any outfit. The very best bracelet designs combine with a variety of dial options, some including Swarovski crystals. Watches from Michael Kors are a treat and a modest indulgence, but they're beautiful timepieces that will last for years.
---
1

Mini Golden Stainless Steel Camille Three-Hand Glitz Watch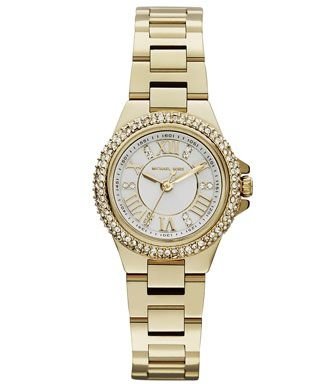 I've been looking at this watch for a good six months, and I'm just waiting for the money to drop from the sky so I can buy it. If this strikes your fancy, you might consider checking it out while there's still time. I've seen this and other watches from Michael Kors at several stores and then POOF! It's not in stock. Lately seen at Nordstrom.
---
2

Chronograph Parker Navy Leather Strap Watch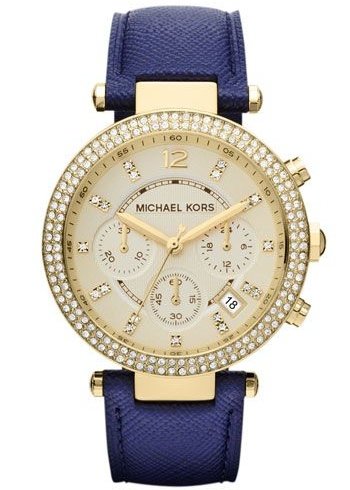 I love navy with gold, and this women's chronograph watch is a beautiful example of this great color combination. Now, I usually don't like to see the date on a women's watch because it tends to be too masculine looking, but I'm mad about the clever placement on the dial. Well done! Seen at Macy's and other stores.
---
3

'Darci' round Bracelet Watch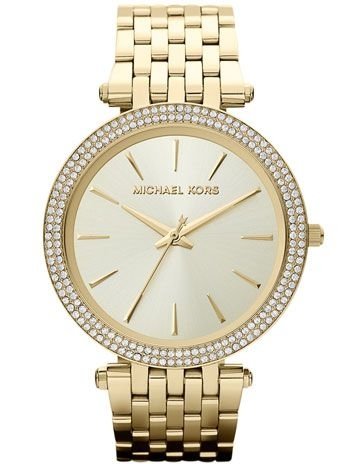 The 'Darci' watch comes in a large variety of bracelet and dial colors. The gold bracelet shown here is truly a classic look that can easily become your favorite timepiece, but there's also silver-tone, rose-gold, two-tone gold and silver, and some with leather bands. See it at Nordstrom.
---
4

White Acrylic-Strap Glitz Mini Madison Watch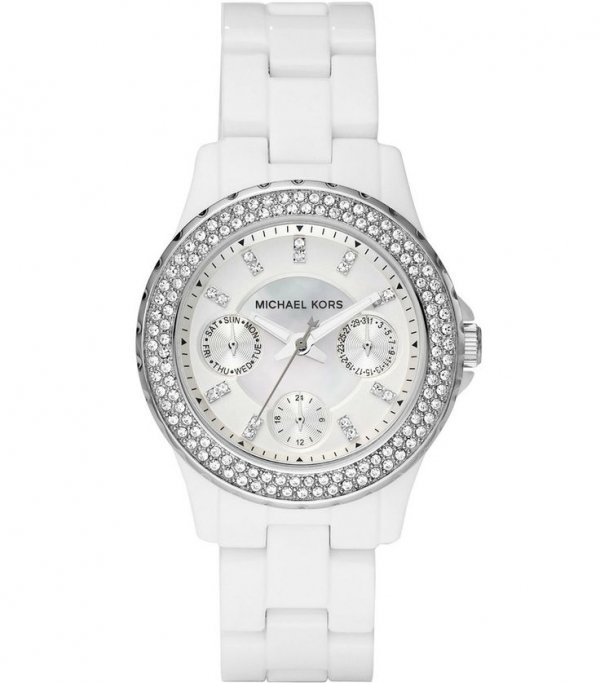 I haven't been able to find this anywhere besides michaelkors.com, but this is one time I'd buy before trying it on. How could it possibly look bad? The dial is white and the center is mother of pearl. That's a double row if Swarovski crystals you're looking at on the bezel!
---
5

'Parker' Blush Acetate Link Chronograph Rose Gold Watch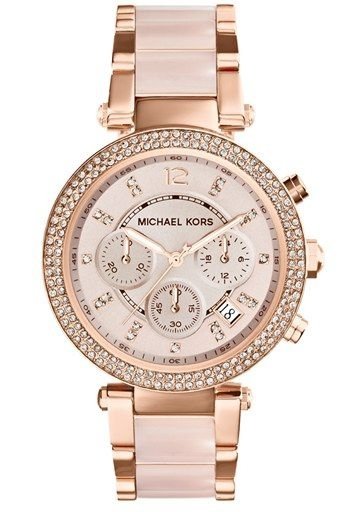 I'm not totally on board with the rose gold craze, but sometimes a piece will come along that is exceptional, like this chronograph watch in blush and rose gold. I prefer this over a solid rose gold, but this mixed material bracelet might be on the heavy side, as noted in one review I read. This is one I would definitely want to try on before purchasing. Available at Nordstrom.
---
6

Slim Camille Pink Leather Strap Watch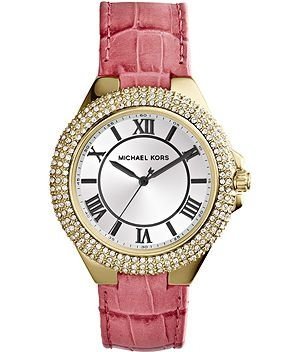 I like the contrast of the pink leather strap against the white dial and black Roman numerals. The crystal accents at the bezel are just the perfect touch. I always like to have at least one watch with a leather strap for casual outfits and save my bracelet watches for fancier clothes. Don't even try matching this with a pink outfit, it will create a look that's much too young. Instead, pair it with black or navy and watch that pink just pop! Try it on at Macy's.
7

Women's Slim Runway Black-Tone Stainless Steel Bracelet Watch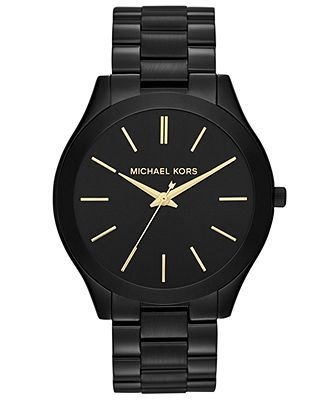 Simple but elegant; a little black watch to go with a little black dress. Sometimes, I like a chunky watch with the right outfit, but a slim black watch with gold accents is perfect for a night out. According to reviews, this is a lightweight watch, which means you can add a couple of thin gold bracelets to the same wrist without it feeling too heavy. This is usually in stock at Macy's.
I confess that I am a watch junkie. I always think I'm not going to add any more to my collection, but then I'll see something that is totally different than anything I own and I'm helpless to resist. The biggest problem I have with a watch collection? All the batteries seem to die one after another! What do you collect? Have you ever owned a Michael Kors watch?
---
Comments
Popular
Related
Recent