Choker Necklaces make great statement pieces. While longer pendant necklaces have been a more popular choice over the past couple of seasons, there is now a return to shorter choker style necklaces. To really make a statement, look for choker necklaces with bold details such as metal embellishments and oversized adornments. Take a look at a few choker necklaces below.
Table of contents:
1

Topshop Etched Leaf Collar Necklace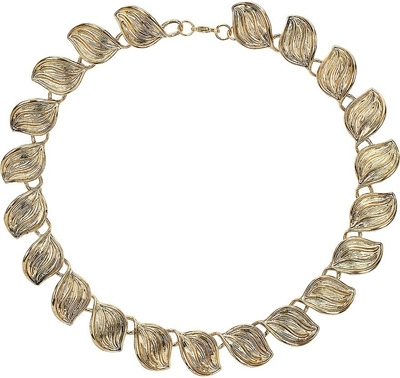 Price: $30.00 at us.topshop.com
This etched leaf collar would make an elegant statement piece. It is made from gold-look metal and features delicate leaf designs throughout. These types of choker necklaces are great for evening wear. Wear it with a strapless cocktail dress for a stylish evening look.
2

Lanvin Choker Necklace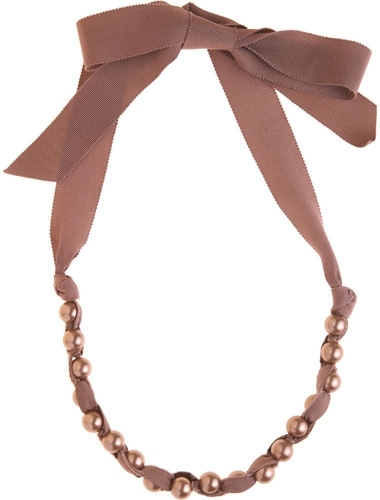 Price: $465.00 at barneys.com
This Lanvin choker necklace is a demure, feminine piece of jewellery. It features a taupe grosgrain ribbon with glass pearls. It also has a grosgrain tie closure. Wear this with a tailored outfit for a casual everyday look. Alternatively, it would look great paired with a cream chiffon party dress.
3

Forever21 Crescent Choker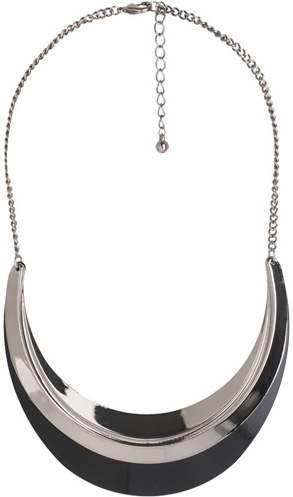 Price: $6.80 at forever21.com
This crescent choker is perfect for those wanting to accessorise a bold, minimalist outfit. It has a curved chain and layered crescent pendant. It also has a lobster claw clasp. Team this necklace with a draped jersey top and leather look pants for a directional look.
4

Topshop Plated Mesh Collar Necklace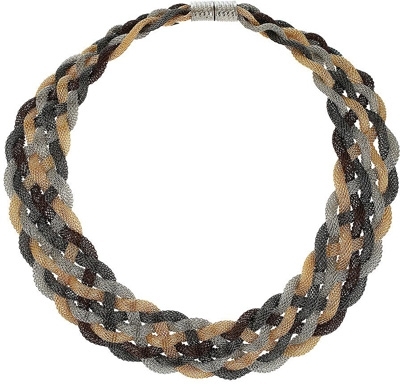 Price: $60.00 at us.topshop.com
This plated mesh necklace has a quirky design. It features mixed metal strands in a braided lay out and has a magnetic clasp closure. This necklace can be worn during the day or night. Simply dress it up or down, as needed.
5

Lanvin Leather and Swarovski Crystal Floral Choker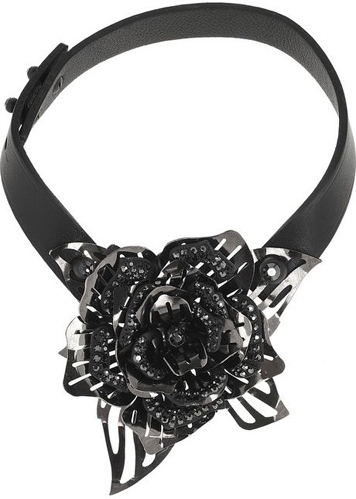 Price: $1490.00 at net-a-porter.com
This designer choker necklace is sure to make a statement. It has an edgy leather collar with an oversized crystal-embellished brass rose. It also features crystal-embellished push stud fastenings at the rear. Choker necklaces like this work best worn with blouses with high necklines.
6

Topshop Premium Faux Leather and Bar Collar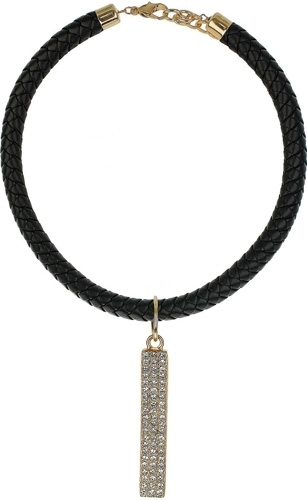 Price: $60.00 at us.topshop.com
This choker necklace features a black faux-leather plated collar and stunning gold-tone drop pendant. The bar pendant features rows of crystal rhinestone embellishments. This necklace also has a lobster claw clasp fastening. To really show off the pendant, wear this with a low v-neck top.
7

ASOS Statement Linked Leaves Collar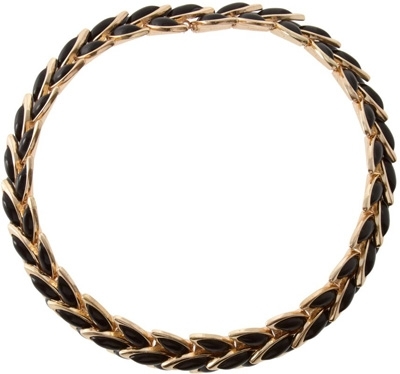 Price: $64.03 at asos.com
This choker style necklace has a bold leaf design. It features gold-toned trimmed leaf shapes with a contrasting inlay detail. This necklace sits firmly around the base of the neck which is what you want from this season's choker necklaces. This necklace is also available in a blue colourway.
Choker necklaces may take some getting used to, but they're a really great way of adding a statement-making piece to an outfit. Metallic choker necklaces are ideal for creating a polished finish, while more directional pieces are perfect for completing an edgier kind of outfit. What do you think of this season's choker necklaces?
Please rate this article