I love the look of layered necklaces, so when I found a bunch of necklaces for layering at my last trip to Anthropologie, I was thrilled. Some are long, some are short, all of them are gorgeous layering necklaces. Here's a sampling.
---
1

Library Stack Necklace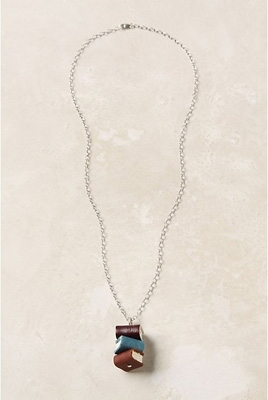 Price: $168.00 at anthropologie.com
If you're a fellow bibliophile, then this a layering necklace you may want to consider, for it's made with hand-torn paper pages and vintage and repurposed leather-bound covers, meaning each is unique and gorgeous. Pair with a plain or textured silver necklace for a layered look that's as intellectual as it is pretty.
---
2

Kith and Kin Necklace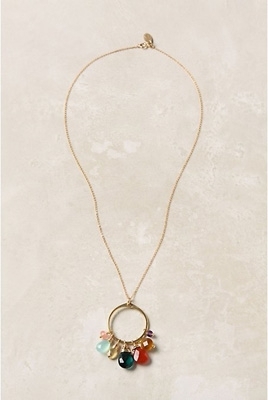 Price: $98.00 at anthropologie.com
Who says layering necklaces can't be as vibrant and colorful as your own family? That's certainly the case with this necklace, made with gold-tone brass and a family of brilliant quartz, chalcedony, citrine and carnelian briolette, all on a circlet. It's easy to layer this necklace, too, since it's just over 17 inches long.
---
3

Portrait Miniature Necklace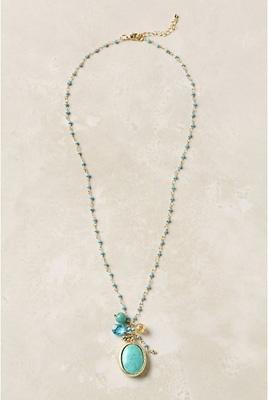 Price: $48.00 at anthropologie.com
This gorgeous layering necklace is all about choices, and versatility. It's available in two hues — gold with warm greens and yellows or silver with cool blues. Both look beautiful worn alone or with another thin necklace, either shorter or longer than their 18 inch length.
---
4

Across the Universe Necklace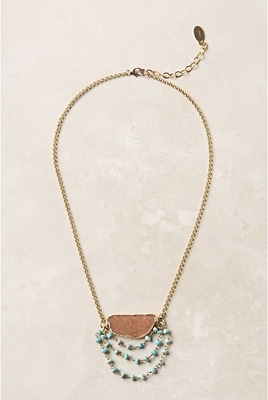 Price: $148.00 at anthropologie.com
How very beautiful! This necklace is ideal for layering with another, shorter, plainer necklace. It features a large druzy pendant surrounded by tiny turquoise beads, all strung together on a gold-filled chain. Gorgeous!
---
5

Green Glow Necklace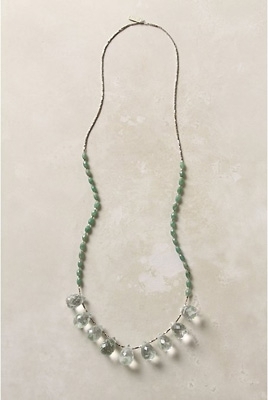 Price: $268.00 at anthropologie.com
Can you imagine a prettier necklace for layering with something silver, to wear with your favorite maxi dress or skirt? It's made of jade and moss quartz by Mima, and measures a generous 40 inches long. Layer it with a delicate hammered silver necklace that's about 16 inches long…
---
6

Delicate Things Necklace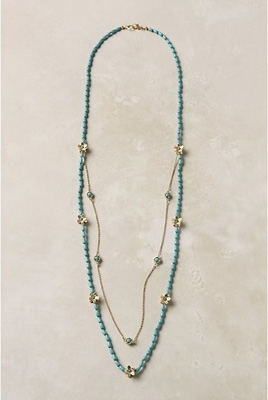 Price: $38.00 at anthropologie.com
Granted, this necklace looks layered already, with either coral-colored or turquoise hued beads on gossamer threads with glittering bits in between. It's double-looped already, but that certainly doesn't mean you can't wear it with another necklace, too!
---
7

Guinevere's Amulet Necklace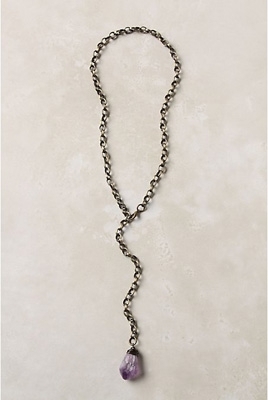 Price: $80.00 at anthropologie.com
Choose from deep amethyst or brilliant citrine, either way, you'll have a gorgeous layering necklace like no other, for each is unique, made with a real crystal. Each crystal dangles from the end of a clever brass and/or copper chain, fastened above the stone, and each measures about 31 inches long.
---
8

Kivu Filament Necklace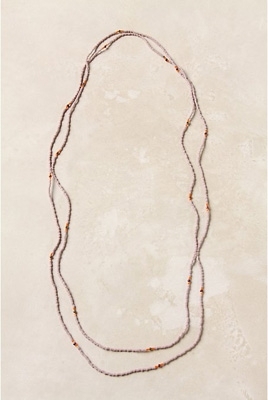 Price: $52.00 at anthropologie.com
Add a pop of color (or three colors, actually) with these delicate strands of beads, each measuring 60 inches long. They're hand-made in Rwanda of lavender, yellow, or turquoise beads, super-thin and perfect for layering with something plain.
All you need to wear these lovely layering necklaces is another, smaller or longer, necklace, one that matches or contrasts just the way you want. Remember to keep both necklaces simple, and you'll rock the look perfectly! Which of these layering necklaces do you like best, and what would you layer it with?
More
---
Popular
Recent