There are a range of coloured golds on the market – white and rose gold are some of the popular alternatives to the more prominent yellow gold. Rose gold is achieved by alloying gold with other elements, namely copper. As such, rose gold is a lot warmer than cool yellow gold tones. Take a look at a few rose gold jewellery pieces below.
1

Eddie Borgo Rose Gold Plated Cone Stud Earrings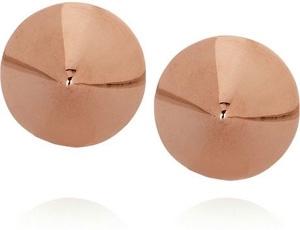 Price: $150.00 at net-a-porter.com
These rose gold jewellery pieces are a chic way to incorporate studded detailing into an outfit. These earrings are rose gold-plated and have a striking cone shaped design. They have a butterfly ear fastening. Wear these with a minimalist outfit and add a bit of edge to your everyday look.
2

The Only Son Rose Gold Plated Flintock Ring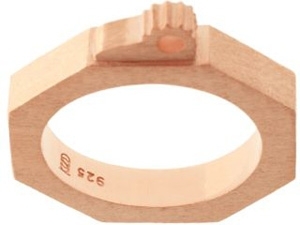 Price: $145.87 at asos.com
This ring has an industrial inspired design. It has an octagonal bolt shape, cog detail at the centre, and a rose gold-plated brushed metal finish. The design is subtle yet striking. Slip this ring on to accent your day to day jewellery.
3

Dominic Jones Vampire Bat Skull Necklace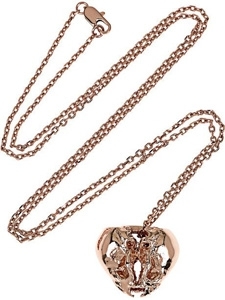 Price: $690.00 at net-a-porter.com
This rose-gold necklace is an edgy accessory. It features a heart-shaped vampire bat skull pendant on a long fine chain necklace. It also has a lobster clasp fastening at the neck. Layer this necklace over a casually chic outfit of indigo jeans, slouchy tank top, and draped leather jacket.
4

House of Harlow 1960 14ct Gold Plated Thick Stack Ring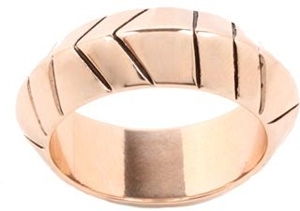 Price: $40.62 at asos.com
Rose gold jewellery pieces are a great choice for everyday wear. This gold plated ring has a wide faceted design and features prominent v-shaped grooves. It has a high shine finish and smooth interior band. This ring would add a tough of boho-inspired style to your jewellery collection.
5

Eddie Borgo Smile Rose Gold Plated Cutout Pyramid Cuff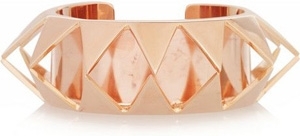 Price: $440.00 at net-a-porter.com
This cutout pyramid cuff is a statement making piece of jewellery. It has a bold design which is said to be inspired by urban architecture. This cuff is made of rose gold-plated brass and has a designer stamped detail at the interior. Wear this cuff with a monochrome outfit for a street smart look.
6

The Only Son Rose Gold Plated Bullet Stud Earrings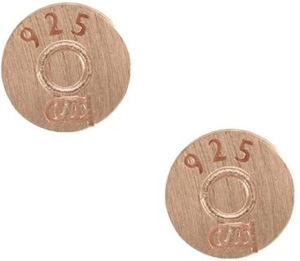 Price: $94.17 at asos.com
These small stud earrings are perfect for wearing on a daily basis. The have a circular design and feature engraved numbers and logo details. They are made from rose gold-plated silver. They also have a bullet back fastening. Wear these in place of your normal earrings.
7

Anita Ko 18-Karat Rose Gold Diamond Heart Ring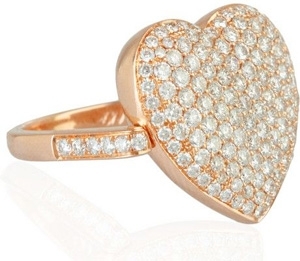 Price: $6175.00 at net-a-porter.com
This ring is one of the more extravagant rose gold jewellery pieces around. It is made from 18-karat rose gold and is encrusted with pavé-set diamonds. The band is hinged which allows for some movement. This ring would look exceptionally striking on.
These rose gold jewellery pieces are just an example of what is currently available online. Designs vary greatly among jewellers. Which of these pieces of rose gold jewellery do you like best?