I'm a firm believer that jewelry is an investment, which is a great justification for adding to your collection, right? If you're just starting your collection, though, or are looking to expand or update, there are a few basics you ought to add first. Like what, you may ask? Here are 7 of the jewelry basics every woman should own, with specific mind-blowing suggestions from my fave jeweler, Tiffany!
---
1

Tennis Bracelet

Tiffany Jazz Bracelet
Price: $16,000 at tiffany.com
I firmly believe that every woman should own a staggeringly gorgeous, glittery tennis bracelet, even if she doesn't actually play tennis. They're the idea accessory for every ensemble, from a little black dress to a wedding dress, and everything in between. This one by Tiffany boasts carats of round-cut diamonds set in platinum, and certainly has the "gorgeous" and "glittery" covered.
---
2

Diamond Studs

Tiffany Solitaire Diamond Earrings

Price: $1,000 at tiffany.com
I have a pair of diamond studs I never, ever take out, except to clean and repair them. They were a gift from my mother when my youngest daughter was born, and I adore them. They're versatile, and just plain pretty. This pair from Tiffany is an ideal example of the pair you'll want, 0.22 carats of perfectly matched round diamonds set in platinum. Or, if you prefer, you can find a pair set in yellow gold.
---
3

Pearl Strand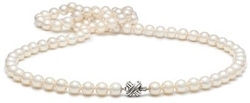 Tiffany Signature Pearl Necklace
Price: $11,200 at tiffany.com
I'm a die-hard preppy girl, so I adore my single strand of creamy white pearls. Again, they can be worn with almost anything in your spring and summer wardrobe. This set of pearls by Tiffany is a basic piece of jewelry every woman should own, measuring 18 inches long with a pretty 18 karat white gold clasp.
---
4

Pearl Studs

Tiffany Pearl Stud Earrings

Price: $300 at tiffany.com
To match your strand of pearls, you ought to also have a pair of pearl stud earrings, like these, by Tiffany. They'll be something you can hand down or lend out to your daughter and grand-daughter, to be worn at confirmations, first Communions, and even on wedding days.
---
5

Everyday Silver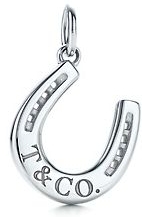 T&CO. Horseshoe Charm and Chain
Price: $175 at tiffany.com
Every woman should also have an every-day signature necklace, like this one. In fact, this is the one I have, and I love it! It's my good-luck piece, my reminder of everything I adore about life. It's also one of my signatures — when I don't wear it, people ask why! What will your every-day necklace look like?
---
6

A Nice Watch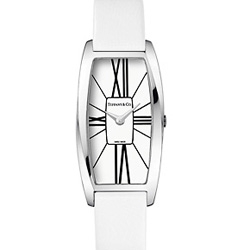 Tiffany Gemea Watch
Price: $2,700 at tiffany.com
Call me old-fashioned, but I still love wearing watches, and every woman should have a nice watch. This one by Tiffany is modern, but still classic. I love the unusual shape! It's Swiss-made of stainless steel with a glossy white lacquer face and it's water resistant to 30 meters.
---
7

A Knockout Cocktail Ring

Tiffany Sparklers Citrine Cocktail Ring

Price: $1,500 at tiffany.com
One piece of jewelry every woman should own: an eye-catching, attention-getting, jaw-dropping cocktail ring, like this one, featuring a gorgeous cushion-cut citrine. That planet-sized stone is set in gleaming 18 karat gold and is available in whole sizes from 4 to 8. If citrine's not your thing, it's also available in brilliant amethyst and yellow citrine.

Once you've collected these pieces of jewelry basics, you can move on to the "investment" pieces I mentioned earlier… seriously, why not? Can you think of any other basic pieces of jewelry every woman should own? Which do you think is the most important? Do tell!
More
Popular
Recent