Hoop earrings are great for adding a bit of drama to an outfit. They are a classic wardrobe piece and can come in an assortment of sizes and designs. Wear sleek hoops for a daytime look and bejewelled numbers at night. Below are just a few stunning hoop earrings you may want to check out.
---
1

Alex Monroe 22-Karat Gold-Plated Peacock-Feather Hoop Earrings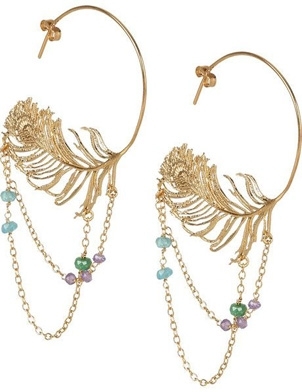 Price: $365.00 at net-a-porter.com
These handmade hoop earrings feature a delicate peacock feather design. They consist of a gold-plated sterling silver body and have emerald, apatite, and amethyst beaded chains at the drop. They also feature a butterfly fastening. Work the colours of the beads into your outfit by wearing these earrings with pastel shades.
---
2

John Hardy Sterling Silver Tourmaline and Quartz Earrings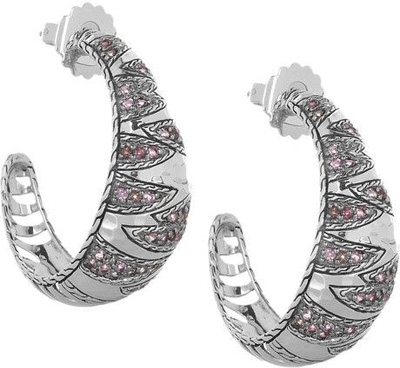 Price: $695.00 at net-a-porter.com
These stunning hoop earrings have an embossed zigzag effect. They feature delicate pink tourmaline and grey quartz embellishments, cutout detailing, and an embossed butterfly fastening. These earrings are subtle enough that they can be worn comfortably during the day.
---
3

Topshop Shell Shards on Hoop Earrings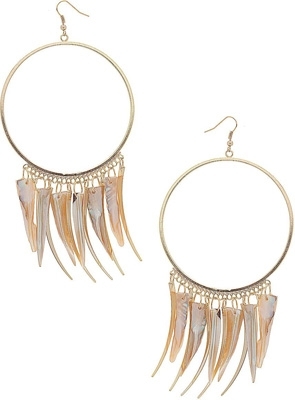 Price: $28.00 at us.topshop.com
These unique looking hoop earrings contain a multitude of shell shard pieces at the drop.
The cream shell shards hang from an array of circle attachments on the bottom of the hoop. The hoop has a gold-tone finish and features a hook fastening. Wear these earrings to incorporate a touch of boho glamour to your outfit.
---
4

Forever21 Braided Hoop Earrings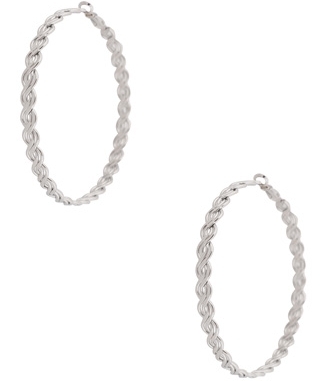 Price: $3.80 at forever21.com
These stunning hoop earrings feature intricate looking braided details. They are quite large in diameter and have a high polish silver finish. They also have an omega back. These earrings would work well with a range of day to day outfits. Try teaming them with a silk blouse, pegged trousers, and ballet flats for a chic everyday look.
---
5

Topshop Snake Wrap Hoops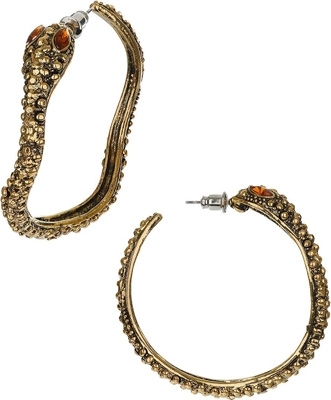 Price: $25.00 at us.topshop.com
These snake hoops are just a little bit wild. They have a textured finish and feature amber-look 'snake eye' gems. They come in an antique gold-tone finish and are slightly warped in shape. Wear these with a draped black dress, wedge heels, and patent clutch for a sleek party look.
---
6

Zoe & Morgan Sterling Silver Facet Hoop Earrings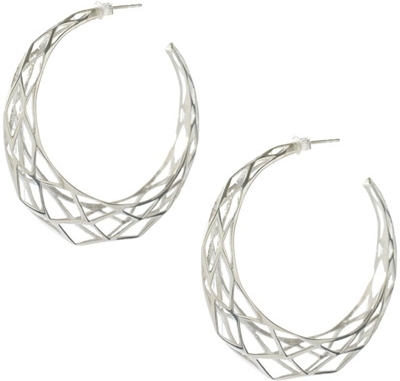 Price: $239.12 at asos.com
These silver earrings have a distinctly modern appearance. They have a caged cutout faceted design with a tapered opening and butterfly fastening back. The overall appearance is cutting-edge and fashion forward. Wear these with a monochrome and minimalistic outfit.
---
7

Deborah Pagani Jerry Hoop Earrings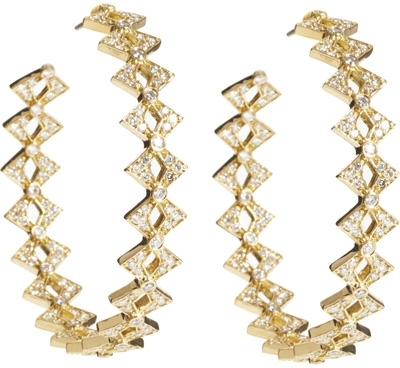 Price: $11,075.00 at barneys.com
The price of these earrings alone will stun you (into a state of shock). These earrings are made of 18-karat yellow gold and are encrusted with white diamonds. They have a zigzag design which combines art deco inspiration with contemporary design. These earrings would make a dazzling accompaniment to any outfit. These are truly a pair of stunning hoop earrings.
Stunning hoop earrings can be found to suit all budgets. From jewel-encrusted hoops to cutting-edge designs, there's something for all tastes. Which of these hoop earrings do you prefer?
More
---
Popular
Recent