Grace Kelly and Audrey Hepburn knew it, and we know it still — there's nothing like a string of pearls to make an outfit that much more elegant and polished. And while times, they are a-changing, that fact still remains, but of course has been updated — now a strand of pearls is only one lovely option. There are dozens of ways to wear pearls, and here are a few of them, courtesy of Tiffany. Here are 8 pretty pearl necklaces.
Table of contents:
1

Tiffany Cultured Pearl Necklace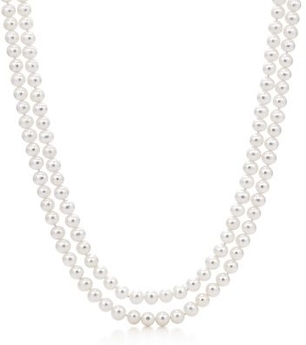 Price: $1,300.00 at tiffany.com
This lush strand of pearls comes in two lengths, 80 inches to be worn doubled, or 96 inches, to be worn as a triple strand. Both are lush, made of 7 to 8 millimeter cultured freshwater pearls. Wear these with everything in your wardrobe, from an A-line LBD to a crisp white blouse and chinos.
2

Tiffany Elsa Peretti Color by the Yard Necklace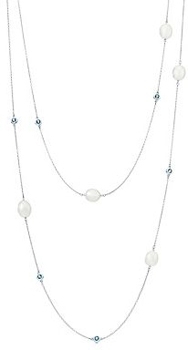 Price: $1,125.00 at tiffany.com
Add a little color and a little shine to your spring and summer wardrobe with this pretty pearl necklace. It was designed by Elsa Peretti, and it features a scattering of freshwater pearls and glittering aquamarines. A count? There are 5 pearls and 7 gems, with a total carat weight of 0.42.
3

Tiffany Garden Flower Pendant

Price: $900.00 at tiffany.com
Also available in sterling silver, this rose gold pendant features petals in luminous pearls, set in rich rose-colored 18-karat gold. The design is simple and feminine, and so pretty! I can't decide, but I think I like the rose-gold version better… there's something about the way the gold sets off the pearls!
4

Tiffany Elsa Peretti Pearls by the Yard Necklace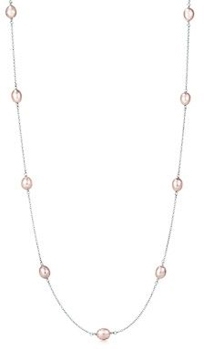 Price: $375.00 at tiffany.com
If you liked the combination of rose and pearls from the last necklace, you'll love this one, too! It's sort of the reverse, with pretty pink freshwater pearls strung along a bright sterling silver chain. The necklace is delicate, and measures 18 inches long. Each of the 9 cultured freshwater pearls is 5½ to 6 millimeters across.
5

Tiffany Elsa Peretti Open Heart Lariat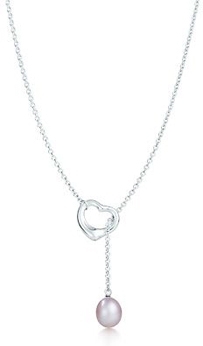 Price: $325.00 at tiffany.com
The Open Heart is one of Elsa Peretti's most popular designs, and a peek at this pretty pearls necklace will tell you why! The streamlines but sweet shape of the heart, done in sterling silver, accented with a singular freshwater cultured pearl, again in pink… all in a casually elegant lariat design.
6

Tiffany Cultured Pearl Pendant

Price: $825.00 at tiffany.com
This simple, gorgeous pearl pendant comes in two sizes, 7 to 7½ or 7½ to 8 millimeters. Both dangle from the same delicate 16 inch 18 karat white gold chain, and both are also paired with a sparkling round-cut diamond.
7

Tiffany Cultured Freshwater Pearl Toggle Necklace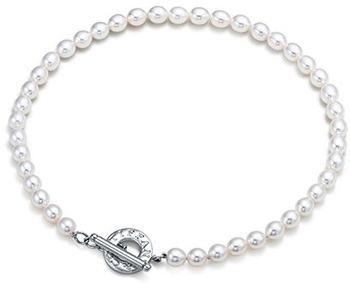 Price: $850.00 at tiffany.com
This is a very modern update to the traditional strand of pearls, for it fastens with a toggle clasp, made popular by the iconic Tiffany charm bracelets. The pearls each measure 7 to 7½ millimeters, and the clasp is made of sterling silver, stamped with the Tiffany & Co. signature. The entire strand measures 16½ inches long, ideal for wearing with almost any neckline.
8

Tiffany Elsa Peretti Mesh Collar Necklace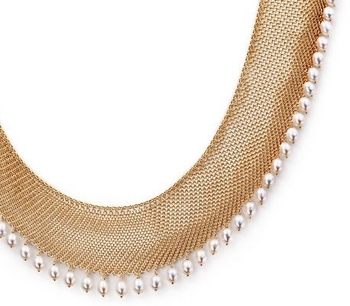 Price: $5,000.00 at tiffany.com
I've saved the best for last! This pretty pearl necklace offers a twist on the traditional, suspending a row of cultured freshwater pearls from a lush 18 karat yellow gold mesh necklace. The mesh is fluid, fitting your body's unique contours, and the pearls make a gorgeous finishing touch. Brilliant!
Wow, that last pearl necklace is a stunner, isn't it? Of course I still love the elegance of the first, which is such a classic! Which of these pretty pearl necklaces do you like best, and why? Do tell!
Top image source: data.whicdn.com
Please rate this article