Since 1980, Pablo Picasso's youngest daughter, Paloma, has been designing jewelry for Tiffany & Co., and to date, one of my favorite of her collections is Graffiti. Every piece is bold, but sweet, contemporary yet classic. To illustrate my point, and perhaps convert a few new fans, here are several pretty pieces from the Paloma Picasso Graffiti collection.
---
1

Paloma Picasso Love Disc Charm and Chain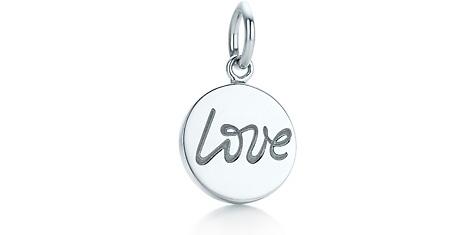 Price: $175.00 at tiffany.com
I adore the look of disc pendants, alone or layered with other necklaces, and this one is no exception. It's one simple four letter word that really says it all: love. The disc is small, stamped with care in bright sterling silver. You can purchase it alone, or with a delicate, pretty chain.
---
2

Paloma Picasso Love Ring

Price: $2,250.00 at tiffany.com
This one little word can mean so much, and here it is, all spelled out with Paloma's own pen. The curvy, loopy script is covered in glittering diamonds, round-cut, for a total carat weight of 0.20, and the ring is made of 18-karat rose gold.
Trendinig Stories
More Stories ...
3

Paloma Picasso Love & Kisses Ring

Price: $150.00 at tiffany.com
If you're looking for a gift for your daughter's graduation, or her birthday, look no further! This ring, made of gleaming sterling silver, is available in whole sizes from 4 to 8, and is entirely covered in sweet hugs and kisses, x's and o's. Darling!
---
4

Paloma Picasso Love & Kisses Pendant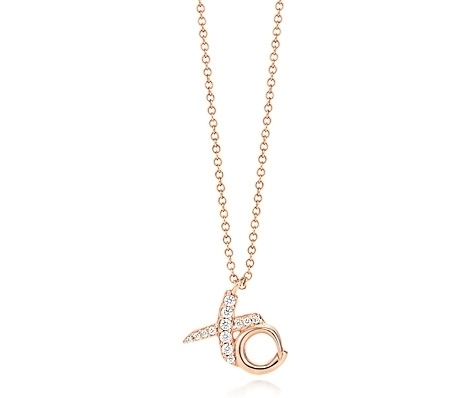 Price: $1,050.00 at tiffany.com
Sometimes all it takes to end an argument or brighten someone's day is one hug and kiss, embodied here on this pendant. It's made of gorgeous 18-karat rose-colored gold, and the "kiss" is set with 13 round-cut diamonds with a total carat weight of 0.07. It hangs from a matching chain that measures 16 inches long.
---
5

Paloma Picasso Kiss Pendant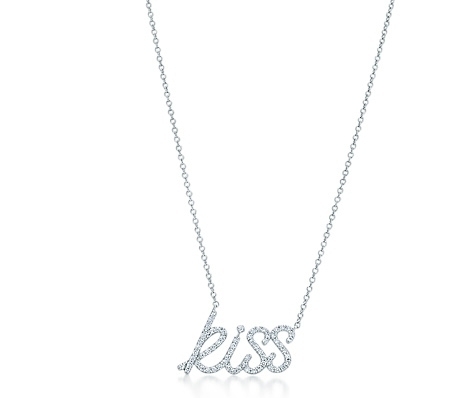 Price: $2,000.00 at tiffany.com
Declare your love and affection with this sweet necklace, based on Paloma Picasso's own handwriting. One simple word — kiss — in sweetly rounded letters, covered in 0.16 carats of glittery round-cut diamonds, all set in brilliant 18-karat white gold. Hint to all of the men out there: this would be a marvelous birthday or Valentine's Day gift!
---
6

Paloma Picasso Love & Kisses Ring

Price: $1,250.00 at tiffany.com
Wouldn't this make a lovely wedding or anniversary band? It's circled all the way round with Paloma's symbols for hugs and kisses, and the middle three "hugs" are set with brilliant round-cut diamonds with a total carat weight of 0.04. The band is made of warm 18-karat gold, and it's available in whole and half sizes from 4 to 8.
---
7

Paloma Picasso Love & Kisses Pendant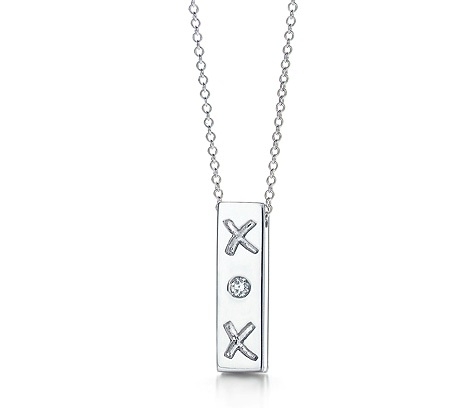 Price: $575.00 at tiffany.com
Perhaps you prefer the structured lines of a bar pendant, but still want the obvious affection of hugs and kisses. If so, then this is the necklace for you. It's made of bright sterling silver and features a sparkling round-cut diamond as the "hug" symbol. It hangs from a delicate 16-inch chain.
With so many pretty pieces to choose from, with so many sweet sentiments, there's bound to be a little something for everyone! Which of these Paloma Picasso Graffiti collection pieces do you like best, and why? Please share!
---
Popular
Related
Recent