It's spring, time to refresh your wardrobe with short-sleeves, floral-prints, peep-toes, and new rings! I've been hunting cute new rings for spring, and here's a sampling of what I've found. Here are 8 cute rings for spring!
---
1

Some-bunny Special Ring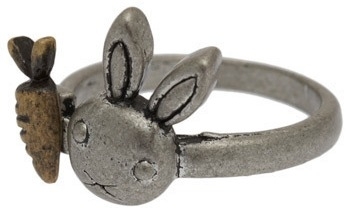 Price: $9.99 at modcloth.com
Let a friend know how much she means to you, or just wear this ring as a celebration of spring's timely arrival. It features a sweet little bunny with pointy ears and his bestie, a bronze carrot, all on a thin lead-free metal band. It's available in one size (7) and measures about a half-inch across. Cute!
2

Bow Very Tiny Ring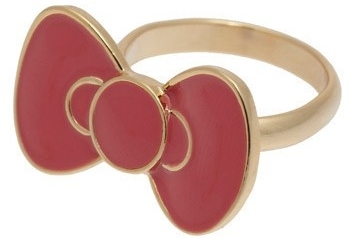 Price: $9.99 at modcloth.com
Swipe a little of that fashion maven Hello Kitty's personal style with this adorable bow-bedecked ring. It features one bright pink or ivory bow, the same as Miss Kitty wears, and it's adjustable, so you can wear it on any finger you like. Pair with an LBD or a floral-print frock for a little extra style. Darling!
---
3

Play It Again Ring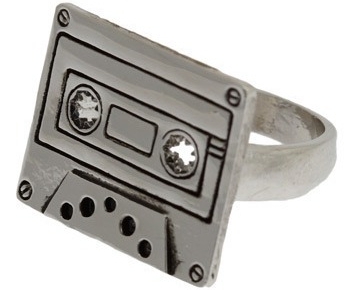 Price: $7.99 at modcloth.com
Celebrate the days of mixed tapes with this cute ring, perfect for spring! It's a cassette tape, made of silver-tone composite metal with two faceted glass jewels in the tape holes. Pair with your favorite color Chuck Taylors and skinny jeans for a flashback look you'll love!
---
4

Buzz Word Ring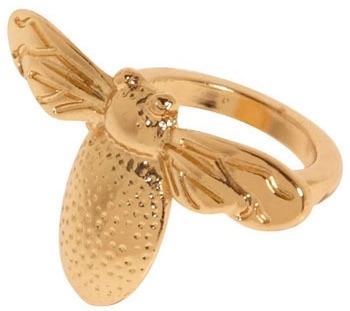 Price: $12.99 at modcloth.com
Bumblebees are a true harbinger of spring, as they go about their pollinating business. Wear one to proclaim the season, and this one will do nicely. It's made of a brilliant gold-plated alloy by Scottish designer And Mary. Pair with a graphic-print tunic and skinny jeans or patterned leggings.
---
5

SLRing

Price: $9.99 at modcloth.com
If you shoot people for a living, or just for fun, this is the spring-time ring for you! It's made of silver-tone metal with a narrow adjustable band and a vintage-look camera on the front. Wear it on your next shoot, and expect compliments!
---
6

Petal Profusion Ring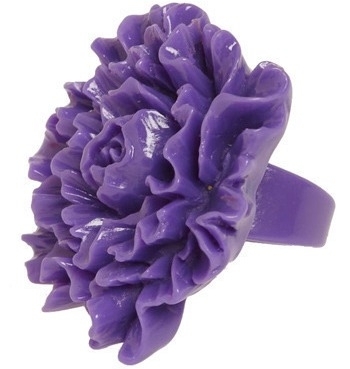 Price: $12.99 at modcloth.com
This brilliant yellow or vibrant violet acrylic ring is the ideal addition to your spring wardrobe! It's glossy and glam, measuring an eye-catching 2 inches across. It's frilly and detailed, the perfect floral accessory. Which to choose? Why not both?
---
7

My Pet Octopus Ring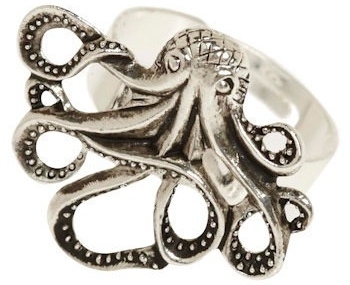 Price: $7.99 at modcloth.com
While the other little girls were dreaming of pet puppies and ponies, you longed for a pet that was a little more unique… like perhaps this octopus? Why ever not? He's certainly charming, with his gently curled tentacles, replete with suction cups. Choose either gold or silver-tone lead-free metal, and revel in the extra style he'll being your spring-time outfits.
---
8

The Ring and the Motorcycle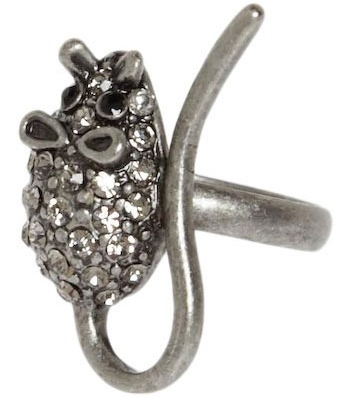 Price: $15.99 at modcloth.com
Eek! It's a mouse! Don't run away, though… he's cute and sweet and ready to wear! His cute curly tail and dainty ears make him friendly, not frightening. He's covered in glittering rhinestones and has sparkling black glass eyes. Wear him with a frilly floral dress and wedges and see how many people notice your little rodent friend!
With so many cute rings for spring, there's no reason for your accessories to be bland and boring this seasons! I adore that sweet little bunny with the carrot, and the camera ring is on my must-have list, too! Which of these cute rings do you want for spring? Please share!
---
Popular
Related
Recent