Whether your religious or moral beliefs require it, or you simply realize the logic of it, more and more teens are making purity vows, waiting until they're married to have sex. Often they'll take a formal pledge, and wear a purity ring to symbolize their commitment. It's a lovely idea, and not an easy vow to keep, which is why I think the ring is such an important part of the pledge. If you're looking for a ring to symbolize your promise, or if you want to buy one as a gift for your daughter, grand-daughter or niece, keep reading… here are 7 sweet purity rings.
---
1

Silver "Love Waits" with Flower Purity Ring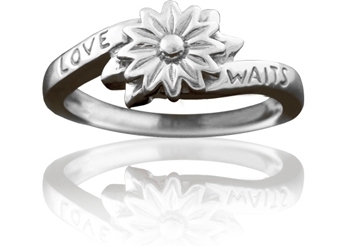 Price: $34.99 at purityrings.com
This purity ring is so dainty, so pretty and sweet, it would be ideal for any girl who's made a purity promise. It's made of sterling silver and features the sentiment "Love Waits" with a sweet daisy in the center. It measures 8 millimeters wide and comes in whole and half sizes from 4 to 11. Along with the ring, you'll get a purity pledge certificate, a prayer, and a pledge card.
2

Silver "Love Never Fails" Purity Ring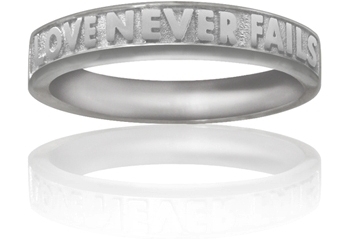 Price: $34.99 at purityrings.com
This ring is ideal for stacking or wearing alone, with the words of 1 Corinthians 13:8 winding around the band, "love never fails." It serves as a constant reminder of your promise to wait, and of your wider commitment to your God. Even if you're not Christian, the sentiment is still lovely.
---
3

Silver Everlasting Heart Purity Ring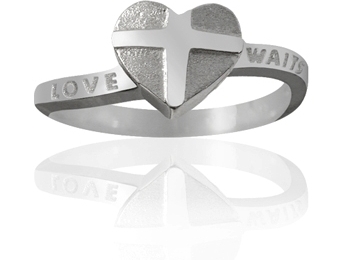 Price: $34.99 at purityrings.com
This ring is ideal or a Christian girl, featuring a heart with a cross wrapped around it, along with the sentiment behind every purity pledge: love waits. The curvy shape is reminiscent of the waves of the sea, and the inside of the ring is wide enough for initials or another inscription.
---
4

Silver Protected Heart Purity Ring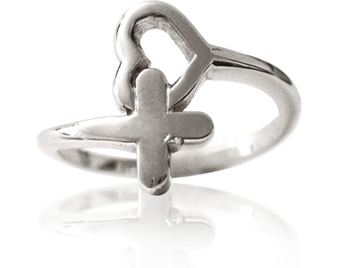 Price: $29.99 at purityrings.com
If your abstinence pledge has been more about your faith than a fad, then this might be the purity ring for you. It features a heart, symbolizing God's love for you, and a cross, a reminder of his Son's sacrifice for us all. It's made of shining sterling silver and is an ideal reminder of why you made your promise, even when the world is trying to tempt you.
---
5

Silver Covenant Hearts Christian Purity Ring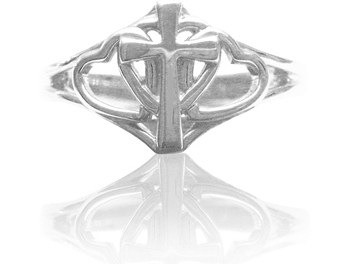 Price: $32.99 at purityrings.com
A purity pledge isn't just about abstaining from sex — it's about being a modest, faithful young woman in the eyes of your God. This ring symbolizes that covenant, that promise to keep the purity in all areas of your life, with a cross and three interlocking hearts.
---
6

Silver "Love Waits" with Butterfly Purity Ring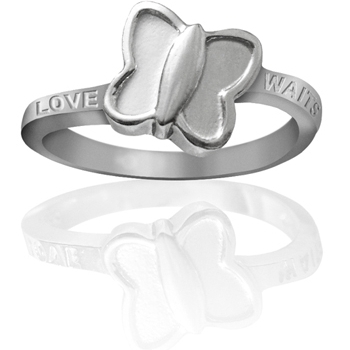 Price: $34.99 at purityrings.com
As you leave your girlhood behind you, and mature into a young woman, you realize you're a lot like a butterfly emerging from its chrysalis. This ring is a constant visual reminder of that growth, that maturity, and also of the promise you've made to yourself to stay pure. It's engraved with the words "love waits" and features a pretty butterfly…
---
7

Guy's Silver "Honor, Respect, Serve" Purity Rings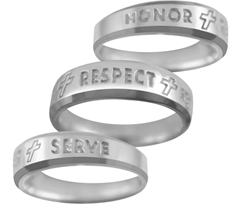 Price: $49.99 at purityrings.com
Purity pledges aren't just for girls — guys can, and do, make them too. And this set of stacking rings, worn together to represent a sturdy, strong foundation, are made for a young man who has vowed to save himself for a virtuous girl. All three rings feature a cross, and one of three keystone character marks: honor, respect, and serve.
So if you're making your own purity pledge, or just want to support someone who is, any of these would make a beautiful purity ring. I especially like the plain girl's band, since it's so simple and versatile, and since it can be used by any girl, regardless of her religious leanings… but which of these purity rings do you like best, and why?
---
Popular
Related
Recent