If you are looking to make a statement with your jewellery, try adorning your ears with some stunning chandelier earrings. There are a range of different designs and styles to choose from. From delicate handcrafted creations to fun costume jewels, there's just so much variety as to what you can wear. Take a look at a few such stunning chandelier earrings below.
Table of contents:
1

Topshop Mega Bead Chandelier Earrings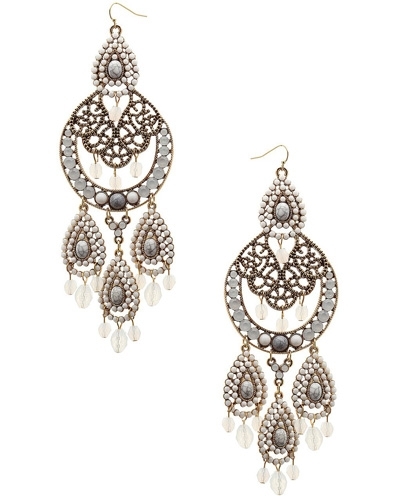 Price: $50.00 at us.topshop.com
These chandelier drop earrings have an air of grandness about them. They contain a mixture of white beads and are complemented by burnished metal hardware. They are quite large and measure 15cm in length. I could imagine these earrings complementing a flowing maxi dress.
2

Forever21 Vintaged Chandelier Earrings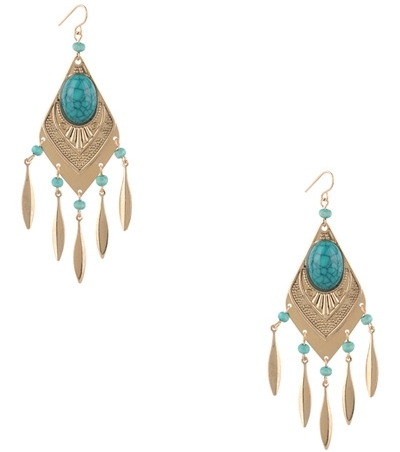 Price: $3.80 at forever21.com
These stunning chandelier earrings are also, surprisingly, reasonably priced. They have a vintage-inspired design and feature a classic combination of gold-tone metals and turquoise stones. These earring feature a fish hook back, diamond shaped body, and beaded fringe trim. Gold and turquoise colours look great against white clothing, so take this into account when choosing an outfit.
3

Isharya Sultana Bali Chandelier Earrings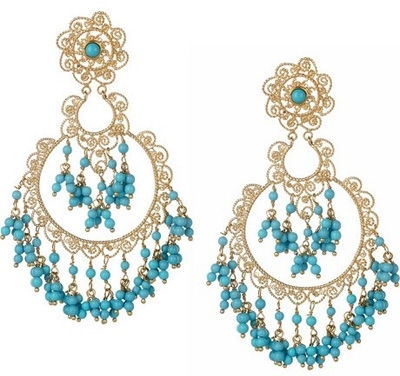 Price: $360.00 at net-a-porter.com
Turquoise and gold is a tried and true favourite when it comes to jewellery. These earrings have a certain bohemian feel about them. They are 18-karat gold-plated and feature turquoise beads and filigree detailing. Wear these with a loose fitting white blouse and tailored shorts for a stylish daytime look.
4

Talullah Tu Multi Bead Chandelier Earrings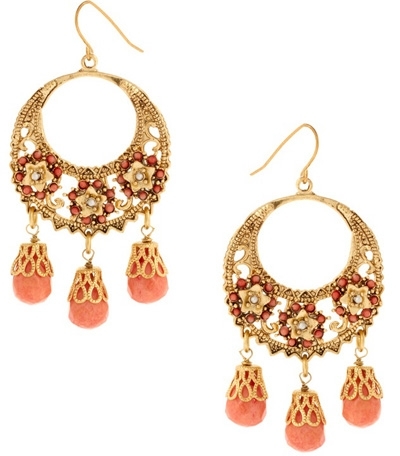 Price: $28.69 at asos.com
These ornate earrings would make a lively addition to an outfit. They have a gold-tone finish, stone embellishments, and bead detailing. These stunning chandelier earrings would work well with a fitted cocktail dress. With chandelier earrings such as this, try styling your hair so that it is away from the face. That way, the earrings can be clearly visible.
5

Modcloth 'Illuminate a Room' Earrings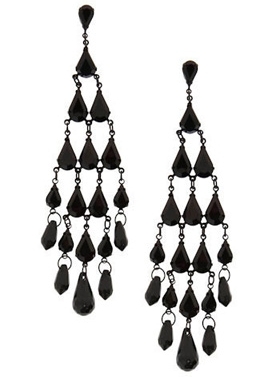 Price: $16.99 at modcloth.com
These black chandelier earrings are dark and seductive. They feature multiple tiers of teardrop shaped black beads. They are quite long and reach to the bottom of the neck. As black is a fairly neutral colour, these earrings would be suited to a range of outfits.
6

Erickson Beamon Sterling Silver-Plated Swarovski Crystal Earrings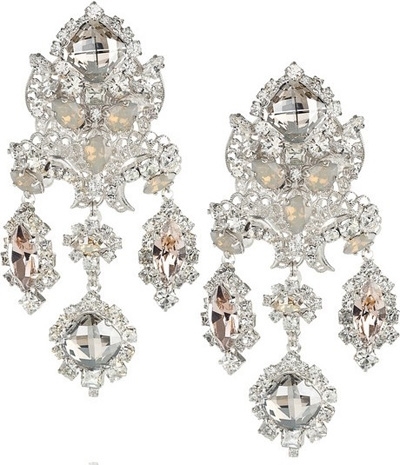 Price: $780.00 at net-a-porter.com
These opulent Swarovski encrusted earrings are quite regal in design. They are silver plated and feature an array of clear and subtly coloured Swarovski crystals. If you're ears aren't pierced then don't worry, because these earrings have a clip fastening. These ornate earrings are definitely better suited to formal occasions and the like.
7

Forever21 Colourful Beaded Chandelier Earrings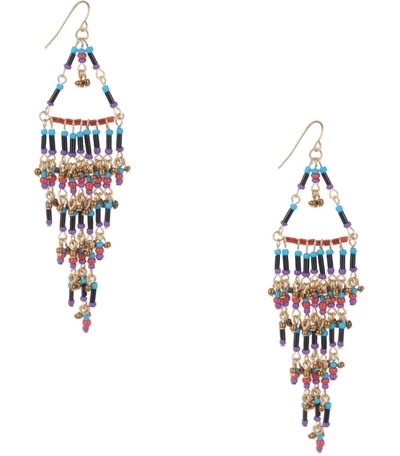 Price: $4.80 at forever21.com
Work the colourful tribal jewellery trend with these stunning chandelier earrings. These earrings feature a combination of round and seed beads. The multicoloured beads are accented by gold-tone metal. Wear these with a range of casual outfits – the more clashing and more eclectic the overall appearance, the better!
As chandelier earrings command quite a bit of focus around your face, try and keep the rest of your jewellery minimal. For the most part, this would simply involve not wearing a necklace. Which of these stunning chandelier earrings are your favourites?
Please rate this article