When I was in my early 20s, the guy I was seeing wanted to propose, but he wanted to wait until he'd graduated college to make it official… so in the meantime, he gave me a promise ring, slightly less grand and expensive than a traditional engagement ring, but signifying his "promise" to me. It was an incredibly sweet gesture, and I still have that pretty little ring. If you're looking for a promise ring to stake your romantic claim on a special girl, keep reading! Here are 7 pretty promise rings from Tiffany (every girl's favorite jeweler).
Table of contents:
1

Tiffany Notes I Love You Ring

Price: $100.00 at tiffany.com
The sentiment is simple, the ring itself sweet. It's a narrow sterling silver band engraved around and around with three special words in a delicate script. Give this as a Valentine's Day gift or as a promise ring, or just because you want her to know, always, that you love her.
2

Paloma Picasso Love & Kisses Ring

Price: $135.00 at tiffany.com
This shining silver ring is from the "Graffiti" collection and features an endless row of hugs and kisses symbolized by X's and O's. It's a sweet gesture, and would make her smile every time she catches it in the corner of her eye, a hundred times a day.
3

Tiffany Somerset Heart Ring

Price: $225.00 at tiffany.com
The Somerset line is elegant, refined, more mature, and this ring from the collection, with its heart emblem in the center, would make an ideal promise ring. It's made of brilliant sterling silver, and is available in whole sizes from 4 to 10.
4

Paloma's Tenderness Heart Ring

Price: $250.00 at tiffany.com
This ring in very unusual, made for a girl who loves art and design and is, perhaps, an artist herself. The plain silver band ends in two hearts, facing each other, made of sterling silver. It's available in whole and half sized from 4 to 10.
5

Elsa PerettiBand Ring

Price: $600.00 at tiffany.com
This bright 18-karat yellow gold ring is ideal for stacking, and so would make the transition from promise ring to wedding band with ease. It features one round-cut 0.02-carat diamond in the center. It's very dainty, isn't it?
6

Paloma's Crown of Hearts Three-Row Ring

Price: $775.00 at tiffany.com
This ring lets you express your love in three colors, rosy pink, brilliant white and bright yellow, all in 18-karat gold. Three rows of heats tumble and turn in an endless circle, a perfect modern depiction of your adoration.
7

Streamerica Ring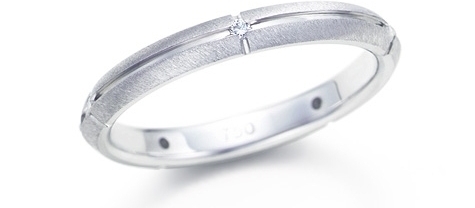 Price: $800.00 at tiffany.com
This 18-karat white gold ring is set with evenly space diamonds with a total carat weight of 0.04. It's also ideal for stacking as a wedding band, or standing alone in the meantime as a promise ring. It's as simple as it is elegant, with a notch along the center to make it shine even more.
Any of these rings would be an ideal promise of your love and affection until you're in a place to propose officially, and is sure to delight her every time she wears it. Which of these sweet promise rings do you like best, and why?
Please rate this article