A century ago, gemstones were a frequent choice for engagement rings, but nowadays, diamonds are the most popular choice. I love sapphires though, so I'm thrilled they're making a comeback in engagement rings and wedding bands! They come in a range of colors, all of them brilliant and gorgeous. And my favorite diamond source, Brilliant Earth, carries the most beautiful of them, and I have to share them with you! Here are 7 beautiful sapphire engagement rings, all available in yellow or white gold or platinum.
---
1

Brilliant Earth Sapphire Delicate Antique Scroll Ring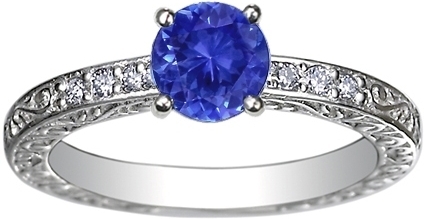 Price: $2,425 at brilliantearth.com
This beautiful engagement ring is set in either 18k white or yellow gold or platinum, with a delicate vintage-inspired scroll-work on the band on the top, bottom, and sides, and six dazzling diamonds. Choose from oval or round yellow, pink, violet or blue sapphires as the brilliant center stone.
---
2

Brilliant Earth Sapphire Cascade Ring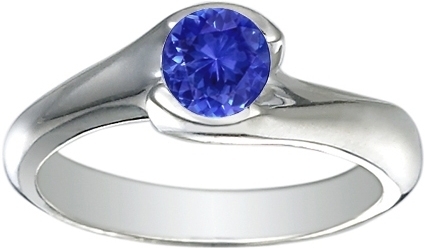 Price: $2,125 at brilliantearth.com
It's obvious that the simple, elegant styling of this ring was inspired by the gentle waves of the sea, thus the center stone should be a round violet or sea-blue sapphire, though pink or yellow are available, too. Especially captivating are the two side windows, displaying the sapphire from an array of impressive angles.
3

Brilliant Earth Sapphire Halo Diamond Ring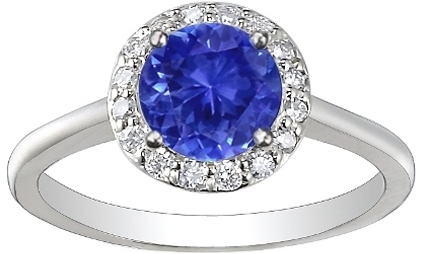 Price: $2,500 at brilliantearth.com
A single, Ceylon-blue sapphire set in the center of a halo of glittering pavé-set diamonds, the dazzling centerpiece of the Brilliant Earth Halo Collection. The tiny tip, or cutlet, of the sapphire is visible beneath the halo, a beautiful detail.
---
4

Brilliant Earth Sapphire Petite Shared Prong Diamond Ring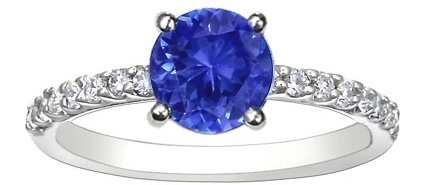 Price: $2,400 at brilliantearth.com
Choose one singularly gorgeous round or cushion-cut sapphire, in blue, pink, or yellow. Set it in the band of your choosing, with a tall four-prong setting for the stunning center stone and sparkling diamonds that travel in a row around more than half of the band.
---
5

Brilliant Earth Sapphire Adorned Trio Diamond Ring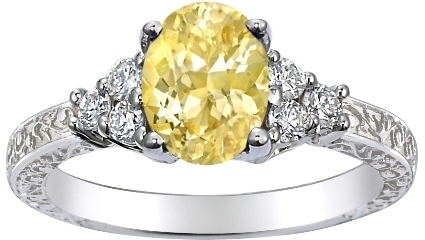 Price: $2,975 at brilliantearth.com
This gorgeous ring is part of the Brilliant Earth Antique Collection, featuring a round or oval-cut sapphire in either violet, blue, pink, or yellow, set in the center of two clusters of three gorgeous diamonds. The band is intricate, all scrollwork and etching.
---
6

Brilliant Earth Sapphire Celtic Love Knot Ring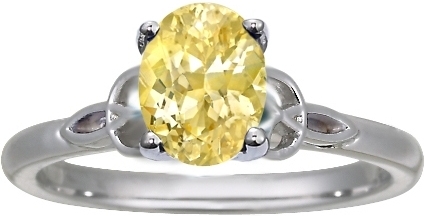 Price: $2,450 at brilliantearth.com
The Celtic knot is a symbol of love, of two souls tied and bound together. What a beautiful sentiment, expressed here in this beautiful ring. In the center of the knot is a gorgeous round sapphire, most gorgeous in violet or blue. Of all the rings here, this is my favorite, for the sentiment.
---
7

Brilliant Earth Sapphire Heirloom Ring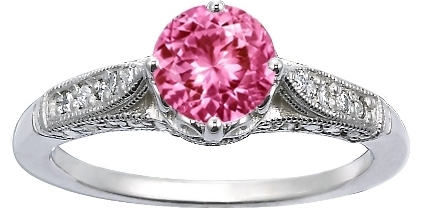 Price: $2,625 at brilliantearth.com
This glittering ring is part of the Brilliant Earth Heirloom Collection, incredibly romantic, with delicate French scrollwork all around and your choice of the color of round sapphire you'd like. I adore the milgrain at the edges, and the sparkle of the pavé-set diamonds.
So many beautiful engagement rings, all of which feature the gorgeous sapphire, sometimes with traditional diamonds. They're so much more original than a diamond, and can have so much more meaning! Which of these sapphire engagement rings do you like best, or are you a die-hard diamond girl?
---
Comments
Popular
Related
Recent