When I had long hair, wearing chandelier earrings was a no-go, since they tended to get tangled in my tresses. But now that I have short hair, delight! I can wear them, and they look marvelous! I've been searching for a few ne pairs to update my spring-time wardrobe, and I've found several I adore. Here are 7 gorgeous chandelier earrings…
---
1

Intrados Chandeliers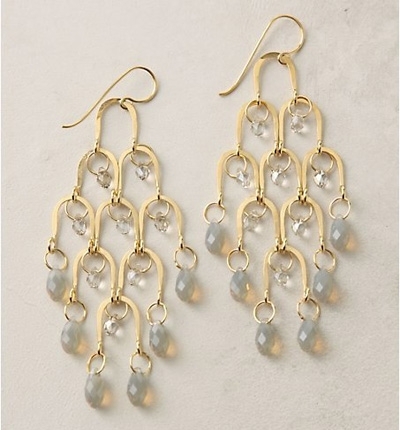 Price: $198.00 at anthropologie.com
Each of these nine bright gold-tone arches glistens with a singular dew-drop of Swarovski crystal, catching the light as you turn your head, laugh, or chat with a friend. They measure 3½ inches long, and would look stunning with a loose updo and your favorite LBD, or with a soft Boho tunic and skinny jeans with sandals.
---
2

Sunlit Falls Chandeliers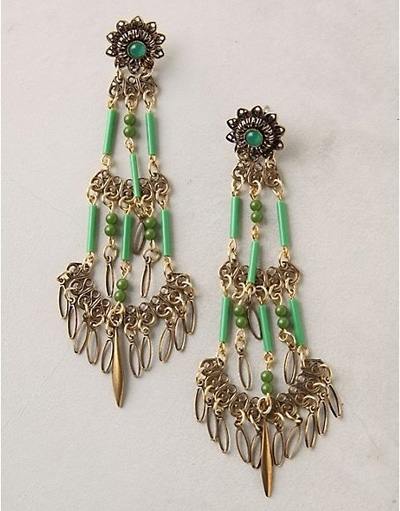 Price: $80.00 at anthropologie.com
Each of these elaborate chandelier earrings feature the same brilliant green glass beads in long cylinders or tiny orbs, surrounded by tiers and tiers of brilliant brass ellipses, topped with a brass medallion. Wear these with an embroidered peasant top and long skirt, or with a cropped denim jacket over a mini dress.
---
3

Scales of Justice Chandeliers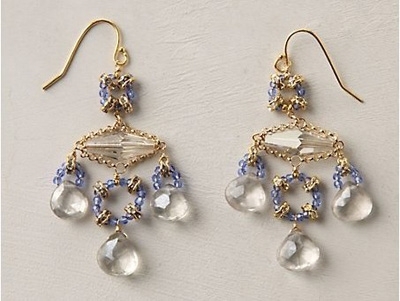 Price: $198.00 at anthropologie.com
Tip the scales of fashion justice in your favor with these brilliant blue chandelier earrings. Each features glittering orbs of quartz and sparkling Swarovski crystals, clear and blue, dangling delicately from a chandelier of 18-karat plated sterling silver. These are shorter than most, but are still beautiful and smart.
---
4

Big Top Chandeliers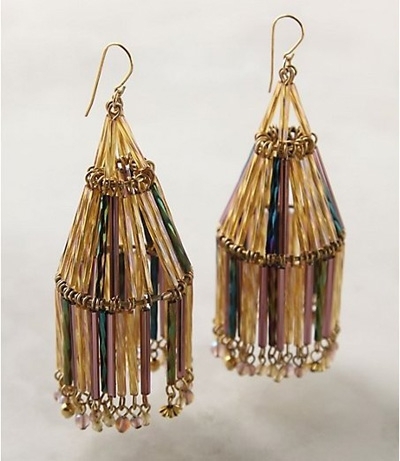 Price: $158.00 at anthropologie.com
These multi-colored, tent-shaped baubles are available exclusively at Anthropologie's online shop, and are sure to sell out soon. They feature vividly hued bugle beads strung on a round tent shape, evocative of the striped big top where you saw your first elephant, and fell in love with the circus.
---
5

Fringed Flowers Chandeliers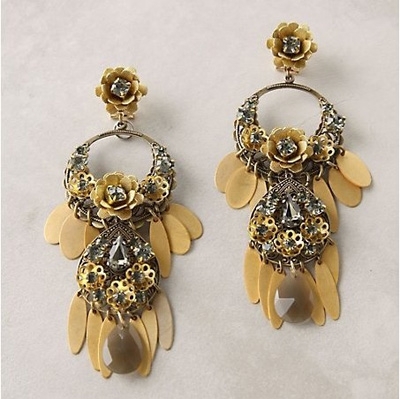 Price: $248.00 at anthropologie.com
Beautiful faux flowers adorn these brilliant chandelier earrings, each designed for movement and shine. They're hand-made in Italy of glass, crystal, and brass, and feature a lever-back post. I'd wear these with a plain tunic, patterned leggings, and ankle booties, or with an LBD, opaque lace tights, and peep-toe pumps.
---
6

Untold Riches Earrings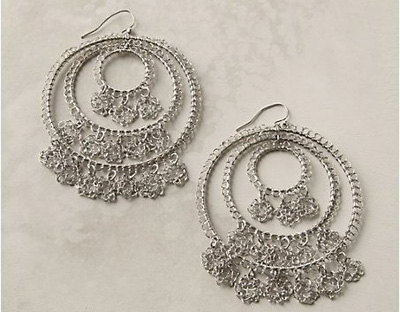 Price: $118.00 at anthropologie.com
Look closely at these delicate chandeliers and you'll see that they're hand-crocheted of fine vermeil, adding glitter and gleam to any of your favorite ensembles. Be sure the rest of your accessories are modest, and that they match, so these gorgeous earrings can do all the talking.
---
7

Double Dip Earrings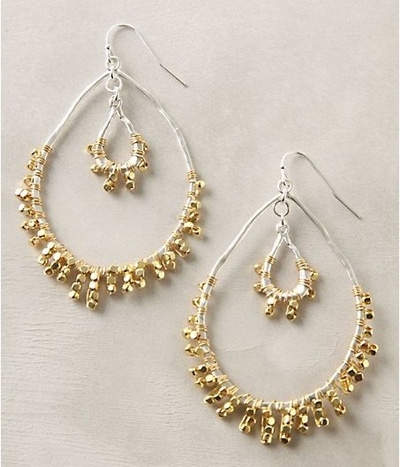 Price: $38.00 at anthropologie.com
If one glorious loop of gold-tone beads is nice, wouldn't two be even better? These chandeliers do indeed feature two loops, each adorned with tiny gold-tone beads, hand-made in the USA with French hook wires. These would look marvelous with any of your Boho outfits, or simply with jeans and a button-down top.
Any (or all) of these pairs of chandelier earrings would be such a gorgeous addition to your jewelry box, don't you think? I especially adore that last pair, and the Big Top ones, but now that I have shorter hair, I can wear them all! Which pair do you like best, and why?
More
---
Popular
Recent