I am always looking for great necklaces, and the necklaces from ModCloth never disappoint. They are all stylish, and there is something for everyone. I always find several necklaces that would be fabulous for completing an outfit, which is why I always look at the necklaces from ModCloth when I am looking for new jewelry.
---
1

Glitz Mob Necklace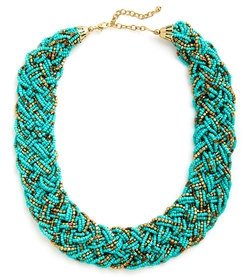 This bright turquoise necklace is one of the necklaces from ModCloth that I just love. It is the perfect necklace for adding a pop of color to an outfit. Wearing this necklace with a simple white shirt and jeans would take your outfit to a whole new level, which is why the necklace is a great addition to any jewelry box. Can you picture it with a monochrome outfit, too? It may even be making an appearance in my necklace collection soon!
2

PeaRls Just Wanna Have Fun Necklace
When you have an occasion that requires you to dress-up, these pearls would be a great addition to your outfit. The touch of sparkle on the necklace makes it wonderful for any special occasion. Also, because this necklace is so special, you can keep your clothing simple and look amazing. Wouldn't this necklace look fabulous with a bright sheath dress?
---
3

Centuries of Splendor Necklace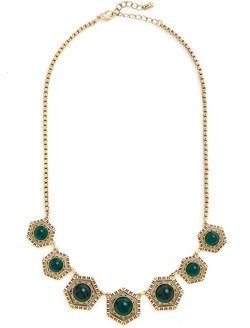 This emerald green necklace is so beautiful. The gold paired with the emerald green gems gives this necklace a vintage feeling, which is wonderful for adding interest to an outfit. You could wear this necklace with blousy top and dark skinny jeans for a casual date.
---
4

Here at the Cobalt Cabana Necklace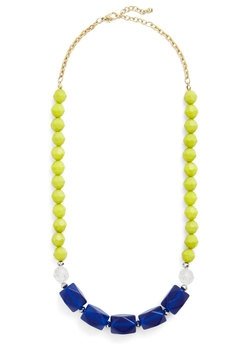 Don't you just love the brightness of this necklace? It is so cheerful! This necklace reminds of something that might be worn on a resort getaway! Keeping with the resort feeling, I would pair this necklace with a breezy dress for a sunny and light feeling.
---
5

Seaside Gala Necklace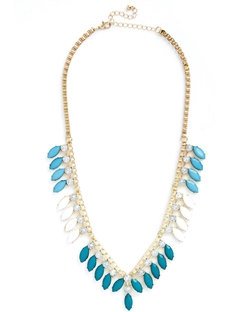 I can see why this necklace is called the Seaside Gala Necklace. The blue gems on this necklace look just like the color of the sea. This is such a beautiful and serene necklace. It would look great with just about anything. You could wear it with a casual or a more formal outfit. Either way, you will get a lot of compliments on your necklace.
---
6

Bead of Roses Necklace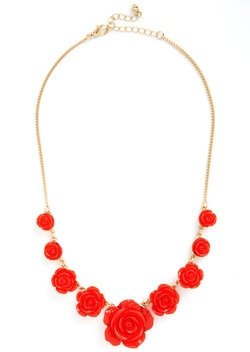 If you are looking for an accessory to add brightness to your outfit, look no further than the Bead of Roses Necklace. The vivid color of this necklace will draw attention to your fabulous fashion sense. Can't you just picture wearing this necklace with a cute pair of shorts and a fitted tank top? You would look so lovely and bright wearing such a basic outfit with such a fabulous necklace.
---
7

Make a State-mint Necklace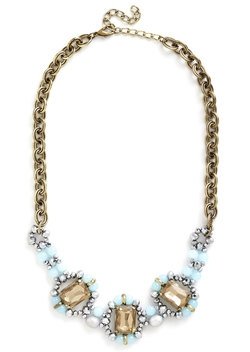 The aquamarine gems on this necklace are so beautiful. They add just the right amount of color to this bronze and silver necklace. I would wear this amazing necklace for an evening of cocktails with the girls. It has just the right amount of sparkle for an evening of bubbly!
Necklaces are great additions to any outfit. In fact, they are often what make an outfit look complete. All of these necklaces would make a fantastic addition to your necklace collection. Which one of these necklaces is your favorite?
---
Comments
Popular
Related
Recent