An armful of bracelets is a fun and funky way to liven up an outfit. To easily achieve this mix'n'match look, keep an eye out for convenient bracelet sets. It takes all the fuss out of choosing which bracelets go together best. Take a look at some on-trend bracelet sets below.
---
1

Pieces Luisa Bangle Set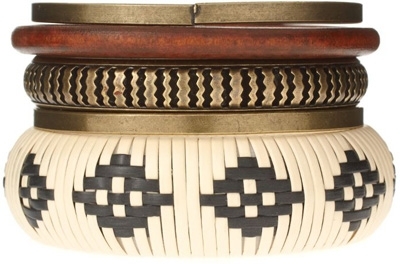 Price: $22.16 at asos.com
The best bracelet sets are the ones that still manage to look a little bit haphazard. This can be achieved by different sized bracelets and designs making up a set. This bracelet set consists of woven, metal, and wooden bracelets. This bracelet set is a great way to accessorise a casual, off-duty outfit.
2

Isabel Marant Set of Three Bracelets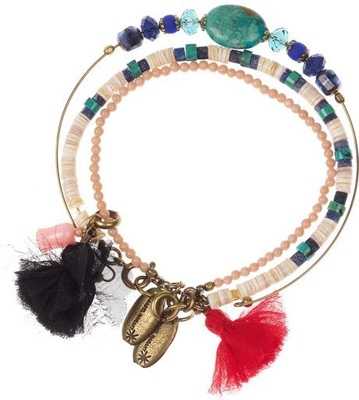 Price: $275.00 at net-a-porter.com
This bracelet set is perfectly eclectic. The first bracelet consists of pink rhodonite beads, a tulip charm, and black silk tassel. The second bracelet is made from gold-tone brass and features turquoise beads and faceted crystal detailing. The third bracelet consists of off-white shells, multicoloured stones, and a red silk tassel. Wear these with a casual boho-inspired outfit.
---
3

Topshop Chiffon Bangle Pack

Price: $28.00 at us.topshop.com
This bracelet set consists of assorted gold-tone metal bangles. They range in design and one even has a chiffon bow detail. The look is quite elegant and feminine. Team these bracelets with a chic outfit of silk blouse, cuffed tailored shorts, and patent ballet flats.
---
4

Topshop Zig Zag Bangle Pack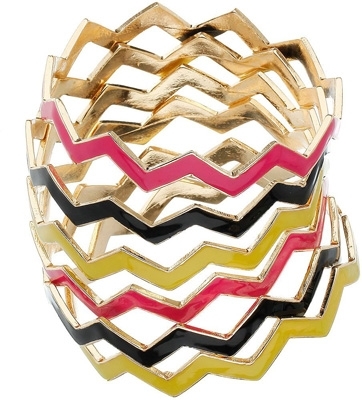 Price: $35.00 at us.topshop.com
These zig zag bracelets have a certain retro feel to the design. This bracelet set contains six zig zag bracelets. They come in black, pink, and yellow colours. Bold bracelet sets such as this one are a great way to incorporate colour into an outfit. Wear these bracelets all at once and work them into a monochrome outfit.
---
5

Dannijo Sloane & Edina Set of Two Silver-Plated Cuffs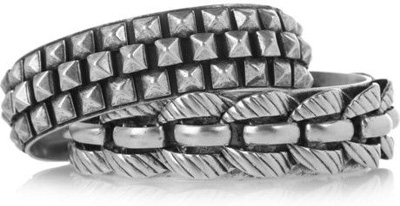 Price: $465.00 at net-a-porter.com
These oxidised silver-plated bracelets are guaranteed to add some tough-girl cool to your outfit. This set contains two cuff bracelets with differing designs. One features pyramid studded detailing while the other features chain detailing. If you wear silver jewellery on a daily basis, these bracelets can easily be incorporated into your day to day attire.
---
6

Forever21 Floral Detail Bangle Set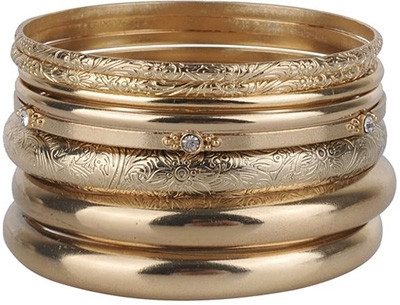 Price: $4.80 at forever21.com
These gold-tone bangles are the perfect way to add a bit of polish to an outfit. This set features four solid bangles, three with pressed floral details, and one with rhinestone details. Achieve different looks by either wearing them all at once or a few at a time. This bangle set is also available in a silver-tone finish.
---
7

Topshop 12 Fabric Wrapped Bangles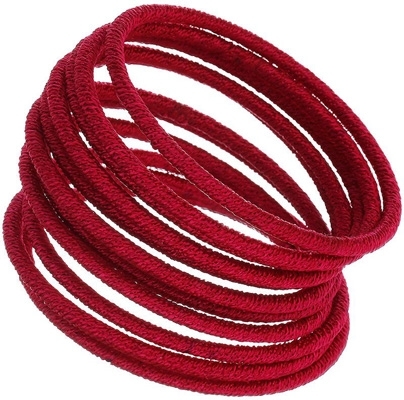 Price: $20.00 at us.topshop.com
Coloured bracelet sets are great for livening up an outfit. This set contains 12 pink fabric wrapped bangles. These bangles would look great set against an array of gold bangles. Mix and match these fabric banges with ones you already own to create interesting contrasts.
From polished metal bangles to fabric ones, there are a variety of bracelet sets that you can wear to update your look. Choose colourful stones and jewellery for a fun weekend look, or more austere designs for a more refined look. Which of these bracelet sets do you like best?
---
Comments
Popular
Related
Recent