Colored Earrings are a fun addition to any outfit. A pair of colored earrings is guaranteed to take your outfit from drab to fab. Depending on how much color you actually want to incorporate into your outfit, you could either choose a simple pair of colored studs or slightly more exaggerated technicolor drop earrings. Below are just a few examples of some stunning colored earrings.
1

Topshop Large Circle Stud Earrings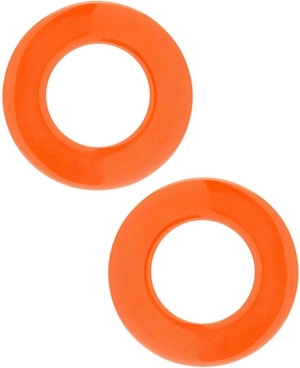 Price: $25.00 at us.topshop.com
These large resin earrings are sure to brighten up your outfit. They have a circular design which seems to work into the Mod-inspired trend. Orange colors aren't for everyone so hold these earrings up against your face to check that they match your skin tone. Go for a retro look and team these earrings with a black and white geometric print dress.
2

Kenneth Jay Lane Swarovski Crystal Cluster Clip Earrings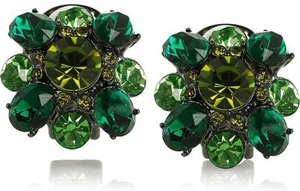 Price: $75.00 at net-a-porter.com
These emerald green and lime colored earrings have a vintage-inspired feel to them. Each earring features a cluster of Swarovski crystals on a gunmetal backing. They have a clip fastening with optional padding for those without pierced ears. These would look extremely elegant paired with black vintage-style dress.
3

ASOS Stud Colored Earrings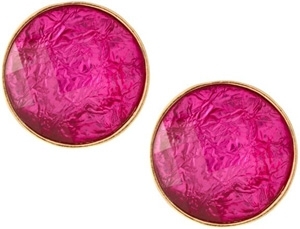 Price: $9.86 at asos.com
Stand out from the crowd in these oversized stud earrings. They feature a faceted resin stone in a gold-tone setting. They have a secure stud fastening at the reverse and come in a striking fuchsia colour. Pop these on to add a dash of colour to your evening look.
4

Modcloth Blast from the past-el Colored Earrings
Price: $15.99 at modcloth.com
If acid bright colors aren't your thing then you can always choose a pair of pastel earrings. These square earrings have a vintage-inspired design and feature pastel colours against gold-tone trims. These would look great worn during the daytime, and with a full-skirted cream dress.
5

Topshop Premium White Square Earrings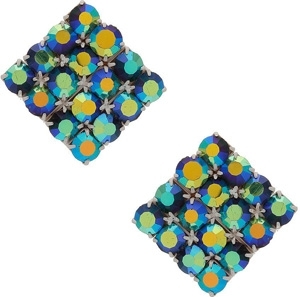 Price: $35.00 at us.topshop.com
You'll be sure to dazzle in these tonal square stud earrings. Rows of tonal embellishments are set in a white metal backing. The effect of the tonal embellishments is almost holographic. These would add a bit of drama to any outfit.
6

Tom Binns Fauve Electro Drop Colored Earrings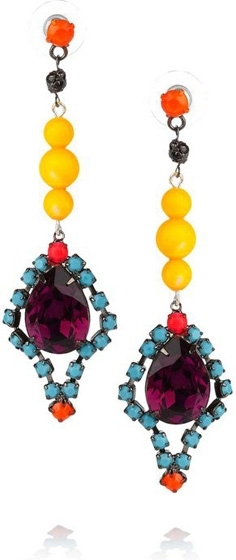 Price: $275.00 at net-a-porter.com
These drop earrings feature an eclectic mix of colors. They feature Swarovski crystals, hand painted beads, and resin embellishments. These earrings have a bell-backed fastening for pierced ears. These would look great worn with a simple outfit of a white t-shirt and jeans.
7

Rosantica Magnifico Agate Earrings

Price: $340.00 at net-a-porter.com
These elegant agate earrings are perfect for wearing during the day and at night. They consist of fuchsia agate beads and 24-karat gold-dipped chains. These handmade earrings have a hook fastening for pierced ears. Wear these to update a plain LBD.
Whether you want a trend-based piece or are looking to invest in a designer pair, there are a range of colored earrings available. Jewel colors are timeless, whereas technicolored earrings are perfect for creating a trend-based look. Which of these colored earrings do you prefer?
Top Image Source: weheartit.com