Some of the most striking designer earrings feature clip on fastenings. While thoughts of clip on earrings may conjure images of lurid 80s-style designs, the truth is that there are some stunning and stylish designs out there. They are also a great option for those who don't have pierced ears. Take a look at the following striking clip on earrings below.
1

Marni Glass and Pyrite Drop Earrings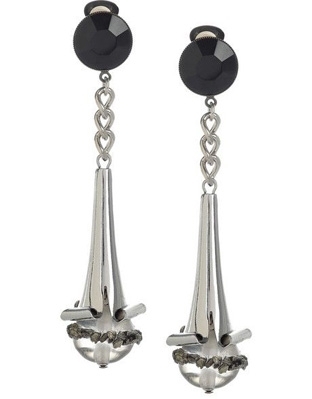 Price: $420.00 at net-a-porter.com
These striking clip on earrings would be a glamorous addition to any outfit. They feature a black glass embellishment atop a chain and tubular shaped stem. A pyrite embellished resin ball sits at the drop. These would be an ideal pair of earrings to wear to a black tie event.
2

Forever21 Faceted Rhinestone Clip on Earrings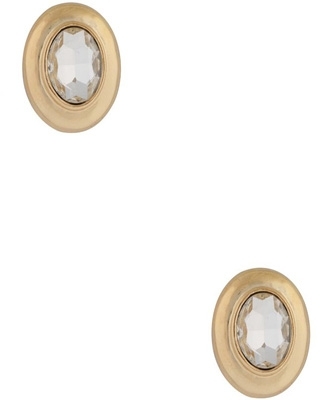 Price: $4.80 at forever21.com
These opulent looking clip on earrings are a bargain at a little under $5. They have a faceted rhinestone centre and gold-tone outer. At the back are the cushion snap closures. These earrings have an antique finish and could be worn with a range of day to day outfits.
3

Susan Caplan Vintage 1980s Diamante Tapestry Drop Clip Earrings

Price: $350.84 at asos.com
These striking earrings are encrusted in diamantes. They feature diamante encrusted drops and a flower shaped stud. The clip fastening is located at the back of the stud. These earrings are quite attention grabbing, so would work well with a minimal monochrome outfit.
4

Yves Saint Laurent Lucky Chyc 5-Karat Gol-Plated Clover Earrings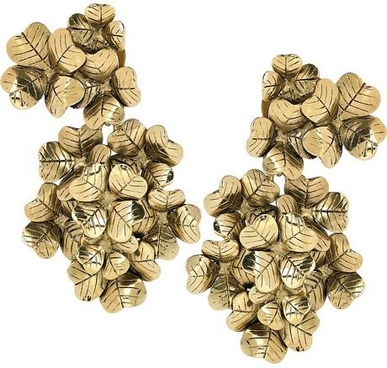 Price: $695.00 at net-a-porter.com
These large cluster earrings are certainly dazzling. They are embellished with clusters of four leaf clovers. These earrings are made from 5-karat gold and have a burnished finish. Wear these at night with a little black dress, or try wearing them in the daytime with a crisp and tailored outfit.
5

Forever21 Elegant Evening Earrings

Price: $3.80 at forever21.com
Pearl-style embellishments are a popular choice in earring design. These elegant looking clip on earrings feature a large pearlescent bead framed in faux diamonds. They have a clip on fastening at the back. These earrings also come in a black colourway, and at such an affordable price you could easily pick up a pair in both colours.
6

Asos Irregular Shaped Smooth Clip on Earrings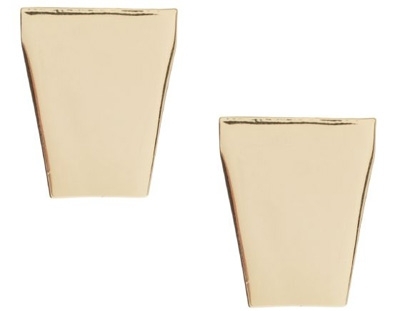 Price: $11.08 at asos.com
These angular earrings have a fairly modern design. They are geometric in shape, have a gold-tone finish, and feature secure clip fastenings at the back. These earrings are sleek in appearance. These striking earrings would make excellent statement pieces.
7

Tom Binns Ethno Teknik Hand-Painted Swarovski Crystal Earrings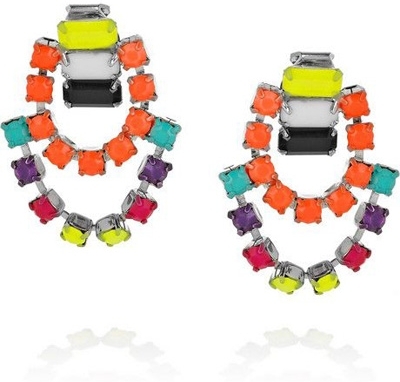 Price: $200.0 at net-a-porter.com
These striking clip on earrings are made from sterling silver-plated brass. They are decorated with an array of hand painted Swarovski crystals. The multicoloured crystals feature prominently in the design. The ethnic-inspired design definitely has contemporary leanings. These earrings would be excellent for incorporating colour into an outfit.
8

Kara by Kara Ross Haematite Clip on Earrings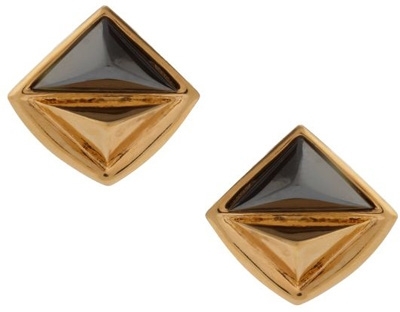 Price: $160.65 at asos.com
Black and gold is a striking combination. These earrings have a fairly simple raised pyramid design and feature a haematite stone. They are gold plated and have clip fastenings at the back. These earrings would look great paired with a crisp white shirt, full skirt, and wedge heels.
Clip on earrings are available in an assortment of shapes and designs. Choose a jewel-encrusted pair for evening wear, or a striking pearl pair for day to day wear. Which of these striking clip on earrings do you like best?