When I had long hair, I couldn't wear hoop earrings, because they'd get tangled in my tresses, but now that my hair is super-short, I can start buying hoops again! They're so much fun to wear, and so versatile — you can wear them for dress or for casual. I've been searching out new hoops to buy, and have found so many gorgeous ones I really, really want! Here are 8 hot hoop earrings.
---
1

Go-round Hoops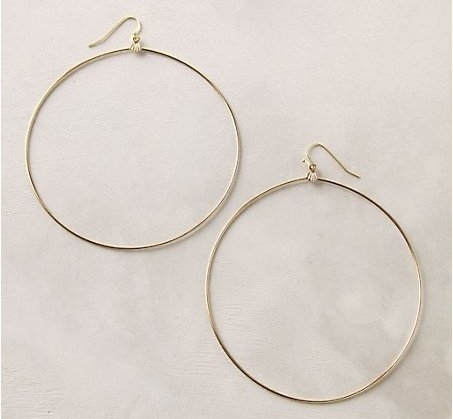 Price: $32.00 at anthropologie.com
These gold-tone hoops are classic, timeless, sure to be a wardrobe staple. They're perfectly round, thin, measuring 3¾ inches across. Wear them with just about anything in your closet, from casual to dressy, and be prepared for compliments… they're so pretty!
---
2

Eclipse Hoops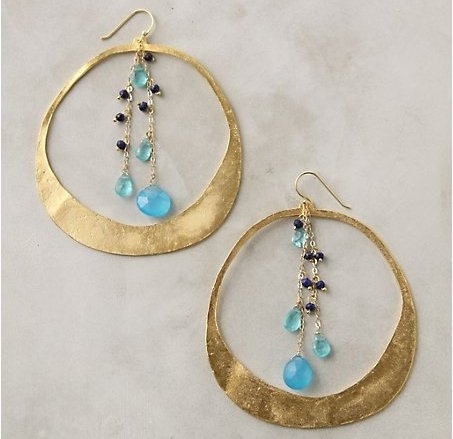 Price: $148.00 at anthropologie.com
Celebrate eclipse season (it only comes twice a year) with these enchanting hoops by Wendy Mink. They feature hammered metal hoops plated in bright 14-karat yellow gold and glittering faceted blue calcite and apatite orbs dangling in the centers. Wear with a graphic-print tunic and solid leggings, or with your best LBD.
3

Joyous Gems Hoops

Price: $198.00 at anthropologie.com
If I could only choose one pair of hoops to add to my wish list, these would be them, so glittery and gorgeous, all rich faceted glass and crystals, brass and steel. I'd wear these with a maxi dress and cropped cardi, or a pair of tweedy pants and a sheer blouse. I must have these!
---
4

Glinting Grand Hoops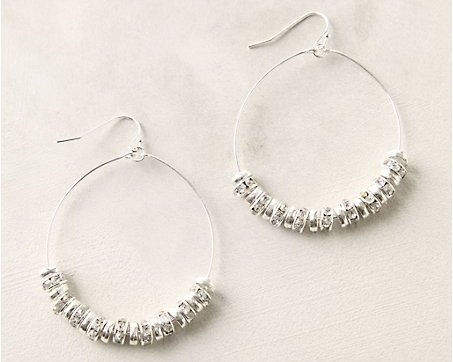 Price: $32.00 at anthropologie.com
Choose either bright silver-tone or rich gold-tone, either way, you'll have a pair of beautiful hoops. Both finishes feature the same row of rhinestone-studded rondelles strung on a thin hoop, all sparkle and movement. Wear with a slinky LBD or skinny jeans and heels.
---
5

Wriggled Hoops

Price: $34.00 at anthropologie.com
Add a little wiggle, a little giggle to your wardrobe with these spidersilk-thin hoops in concentric curves, gold-tone glitter and glitz. They measure 3 inches in diameter and would look marvelous with a Boho outfit and a loose, casual updo.
---
6

Red Sun Hoops
Price: $28.00 at anthropologie.com
Flaunt your love of the sun with these beautiful hoops, featuring rich red jasper beads strung on gleaming gold-tone circlets. They measure 2 inches across, and are ideal for wearing with a pretty floral-print frock or with a linen tunic and cuffed shorts.
---
7

Inexactly Exquisite Hoops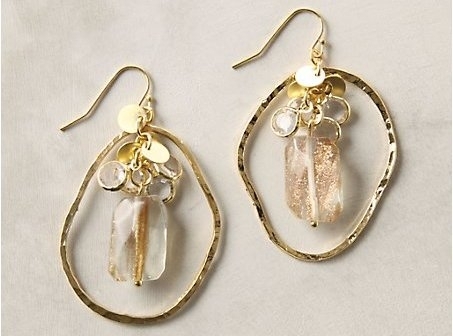 Price: $32.00 at anthropologie.com
A single glittery faceted quartz or sodalite, surrounded by crystals and hammered gold-tone or silver-tone hoops, all suspended on thin French hooks. I'd wear the silver ones with an LBD and black patent heels, and the gold ones with a long skirt, chambray shirt, and tall boots.
Those are just a handful of the gorgeous hoop earrings that top my wish list, and can you blame me? I especially adore the joyous gems pair, but they're all so beautiful and glittery! Which pair do you like best, and what would you wear them with? Please share!
---
Popular
Related
Recent