Did you know that renowned architect Frank Gehry designs jewelry for Tiffany? He's the extraordinarily creative and talented man who, among other things, designed the titanium-covered Guggenheim Museum, and also a top hat for Lady Gaga (with, oddly enough, his iPhone). His vision is incredibly unique, modern, fluid… and this vision is evident in his collections for Tiffany. Here are 7 gorgeous jewelry collections by Frank Gehry for Tiffany, with one shining example of each.
Table of contents:
1

Frank Gehry Leaves Bracelet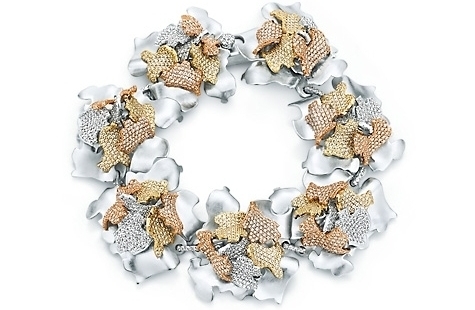 Price: $70,000.00 at tiffany.com
This must be Gehry's way to celebrate fall, with lush leaves in varying colors, but the same dynamic, organic shape. The bracelet measures 6 ½ inches long, so it will fit most wrists, and it features 18-karat yellow, rose, and white gold, and a more than 7 carats of gleaming round-cut diamonds.
2

Frank Gehry Hearts Pendant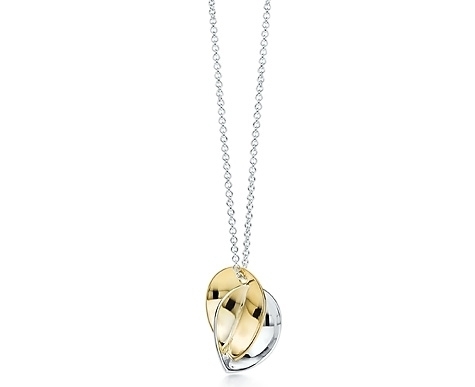 Price: $600.00 at tiffany.com
Gehry says the rounded shape of his heart design is inspired by billowing sails, and it shows. This pendant from his Heart collection is made of brilliant sterling silver with an 18-karat yellow gold accent, hanging from a delicate 16-inch chain. Gorgeous!
3

Frank Gehry Fish Necklace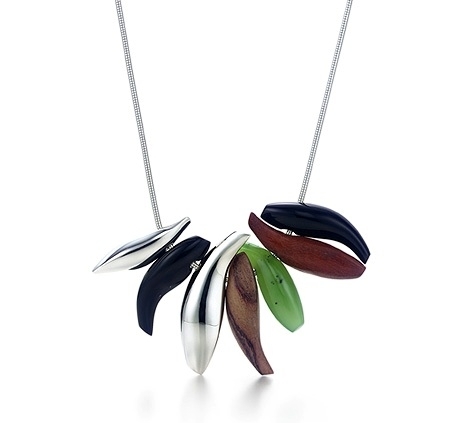 Price: $1,800.00 at tiffany.com
Gehry's fascination with fish is evident — they've starred in so many of his designs, including his Fish collection for Tiffany. This piece features seven of his streamlined fish shapes in sterling silver, onyx, nephrite green jade, and acacia and pernambuco wood, strung on a 16-inch chain. I love the contrast of the colors and textures… what a gorgeous statement necklace.
4

Frank Gehry Torque Open Pendant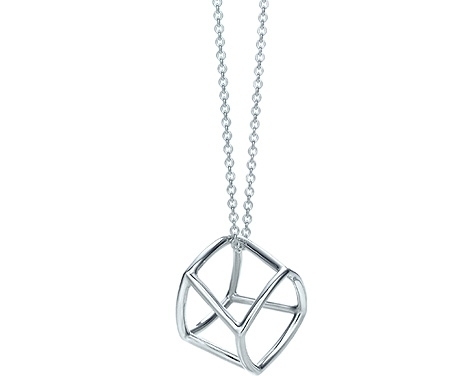 Price: $200.00 at tiffany.com
Such a simple geometric shape, angled and softened slightly by Gehry's hand. It's open, with a beguiling lightness, cast in gleaming sterling silver, dangling from a dainty 16-inch sterling silver chain. Wear it as an everyday celebration of the way you tend to think outside the box… and indeed, redefine the box.
5

Frank Gehry Orchid Double-Drop Earrings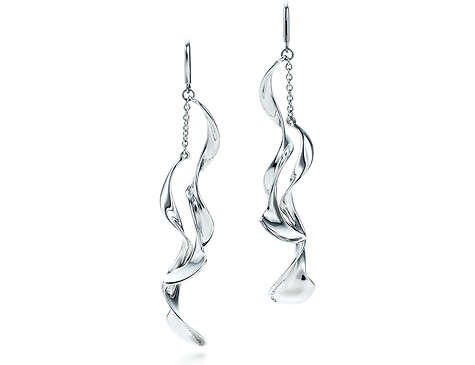 Price: $725.00 at tiffany.com
Gehry captures the exotic grace of orchids in this collection for Tiffany, and I think it works best in these earrings. They're made of sterling silver, and feature a double strand of fluid orchid shapes. They're for pierced ears and measure 2½ inches long.
6

Frank Gehry Morph Necklace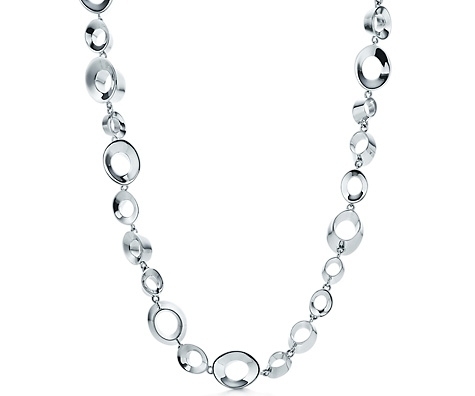 Price: $2,125.00 at tiffany.com
The simple, elegant discs in the Morph collection are stunning. This necklace strings dozens of them together in sterling silver for a total of 18 interesting inches. Pair with a simple LBD, or with a crisp button-down white blouse and charcoal grey trousers to add a little grace and visual appeal.
7

Frank Gehry Star Bangle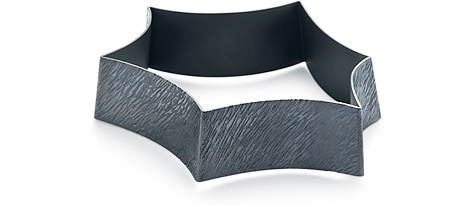 Price: $700.00 at tiffany.com
Pair this asymmetrical bracelet with an LBD or a Boho tunic. It's made of textured titanium and measures 6 ¼ inches in circumference. It is, in my opinion, the highlight of Gehry's Star collection… it's so unique and chic!
Now that you've seen these 7 Frank Gehry collections, you're bound to be a new fan, right? I love his designs — they're so organic and fluid! Which of these Frank Gehry for Tiffany collections do you like best, and why? Do tell!
Please rate this article