Floral motifs can often be found on a range of jewelry pieces. Adding a flora-inspired touch to your outfit is a great idea during the summer months. You can choose delicate pieces of fine jewelry or something more bold and visible, depending on your outfit. Check out a few pieces of beautiful floral jewelry below.
1

Foreve21 Cutout Floral Cuff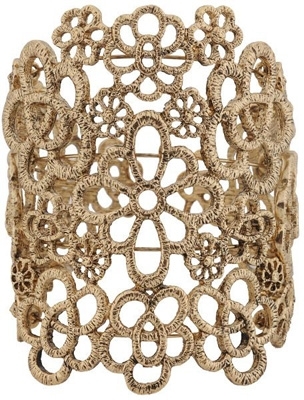 Price: $7.80 at forever21.com
This gold-tone cuff doesn't initially register as having floral detail. However, on closer inspection you realise that the gold loops are floral motifs. This cuff features cut-out flowers, pressed details, and has a high polish finish. Wear this cuff to embolden a light summer outfit.
2

River Island Delicate Double Flower Ring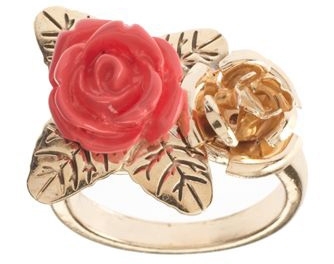 Price: $9.23 at asos.com
This piece of beautiful floral jewelry is decorated with a colourful flower detail. It has a slim metal band, gold-tone and coral flower embellishments, and features engraved leaf detailing. It is available in small, medium, and large sizes. This ring would make a dainty addition to your everyday jewelry.
3

Oscar De La Rental Enamel Flower Earrings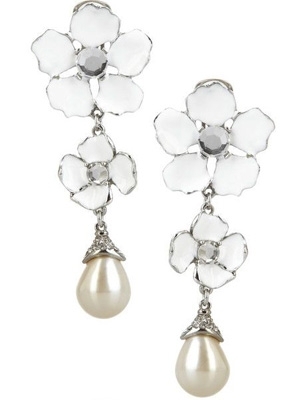 Price: $280.00 at net-a-porter.com
These flower earrings are elegant and feminine in design. Each earring features two enamel flowers, crystal detailing, and a pear-shaped glass pearl embellishment. It also has a hinged clasp fastening at the back. The clip-on design means you can still wear them even if your ears aren't pierce. These earrings would work well with an evening or cocktail outfit.
4

Tallulah Tu Enamel Bangle with Floral Design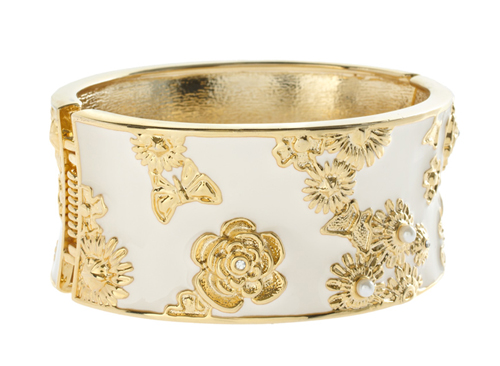 Price: $35.08 at asos.com
Beautiful floral jewelry often comes across as being quite delicate. Despite having a solid frame, this bangle features a delicate looking floral design with faux pearl and diamante embellishments. This bangle has a hinged design and an enamel-look finish. This bangle would work well to offset a sheer, floaty dress.
5

Bead and Flower Cluster Studs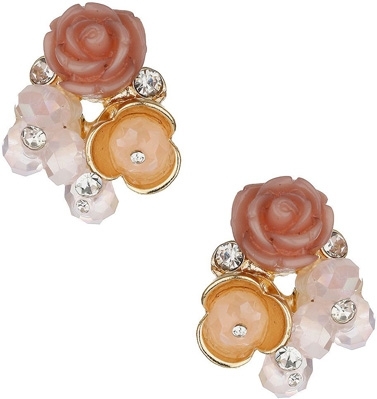 Price: $20.00 at us.topshop.com
These cluster stud earrings are colourful and sweet. They feature differently shaped and coloured flowers with rhinestone detailing. The embellishments are fastened to a gold-tone backing. Wear these with a light, summer outfit.
6

Talullah Tu Three Ringer Flower Ring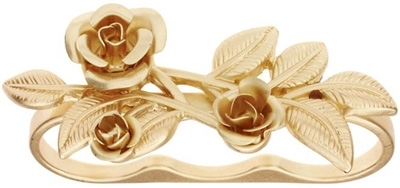 Price: $27.70 at asos.com
This long ring runs across multiple fingers. It has a three finger band and features ornate floral detailing. This ring has a brushed finish and is quite elegant in design. It ring is also available in a silver finish. Slip this ring on and wear it all day long.
7

Pieces Alice Flower Locket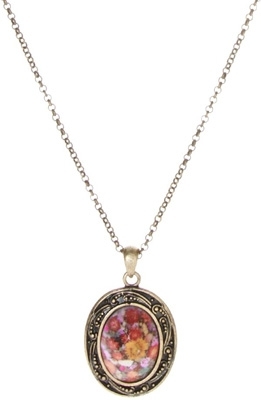 Price: $22.16 at asos.com
This floral locket is a vintage-inspired piece of beautiful floral jewelry. It has a tarnished gold-tone finish which gives it an aged look. The necklace features a faceted floral locket with lobster clasp fastening. It also comes on a long belcher chain. Layer this necklace over a demure tea dress for a ladylike look.
The beautiful floral jewelry that has been mentioned provides only a small glimpse of what is currently available. There are many different styles and designs that are suited to all budgets. Which of these pieces are your favourites?