The filigree technique is one that is popular in jewelry design. It is achieved by twisting and soldering threads of metal. The result is often an item with an appearance of elegance and delicacy. Take a look at some gorgeous filigree jewelry below.
1

Topshop Cream Filigree Ring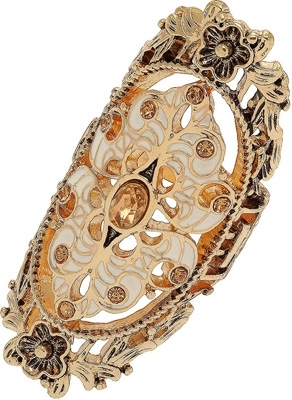 Price: $20.00 at us.topshop.com
This piece of gorgeous filigree jewelry has a certain antique feel to it. This large filigree ring has a cream centre, gold-tone frame, and flower and leaf detailing. It also has a rhinestone at the centre. This would make a quite impressive statement ring.
2

Isharya 18-Karat Gold-Plated Filigree Cuff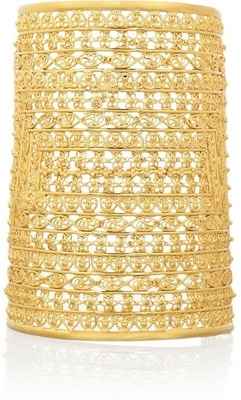 Price: $475.00 at net-a-porter.com
This 18-karat gold cuff is a stunner. It features intricate filigree detailing and simply slips on to your arm. This bright yellow-gold cuff would best be worn on its own. Wear it with a colourful maxi dress to inject a bit of ethnic-inspired glamour to your look.
3

Mallarino Safiva 24-Karat Gold-Vermeil Hoop Earrings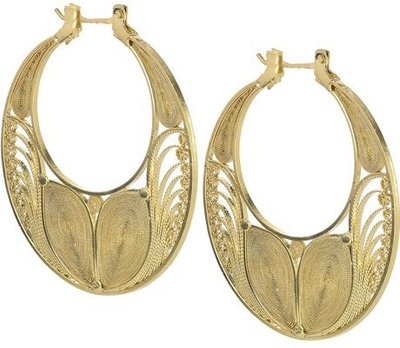 Price: $360.00 at net-a-porter.com
These gold hoop earrings feature a more subtle take on the filigree design. The earrings are handmade and have a hook fastening. The filigree detailing is subtle and condensed. These earrings would look great as part of a bohemian-inspired outfit.
4

Iosselliani Filigree Skull Necklace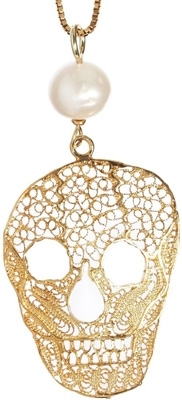 Price: $245.00 at barneys.com
This skull shaped pendant features filigree detailing throughout. The ancient filigree technique has been incorporated into a much more modern design. This necklace also features a faux pearl detail. This necklace comes on a 40 inch chain and could be teamed with a range of outfits.
5

Topshop Filigree Stamped Bead Drops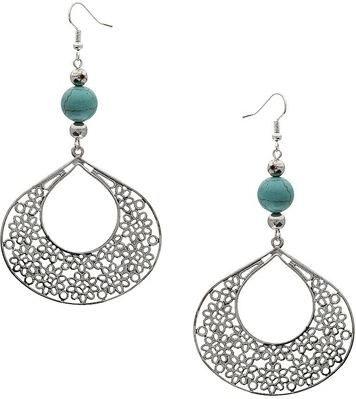 Price: $20.00 at us.topshop.com
These silver and turquoise earrings are great bohemian-inspired pieces for everyday wear. They feature silver filigree stamped drops and turquoise bead detailing. They measure 8cm in length and have a hook back. Wear these earrings with floaty maxi dresses and loose tops for a chic summer look.
6

ASOS Filigree Mask Ring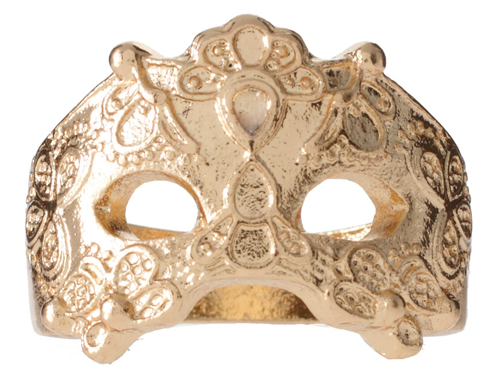 Price: $8.31 at asos.comThis ring has an ornate mask design. It has a chunky band and gold-tone finish. The filigree detailing on the mask is typical of gorgeous filigree jewelry. This ring comes in small, medium, and large sizes. It would be an ideal way to add interest to an outfit.
7

Mallarino Jazmin 24-Karat Gold-Vermeil Emerald Snake Bracelet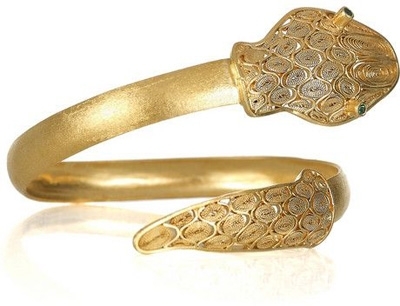 Price: $360.00 at net-a-porter.com
This wrap-around snake bracelet is a great piece of gorgeous filigree jewelry. It features delicate emerald detailing at the eyes and features filigree detailing at the head and tail. It is handmade and comes in a designer stamped tin. This bracelet would look great worn with floaty chiffon dresses.
8

Forever21 Filigree Panel Earrings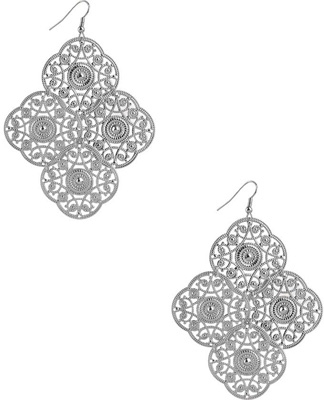 Price: $2.80 at forever21.com
Filigree earrings are an easy way to wear the trend. They feature four connected panels with filigree detailing. They have a hook back and are available in a gold or silver finish. Wear these to dress up a range of casual outfits.
As you can see, filigree jewelry can come in all sorts of different shapes and forms. The filigree technique can be used to create modern or antique-inspired designs. Which is your favourite piece of gorgeous filigree jewelry?