Lately I have a thing for bangle bracelets, and I know I'm not the only one. I love the way they look, and the lovely tinkling sound they make when you wear them — they're classics, all around, especially when they're made by a reputable, stylish jeweler, like Tiffany. To give you an idea, here are 7 gorgeous Tiffany bangles. All of them are utterly classic and super fantastic!
---
1

Tiffany Paloma's Marrakesh Bangle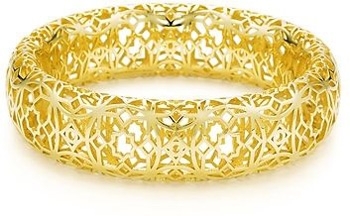 Price: $7,000.00 at tiffany.com
Paloma Picasso has a passion for Morocco, and you can see it in the themes of so many of her jewelry designs, including this gorgeous Tiffany bangle. It's made of brilliant 18-karat yellow gold, and is medium in size, so it will fit wrists up to 7¼ inches in circumference.
2

Tiffany Atlas Bangle

Price: $8,000.00 at tiffany.com
I adore the entire Atlas collection, but this bangle in particular makes my heart beat faster. It boasts the iconic Atlas-style Roman numerals all the way around, capped by two rows of brilliant round diamonds with a total carat weight of 0.74.
---
3

Tiffany Somerset Bangle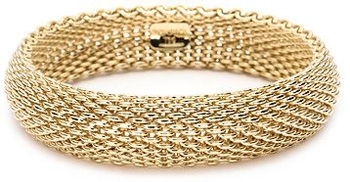 Price: $8,000.00 at tiffany.com
This lovely mesh bangle would look stunning with an LBD and sleek patent heels, wouldn't it? It's made of 18-karat yellow gold and is made to fit smaller wrists. So pretty!
---
4

Tiffany 1837 Interlocking Circles Bangle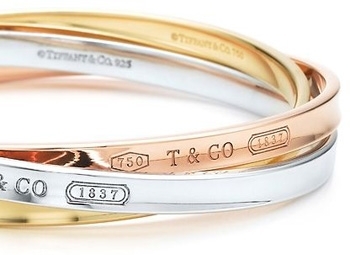 Price: $5,500.00 at tiffany.com
This set of three bangles in contrasting but complimentary colors would look gorgeous with almost anything in your summer wardrobe, casual or formal. The three bracelets are interlocked, one each of sterling silver, rose gold, and yellow gold.
---
5

Tiffany Frank Gehry Torque Bangle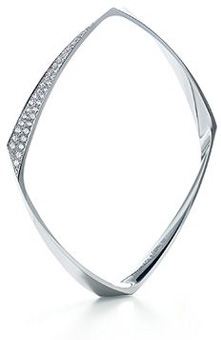 Price: $4,950.00 at tiffany.com
I love the ring that matches this gorgeous Tiffany bangle, but the bracelet itself is somehow more stunning. The shape is simple, with a geometric twist, highlighted by a grouping of gorgeous glittering round-cut diamonds.
6

Tiffany Notes Bangle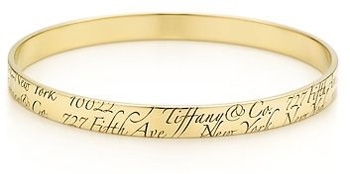 Price: $2,750.00 at tiffany.com
This narrow bangle looks lovely alone, or fantastic stacked with other skinny bangles. I love the script, inspired by hand-writing, and of course, the address has meaning, too — it's the address of the flagship Tiffany store in New York City.
---
7

Tiffany Frank Gehry Torque Bangle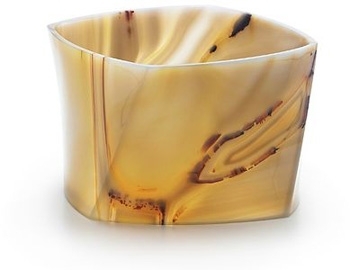 Price: $2,175.00 at tiffany.com
This gorgeous Tiffany bangle, designed by Frank Gehry, defies my attempts to categorize it. It reminds me of tortoise shell, rich and caramel-brown and semi-opaque. It would look so beautiful with a plain linen shift or a vintage Boho skirt.
This is just a sampling of the dozens of gorgeous Tiffany bangles in their shops and on their website. There are so many more to choose from, but these are the bangles I love best! Which of these bangle bracelets do you like best? Or is there another one you've been eyeing?
---
Popular
Related
Recent