Since Betsey Johnson is one of my favorite fashion-related names and I've already written a whole post on earrings, I'll just go one step further and discuss a few of those fun Betsey Johnson necklaces you might want to check out as well. Why? Because a cool, eye catching necklace is just what a girl needs to get her glam on. Even the simplest of outfits can look amazing and unique when accessorized properly, and what better way there is to do so than with one of these lovely, playful, unique and totally fun Betsey Johnson necklaces:
Table of contents:
1

Viva La Betsey Parrot Pendant Necklace
Price: $45.00 at shop.nordstrom.com
The list of fun Betsey Johnson necklaces is officially open! Isn't this one the prettiest and the most colorful one? I love these hot pink feathers, enamel hears, little gold-tone bow and oooh, don't even get me started on the chain! But, hey, there's more where this came from so, instead of blabbing about my favorite necklace, let me show you a few others as well.
2

Viva La Betsey Skull Pendant Multi Chain Necklace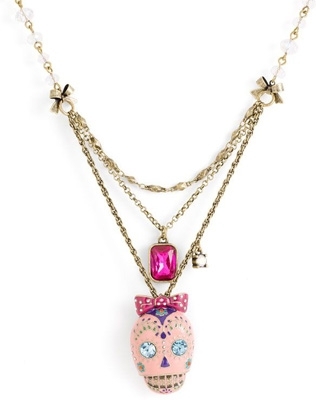 Price: $50.00 at shop.nordstrom.com
Girly skull, pink stone and a whole bunch of shiny, eye-catching elements- here's another cute necklace I like almost as much as the first one. The multi chain thing is a great idea too and I think a necklace like this one would go great with jeans, tube top and a pair of cool sandals- you know, the whole "I'm dressed to impress" style you'll probably go for if you're meeting your girls for coffee or something like that.
3

Vintage Betsey Multi Strand Necklace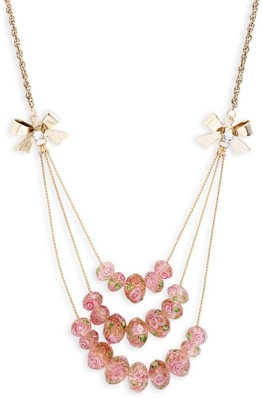 Price: $42.00 at shop.nordstrom.com
Aww! Well, hope you like this one because I think it's adorable! So nice, sweet and romantic, definitely a first date "do". We've already discussed first dates, dressing to impress and the fact that guys do notice accessories so, there you have it – pick a nice skirt, cute but relatively simple top and don't forget this sweet, girly, romantic necklace!
4

Secret Garden Flower Necklace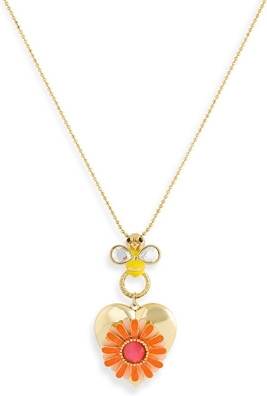 Price: $39.90 at shop.nordstrom.com
Orange is big this year and although I don't think we should all turn orange this instant, finding a cool way to integrate this color in your style could be fun. Do you agree? Well, the next one on my list of fun Betsey Johnson necklaces is not only totally cute, but totally fashionable too. I'd say its the definition of how orange can be used without being abused.
5

Secret Garden Multi Strand Necklace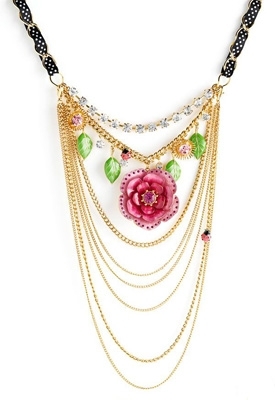 Price: $99.90 at shop.nordstrom.com
Some might say this necklace is too much, maybe even a bit tacky but wait, let's not jump to conclusions! It might be a bit over the top, I'll give you that, but over the top can be rather useful sometimes. So let's just say you wake up one morning only to realize that your creativity is having a day off…Ugh, oh, a tricky situation indeed! Well, you see, that's why it would be good to have a necklace such as this one – just slip into your favorite neutral SOS outfit, put this baby on and voila, you are good to go!
6

In the Navy Heart Pendant Necklace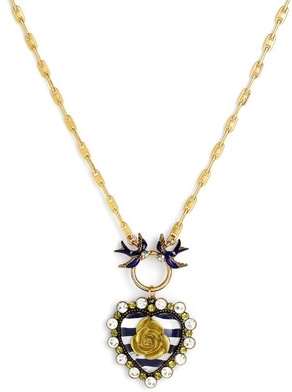 Price: $35.90 at shop.nordstrom.com
I don't know why, but whenever I think "navy", a pile of my mom's Burda sewing magazine pops up in my head. I mean, that style has been popular for ages now and for a good reason, too! So, let's just put two and two together- wide leg pants have made their big comeback, gold tone jewelry is also a big hit while navy was pretty much more or less popular all along. But, there is no need to max out on your credit card, one simple necklace will do! The best part? This cutie is on sale right now!
7

Vintage Betsey Cluster Statement Necklace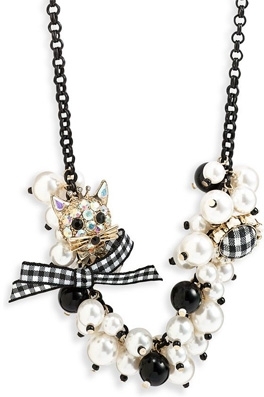 Price: $55.00 at shop.nordstrom.com
Should I even say something or its name says it all? I'm loving the neutral colors, the fact that it pretty much goes with just anything, the glitzy cat, little bow and the cute button! Hell, I love everything about it! So, if you're not really into colorful jewelry, do take a look at this one because it's cute, stylish and oh-so-easy to combine!
8

Secret Garden Butterfly and Flower Necklace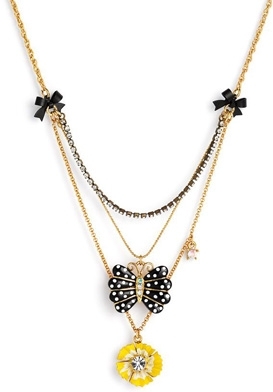 Price: $31.90 at shop.nordstrom.com
Speaking about fun Betsey Johnson necklaces , take a look at this one! This necklace is without the doubt one fab summer accessory and, since I've already mentioned sales, I guess I should mention that this one is on sale too! So check it out now before some Betsey Johnson fan snatches it right in front of your nose!
Are you "feeling" these fun Betsey Johnson necklaces or the only "fun" they could ever bring you is the mocking "ha-ha" kind, you'd get from watching others wear them?
Please rate this article