Raw Crystal Rings represent one trend that I can't get enough of at the moment. Raw crystal rings are incredibly popular right now, and with good reason. Think clusters of amethyst, quartz, and citrine encased in shiny metals. They make great statement pieces and are a chic way to accessorise an outfit. Have a look at a few stunning raw crystal rings below.
---
1

Aqua Raw Stone Crystal Ring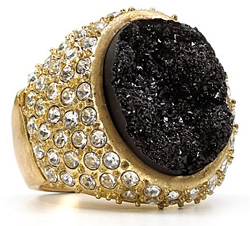 Price: $40.00 at bloomingdales.com
This jet stone ring is an excellent example of the raw crystal rings trend. The stone has a rough textured finish with slight glitter accents in addition to being crusted with crystals. The gold hardware sparkles and glimmers for an extra dose of glamour. Pair this ring with other jewellery such as a sleek metal cuff.
---
2

Raw Druzy Stalactite Citrine Ring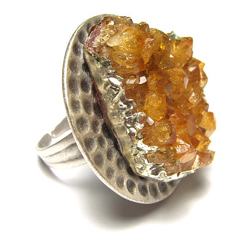 Price: $30.00 at etsy.com
This raw druzy silver ring is quite the attention grabber. The raw minerals are the centrepiece of the ring. The sterling metal hardware has a hammered finish, which complements the rugged design. Despite its rugged appearance, this is still a very precious ring.
3

Maniamania Immortals Ring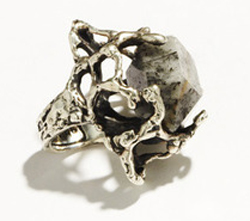 Price: $360.00 at maniamania.com
The Maniamania brand has reached a somewhat cult status. This ring is one of their most popular pieces. The tourmaline crystal and warped cage detail creates a quite organic looking ring. Each of these raw crystal rings is unique in that every piece varies slightly in colour and size. This is quite a bold ring, so be sure to keep the rest of your jewelery minimal.
---
4

Nicole Mebane Raw Amethyst Ring

**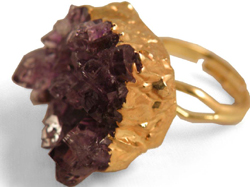 Price:** $62.70 at fashion-conscience.com The design of this ring is relatively basic, but it is nonetheless effective. The raw amethyst cluster speaks for itself. The ring is one size fits all and comes in a bright gold-tone finish. Slip this ring onto your finger to add bit of unexpected charm to your look.
---
5

Citrine Cluster Ring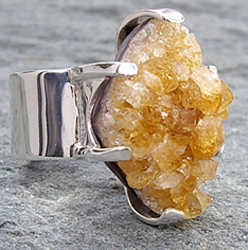 Price: $145.00 at bijouler.com
This citrine cluster is set in silver and supported by a hammered silver ring. The cluster surface is comprised of multiple naturally occurring facets. These facets reflect light and can create the appearance of a shimmering surface. As far as raw crystal rings go, this is about as raw in appearance as you can get.
---
6

Low Luv by Erin Wasson Rough Crystal Cocktail Ring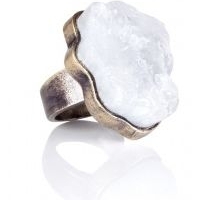 Price: $103.95 at my-wardrobe.com
Erin Wasson's Low Luv line is a hit with fashionistas the world over. The line exudes that effortless cool that the model seemingly embodies. This crystal cocktail ring is rough in appearance, but still ever so stylish. The distressed look hardware also gives the ring a casual air. This ring would be a great option for dressing up a down-town look.
---
7

Modcloth Crystalised Ring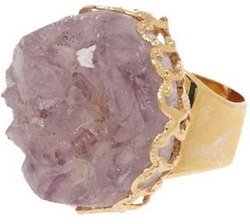 Price: $23.99 at modcloth.com
This ring features an amethyst-coloured druzy stone set in gold-tone hardware. A delicate filigree base secures the stone in place. Due to the 'raw' nature of the stone, stone shapes may vary in size. This ring would be a great accessory for a floaty cream dress.
Raw crystal rings are a great way to inject a bit of unexpected glamour into an outfit. With the juxtaposition of natural beauty and elegance, it's no wonder raw crystal rings are so on trend right now. Let me know if you like the trend. If so, which of the above raw crystal rings do you like best?
---
Popular
Related
Recent